In certain circles, TÜR Studio, the combined store/workspace/home occupied by weaver Christopher Duncan and designer Joseph Yen, has become well known as a creative haven at the "dodgy" end of Karangahape Road in central Auckland. Showcasing their own work alongside contemporary ceramics, art and jewellery from fellow practitioners, TÜR has been made viable by consumers who are increasingly seeking out the handmade. Central to the space, both literally and figuratively, are the loom and worktable on which Duncan and Yen work, contextualising the garments for sale in a way that may be unfamiliar to many twenty-first century shoppers. As a place where the inhabitants work, eat, and sleep, TÜR is comfortable by necessity. Aesthetic and hospitality combine to create an "aspect of calm" which Duncan believes repeat visitors find addictive.
The establishment of TÜR was, for Duncan, a continuation of the serendipitous path which first directed him to weaving. Trained in fashion design, he worked for New Zealand designer Lela Jacobs and then in Melbourne as a buyer, before frustration at endless report-writing and trend research led him to move to rural Australia. Self-taught, initially on a rigid heddle loom from his sister and then on a succession of second-hand looms, Duncan works with natural fibres to create loose, draped pieces in a variegated palette of browns, greens and greys. These hang in TÜR alongside the meticulously hand-finished garments Yen creates under his Thyen label.
The contents of the studio have been built up over the years through a combination of deliberate purchases and happy accidents. The display table in the front window is propped up by cinder blocks left over from an exhibition years ago. They've been slowly giving them away, and Duncan thinks they're about two away from the perfect number. A scattering of plants soften the concrete interior, and much of their furniture comes from an eclectic antique store in the neighbourhood. Jewellery is displayed on an old butcher's chopping block, and Duncan uses a 1920s art deco oak tea trolley to cart about his yarns. Even his price tags come from a finite supply of old notepaper, "perfectly tarnished"—another antique shop find.
There is a curious disjuncture between the inviting space that Duncan and Yen have created, and the fear that some shoppers have about crossing their threshold. Entering is a commitment: you have to push open their heavy glass door and expect that you will have some kind of interaction with whoever is inside. For shoppers used to automatic doors and the anonymity of chain stores, this is an unfamiliar experience. The presence of Duncan's loom and Yen's worktable can cause further confusion: "I can have a sign out, and plant outside, and the doors closed and people still find it this huge barrier. It's good because when people really want to come in… then they broach that barrier", says Duncan. Once inside, visitors are subjected to his gentle hospitality: a cup of tea if he has just brewed a pot; a seat on the couch; a patient explanation of his craft. In this way, Duncan and Yen have not only built relationships with regular patrons, but encountered other artists and practitioners who have featured in exhibitions at TÜR. There are some visitors, however, who choose not to adjust to this approach: "People who are used to shopping downtown, they come in, maybe on their cell phone, and they're quite loud and they aggressively flick through the racks, and then they leave without a goodbye…. for them, shopping is a way to spend your time, this is one of 30 shops (they'll) visit this week."
The open nature of the studio has meant Duncan has had to adjust his way of working. With two to three visitors a day, the disruptions are regarded as a welcome opportunity to demonstrate his process, or sometimes reminisce with people who recall a family member who used to weave. Increasingly, his work is featuring in group shows at contemporary craft galleries like Masterworks and Anna Miles Gallery, but he still finds that it is better received at TÜR where he is able to share the story behind each piece, speculating that craft collectors are yet to seek out textiles as they do ceramics or jewellery.
If a visit to TÜR feels like popping over to a friend's house, in a sense it is. Duncan and Yen sleep in the bedroom upstairs and use the kitchen on the ground floor, just behind the table that performs double duty as their shop counter and dining table. This mixed-use approach, a consequence of the building's layout, means that his work is always to hand, but is also inescapable: "One minute it's home, and the next minute it's shop, and it can never just be one of those things". Visitors who knock on the door on a Sunday evening will often be let in, but it requires a shift in mindset to go from cooking dinner to welcoming potential customers.
TÜR occupies the former New Zealand's Prostitute Collective on Karangahape Road in Auckland. Prior to Duncan and Yen's arrival, the building owners made the formerly private space retail-ready, with polished concrete floors and floor to ceiling windows which turn the room into a fishbowl at night when Duncan is working. There is still a sex shop three doors down, but the inevitable gentrification of this central-city area has lately been picking up speed. Tesla Motors is moving in across the street, and Duncan and Yen are coming to the end of their four-year lease, although they will stay at their current location as long as it is still affordable. A larger property would allow them to grow the gallery aspect of the business, but for now, the studio remains a distinctive creative space in central Auckland.
Quotations taken from conversation between the author and Christopher Duncan, 26th September 2017
Author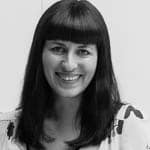 Jane Groufsky is the Collection Manager, Applied Arts and Design at Auckland Museum Tāmaki Paenga Hira in Auckland, New Zealand. Her research focuses on the history of printed textiles in New Zealand, studio weaving, and contemporary quilting communities.
✿
Like the article? Make it a conversation by leaving a comment below.  If you believe in supporting a platform for culture-makers, consider becoming a subscriber.
Tags