In August 2015, friends and collaborators made a small vivid fashion collection for a pop-up shop held at the State Library of Queensland. Their six, one off, hand painted garments sold out within minutes. This popularity was due to many factors and like all great collaborations, the magic was created by the individual elements being exceeded by the whole.
This venture began with mutual respect. Carla van Lunn, a fashion academic and entrepreneur, and Elisa Jane Carmichael, an artist with a vast creative spirit, are based in Brisbane, bound to South East Queensland by a strong sense of family, history, and place. It is their home.
Elisa Jane Carmichael belongs to the Quandamooka people of Minjerribah, North Stradbroke Island, and is very passionate about nurturing and preserving her strong connection to the sand and sea, Yoolooburrabee. Currently, Leecee is doing her postgraduate research into the traditional basket weaving of her ancestors often using the medium of recycled materials. Her current practice visually explores the beauty of nature and the surrounding environment and she constantly draws inspiration from her cultural identity and heritage. Through her art, Leecee sees the world as pattern and colour which she brings to life with fluid brushstrokes or the entwined strength of colourful weaving. She paints nature, she paints through weaving, and she is always surrounded by colour. Her artistic capacity is best described as a mix of art, craft and design and she will be presenting her woven fashion art at this year's Cairns Indigenous Art Fair.
Carla is a fashion lecturer at the Queensland University of Technology and founder of Maison Briz Vegas, an experimental and ethical fashion house. The collaboration with Leecee was a detour and escape from her fashion academic lifestyle and a welcome return to her creative roots. With extensive overseas fashion wholesale experience, a veteran of many Paris fashion weeks, Carla is most inspired by culture and creativity. A trip Jaipur began her love affair with hand-block printing and natural dyes. More recently she has been travelling to Java, Indonesia, consulting with local artisans and designers. For Carla, the hallmarks of the hand on the garment are an attractive counterpoint to fast digital design and industrial mass production. Her personal, contemporary twist on the ancient art of hand block printing is an outstanding feature of her own work for Maison Briz Vegas.
"Our creative practice is fundamentally inspired by the environment in which we grew up. And even though we both went to the other side of the world to work and live (London and Paris are world capitals with sublime art histories and modern competitive creative environments) we always knew we would return to Oz."
There is a synergistic exuberance in this collaboration. It brings together a very spontaneous artist with a more rationally minded, commercially sensitive fashion designer. This work is designed to be light, free, beautiful and expressive. Bright colours influence and attract both artists and a cool sub-tropical whimsy is evident in the flowing style of both print and garment design. Leecee led the print and paint work whilst Carla led garment construction and design. Both accessorised and prepared for pre-sale.
Despite its levity, there is also a seriousness underlying this project. Both artists are moved by the modern plight of the environment and in particular, plastic pollution besieging the world's oceans. It is a common theme in both their individual practices. In this instance, tassels fringing the robe's belts are reworked plastic rope washed ashore on Leecee's country of Minjerribah. Found material is very much a feature of the two artist's independent work. Art fringing on activism.
The two artists designed, patterned, painted, constructed, wove, treated and accessorised the garments. The result. Six functional, stylish and unique robes complete with swing tags and playful care instructions. It is obvious the artists share a love of colour. Even in the darker range of the collection, the hand printed texture brings the garments alive.
The garments themselves are one size fits all, gender fluid tunics, democratic, open for the customer to interpret – i.e. shirt or dress. The fabric was made from purchased organic cotton, and once painted, the garments were hand cut and machine sewn in late night first world home studio conditions. Think green tea and podcasts.
Highlights of the printed fabric include a confetti style dot painting technique using the bottom end of the brush. In accordance with the free spirit of the project, the use of the accidental was incorporated. While backyard painting under an afternoon frangipani tree, using sunshine set colours, the basket weave of outdoor tabletop stencilled through to the fabric and a pattern was born.
"It was a very spontaneous process, with intuitive colour choices, and fluid brush strokes. It was very much a 'hey that's a great idea, let's do it' situation, and two months later it was done."
And the results dress themselves. No rigorous testing, no market research, just a deadline and a clever meeting of two talented craftspeople which resulted in something fresh, contextual and enduring. And delightful.
A world dressed by these two would be a happier place indeed.
Author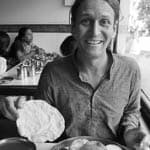 Peter van Lunn resides in Brisbane with his wife, Carla. A chef by night and an amateur writer and musician by day, Peter is working on a pilot for a chef sitcom, in between dabbling on the sitar and making his acclaimed dahls.
✿
Like the article? Make it a conversation by leaving a comment below.  If you believe in supporting a platform for culture-makers, consider becoming a subscriber.
Tags