The moment you enter the spacious courtyard of the Bankstown Arts Centre in the south-west region of Sydney, your eyes are drawn to a sculptural group towering over an adjacent garden bed: the four poles raise from the ground, like some colossal vertically-stretched necklaces threaded with oversized beads in bold shapes and colours. An homage to water, the ceramic sculpture was created by members of the Bankstown Koori Elders Group who meet at the Centre on Fridays to make ceramics.
Today, the group comprises of around fourteen Elders who live in the area, but represent various language groups from across Australia. Its long-standing members are Lola and John Simmons (married to Lola, John is the only non-Indigenous member), Beverley Miranda and Beverley Gilmartin, Helen Fisher, Gloria Peronchik, Lillian Johnson, Louise Perryman, Vicki Markna, Lorna Morgan and Victoria Woods. Margaret Foat, Louise Perryman and Lyn Martin joined just a few years ago. The original group was invited to attend the ceramic class when the Bankstown Arts Centre opened in 2012. Its members were not new to ceramics, as some had already been attending Indigenous ceramic group classes at Condell Park's Community Centre since 2011. It is in fact their experience at Connell Park under the tutelage of Walter Auer that fuelled their enthusiasm for learning and practicing ceramics at both locations. Over the last four years, they have gathered every Wednesday at Condell Park and every Friday at Bankstown to perfect their art.
While creating ceramics is their passion, the Elders acknowledge the importance of social and cultural aspects of their practice: spending time with other Elders, engaging in conversation, sharing news and relaxing. As such, this duality of their practice is reflected in the types of works they create. These range from individual pieces made for themselves and for family and friends—decorative vases, platters, wall plaques and small sculptures—to occasional larger pieces which may be offered for sale at galleries, like the marvellous Emu by Bev Gillmartin (Gillmartin was the winner of the inaugural Port Hacking Indigenous Award 2014, where Margaret Foat, Victoria Woods and Lorna Morgan received Merit Prizes.)—to collective sculptural works, which they have recently started entering into various competitions. The group has been introduced to a range of pottery techniques over the years, including throwing vessels on the potter's wheel, but they prefer to explore the potential of clay through simple hand-building and decorating techniques. While pottery making is relatively new to Indigenous cultural practice, they note the importance of exploring materiality of the ancient material with their hands and of pleasures of personal artistic journeys in search of satisfying forms and patterns.
When observing the Elders during their Friday class, which is guided by highly experienced teacher and artist Diamando Koutsellis, the intensity of their focus is apparent, whether preparing clay, sketching designs or assembling and painting their pieces. Their joy of experimenting with modelling clay into different forms is obvious, too. And whilst the nature of the craft is unpredictable and not every piece is met with approval, Koutsellis notes: "it is immensely rewarding to share in their sense of pride when the newly fired works turn out alright and 'sing'."
The Wednesday class, taught by Auer, focuses more on collaborative projects. An internationally exhibiting artist, Auer studied ceramics at the State Institute of Arts in Faenza before practising in Italy, Japan and Turkey. He moved to Sydney in 1997. It is clear that Auer has a strong connection with the Elders and profound respect for them. "There is always soul in their work", he says. He sees collaborative work as the group's strength, noting a certain energy: "They listen, share concerns, everyone has to agree, ideas travel around the table and take final shape; differences disappear and they work as one."
In the recent works made at Condell Park, the exploration of the Elders' Indigenous heritage is a key theme. A series of awards in the last three years acknowledge the quality of these works. In 2014, they received the Shepparton Art Museum's Indigenous Ceramic Art Award, established under the patronage of the celebrated Indigenous potter Thancoupie Gloria Fletcher, for After the Rain: Bungle Bungle. This 42-piece work was inspired by the Bungle Bungle range of giant orange-and-black striped sandstone domes in World Heritage-listed Purnululu National Park in the Kimberley, Western Australia. In 2015, the Elders collaborated with Auer on the installation In Transition shown in the exhibition Drawn to the Form: the Matter in Hand at the Blacktown Arts Centre and then in Ferrara in northern Italy. Now, in 2016, the group has been selected to exhibit at Sydney's popular Sculpture by the Sea exhibition starting in October, joining Australian and international finalists to reveal their latest multi-piece work, Place of our Dreaming. Like the award-winning Shepparton Art Prize artwork, the new sculpture alludes to traditional Aboriginal motifs and style. The elders note that it is their ceramic practice that is "giving us a connection to Country, Culture and Dreamtime". Alongside their best individual ceramic pieces, which vary in form and subject, their exhibition works are a significant contribution to Australian urban Indigenous art, defined as that of "artists raised in urban environments or on mission settlements removed from their ancestral country."(Chandler, 2009)
The success of the Bankstown Koori Elders Group can be considered in the context of the recent revival of popular interest in the crafts, particularly ceramics. The thriving ceramics scene, as reflected on the pages of specialist magazines and in exhibitions has certainly energised the group's talents and spirit. However, it is the opportunities created by the Bankstown City Council and the two centres' enlightened administrators that have been critical as they have ensured the continuity of Indigenous ceramics tuition. As long argued by Naomi Sharp (2012), a pioneer ceramist and teacher to the now famous potters at Hermannsburg, the role of art centres as "places of refuge and a safe haven where artists can come to work" cannot be overestimated, nor can the importance of continuity founded on enduring relationships with teachers. Indeed, the Elders speak warmly of Auer and Koutsellis as their ceramic mentors; they have come a long way together. When asked why they work with clay, the answer for Lola Simmonds and Beverley Miranda is simple: "It is magic. Once you touch it, it gets into your bones. You find yourself again."
References
Lisa Chandler, 'Balancing Perspectives in Cross-Cultural Curatorship', The International Journal of the Inclusive Museum, Volume 2, Number 3, 2009, p 23
Naomi Sharp, 'Deep Collaboration' in Christine Nicholls, Earth Works: Contemporary Indigenous Australian Ceramic Art, Flinders University Art Museum, Adelaide, 2012, pp 6-7
Author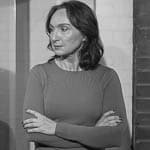 Eva Czernis-Ryl is a curator and historian at Sydney's Museum of Applied Arts and Sciences whose research interests focus on arts, crafts and design from the 18th century to the present. Her recent cross-cultural exhibition A Fine Possession: Jewellery and Identity was awarded the Museums & Galleries of NSW 2015 IMAGinE award for best large museum exhibition. Eva is Expert Examiner for the Australian Government's National Cultural Heritage Committee.
✿
Like the article? Make it a conversation by leaving a comment below.  If you believe in supporting a platform for culture-makers, consider becoming a subscriber.
Tags