Studio Naenna has become a beacon for Lao and Tai textiles. It began 30 years ago when its founder, Patricia Cheesman, was charmed by some Laotian women.
Born in Singapore, Patricia spent most of the first ten years of her life on a beach in Borneo, before completing her education in the UK. She studied ceramics and painting in Europe before returning to Asia with her husband in 1973. A Thai uprising, a Lao revolution, a stint in Australia, and a growing family later, Patricia was working for the UN on a ceramics development project in Laos, when she bought a red silk healing cloth from a woman on the streets of Vientiane. This sparked an interest in weaving that led to Patricia's textile research as well as her own dyeing and weaving art.
"When I first started meeting Lao women and asking them about their textiles in the 70s, it must have seemed strange to them that a foreigner was interested in these subjects. I would usually stay several days in a village and talk to weavers casually during the day while they were weaving or in the evenings around the fire. I was always received with such openness and grace and always respected their need to trust me before they were willing to tell me their stories. I would return many times to the same village. Finally they would bring out their grandmother's clothes and play dress-up. We would all laugh with excitement and praise of the beauty of the dress and textiles. It always turned out to be a fun experience for everyone and the elders were given extra status as they talked of their culture and ancient knowledge."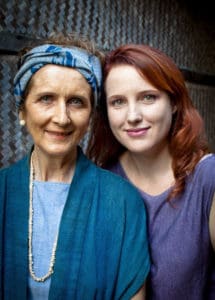 Patricia's research led her to Chiang Mai, Thailand, which she now calls home. She has been a lecturer on ceramics and textiles at the University of Chiang Mai since 1985. Studio Naenna, Patricia's weaving enterprise, started out as a small studio back in 1986. Today the studio is located in a traditional Thai house on an overgrown property. "I am very happy that one of my daughters, Lamorna, has taken such an interest in textiles and is managing Studio Naenna now. She has a good eye and real feel for the rhythm of nature that we follow and respect. Who knows, maybe her daughter will hear the call. It is a labour of love with smiles and sustainable lifestyles as rewards." [Photo: Patricia Cheesman and her daughter Lamorna, photo: Marisa Marchitelli]
I had the opportunity to visit Studio Naenna in November last year where Lamorna showed me around. It didn't take me long to understand that at Studio Naenna textiles are not just a commodity. It is a livelihood, a culture and the reason behind everything they do.
Many of the plants used for dyeing are grown on the property, including two kinds of indigo. Roots, barks and seeds from other indigenous plants are sustainably collected from the local forests. The cotton and silk thread are sourced commercially, eco dyed and then woven in the traditional style of the Lao and Thai people.
The women working on the harvesting, dyeing and weaving are all part of the Studio Naenna family. Patricia founded the Weavers for the Environment (WFE) group in 1986. "I arranged for an exchange programme with weavers in the northeast and north of Thailand whom I knew from my years of research in both areas. The aim was to exchange dyes knowledge and weaving skills. The weavers from the northeast taught weft ikat to the weavers of the north in exchange for knowledge of skills of natural dyeing. I also gave workshops on safe use of chemical dyes and the building of grass-roots waste disposal units. Weavers that attended workshops became members of the WFE and members can now be found in both the north and northeast Thailand and Laos, weaving in their homes. Studio Naenna is the marketing arm for WFE." Patricia explains. The group now consist of about 30 people who are all supporting families through their weaving and the total is well over 100 that rely on the success of the enterprise.
Work is rewarded by piece which frees them of regular work hours. This preserves their cultural way of life so they can attend the ceremonies in the village or help the community whenever they like. They can also take care of their family members, whether young or old, by weaving at home.
Studio Naenna provides all the equipment and production orders while guiding the weavers in sustainable design and techniques. Over 80 traditional ikat designs are woven in new and modern colourways together with 30 new ikat designs created by Patricia. Weavers are guaranteed returns for their work within a week of completion. Studio Naenna takes responsibility for the equipment, dyeing, and finishing, marketing and appropriate development. Natural indigo is planted as well as other dye plants for sustainable resources.
My visit to the studio lasted a few short hours, but in that time I was struck by the holistic approach of everybody involved in the studio. Not just in the way they produce their textiles, but in their whole approach to living. It is obvious from talking to Lamorna and Patricia that they have a deep affinity for the land, the people and the culture of this area. Their love for the people and textiles spill over into everything they do. Their respect and gratitude runs deep.
Patricia's work as a lecturer, researcher and educator is invaluable. Her documentation of the traditional textiles of the Lao and Tai people ensured the survival of this cultural history, which would have fell victim to revolution, displacement and modernisation. Her work at the university and at the studio ensures that this knowledge will now be available and alive, well into the next generation. To illustrate this Patricia tells me about a student she had last year.
"She told me her mother was a weaver in a village but that she was ignorant. I told the student to come and see me again after the end of our course and asked her how her mother was. She replied 'Oh! Thank you teacher, I never realized how clever my mother was until I did your class. Weaving is so complicated and even though I have a higher education than her, there is still so much I want to learn from her'"
Patricia adds "our students find employment easily after graduation as there is a demand in industry and entertainment for applied Thai art that has been interpreted in modern and contemporary ways."
An excellent legacy for a girl who spent her childhood on a beach in Borneo.
Author
Ansie van der Walt is a freelance textile writer based in Adelaide, South Australia, where she settled with her family after living in Africa and the Middle East for many years. She writes regular columns and feature articles for Inspirations Magazine, the Adelaide Review, and other local and international publications. She has a special interest in ethnic and traditional textiles and craft. When she is not writing, she loves to travel, photograph architectural details, and crochet. Websites: www.ansievanderwalt.com, and www.thefabricthread.com.
✿
Like the article? Make it a conversation by leaving a comment below.  If you believe in supporting a platform for culture-makers, consider becoming a subscriber.
Tags