Rosie Ngwarraye Ross' Sugarbag Dreaming in 'Desert Rose' [top], Colleen Ngwarraye Morton's Singing Bush Medicine in 'High Noon' [middle] and Rosie Ngwarraye Ross' Sugarbag Dreaming in 'Clay' [bottom] from the Ampilatwatja Collection. Photo: Lauren Bamford
Like most quests, mine began relatively simply; I had visited the contemporary Australian design exhibition At Home at Old Government House in Parramatta. While there, I fell in love with two whimsical textiles that spoke to me of the mapping of faraway places and I wanted to know more.
Before my story begins, I would like to acknowledge the Gadigal people whose traditional lands I live on and offer my respect to the Elders past and present.
Textile company Willie Weston's work sits harmoniously alongside Indigenous Australian stories of Jukurrpa (the creation or dream-time), which tell of the endless thread linking present, primordial past and future. This work with Indigenous art centres, creating furnishing fabrics for the domestic and commercial interiors markets, is the culmination of a series of disparate, yet inalienable moments in time.
Located 270 kilometres north-east of Alice Springs in Central Australia, Utopia encompasses a series of desert outstations spread over 10,000 square kilometres. The arrival of pastoralists in the 1920s displaced the Indigenous people from their country and ceremonial places and they gathered instead around the newcomer's homesteads. The homesteads provided a source of work and food, but not much more. 
When legislation banning exploitative employment practices was introduced in the late 1960s, many Indigenous workers lost their jobs as a consequence. Both State and Federal Governments sponsored skills-based programs in the 1970s with the aim of bringing financial independence to the people of the desert.
The introduction of craft initiatives brought batik lessons to the women of Utopia, who enthusiastically embraced the opportunity to express their spiritual connection to country and tell their ancestral stories in a new way. The Alyawarr people's belief is that the perpetuation of ceremonial practices ensures the ongoing health and vitality of their country. The women worked outdoors in their sacred meeting places, integrating batik into their communal rituals. 
Singing and dancing as they worked, they deftly transposed the coded visual language of ceremonial body painting and mark-making on sand to silk and cotton. The immediacy of the process and its ease of integration into the women's rituals engendered their designs with a hybrid vivacity that was unique to Utopia—a point of difference that was troubling for the prevailing cultural hegemony and a stumbling block for those who attempted to market the women's work.
Throughout the 1970-80s, the area's art coordinators had only intermittent success marketing the textiles to urban gallerists. The art system viewed fabric as gendered and functional and therefore craft, and there were issues associated with its display and degradation. 
The introduction of a new technique and media as a conduit for the sharing of ancestral stories also prompted resistance. The work was not considered to be authentic because batik had been introduced to the community. This resistance to an evolution of means of production and representation effectively assigned Aboriginal culture to a pre-colonial past, the implication being that it must be held in temporal stasis and had little contemporary relevance in the systems that defined "art" and "culture." 
Although attempts to market the fabrics were for the most part in vain, it did nothing to inhibit the women. Their overriding imperative was ceremonial continuity, and they carried on regardless. This combination of a lack of market-led constraints and the fluid integration of batik into ceremonial practices led to the genesis of a rhythmic, figurative style that was undeniably imbued with the spirit of the land and people it sprang from. 
Batik opened up new creative pathways for many of the women. In the late 1980s, at the request of art advisor Rodney Gooch, who was under pressure to cover costs, they transitioned from fabric to the production of larger works in acrylic on canvas. The fluidity and ease of application of the acrylic paint lent itself readily to the gestural mark-making of the Utopia school. 
When the idiosyncratic style borne out of batik was combined with the use of media traditionally associated with "works of art", the women suddenly began to receive recognition in fine art realms. Many of the original batik group went on to exhibit their paintings at biennales and in international touring exhibitions. Colleen Ngwarraye Morton, whose painting Singing Bush Medicine is part of Willie Weston's Ampilatwatja (pronounced Um-bludder-watch) Collection, was one of them.
Singing Bush Medicine depicts a women's ceremony celebrating Arreth, or "strong bush medicine." More powerful than other medicines, Arreth works well on sores, cuts and scabies, or is taken as a drink to ease the symptoms of the flu. This knowledge was passed down Morton's matrilineal line and is specific to her grandfather's country.
The ceremony's participants are painted up in ochre and they then sing to country and sing the medicine into existence. Singing to country offers respect to the ancestors, those who passed down the knowledge of medicinal plants, the land they grow on and the stories specific to that place. 
Caroline Hunter, Manager of the Indigenous-owned and operated art centre, Artists of Ampilatwatja, describes singing to country as "sound vibrations from singing in tune with the vibrational frequency of nature itself, like two of the same." The women's singing of seeds, plants and trees into existence is considered fundamental to the vibrational shaping of the universe, as well as a means of ensuring its continuity. It is in this way that people and place are one.
In addition to shared cultural beliefs and connection to country, Rosie Ngwarraye Ross, whose Sugarbag Dreaming also features in Willie Weston's Ampilatwatja Collection, shares a familial link with the Utopia batik group. Her mother was one of its members and the jukurrpa stories of wildflowers and bush medicine that Ross brings to life with her paintings are part of her family's spiritual lineage. Sugarbag references both the honey collected from native bees and the nectar from the flowers of the tarrkarr trees. Sugarbag Dreaming tells the story of Ross and her family's food gathering ritual.
The peak and subsequent decline of the primary and secondary Indigenous art markets in 2007 saw the artists of Utopia return to cloth. Both Singing Bush Medicine and Sugarbag Dreaming were originally paintings on canvas, adapted by Willie Weston in consultation with the Artists of Ampilatwatja for use as textile designs. Colour palettes hold no currency in these Jukurrpa stories, enabling an aesthetic ease of movement between the realms of domestic and commercial interiors and the central Australian desert.
Once the artists have approved their work's adaptation and colour ways, the designs are digitally printed on a range of indoor and outdoor fabrics to order. Artists are paid for every metre produced, enabling them to maintain an ongoing income. Drawing on their respective experience as Indigenous and contemporary art curators, Jessica Booth and Laetitia Prunetti market the artists in the manner of reputable art galleries, providing non-profit Indigenous-owned art centres with additional income for their artists.
Four decades on from the embrace of a seemingly innocuous craft by a small community in outback Australia, my story ends where it began, with women working together and the fabric of the dreamtime taking centre stage.
I would like to thank Jessica Booth and Laetitia Prunetti of Willie Weston, and Caroline Hunter and Matt Goff of Artists of Ampilatwatja for their help in bringing this story to fruition.
Further reading
The art of the art advisor: Rodney Gooch and the invention of Aboriginal art at Utopia. Philip Batty. Art Monthly Australia #221 July 2009
Person and Place: Making Meaning of the Art of Australian Indigenous Women. Diane Bell. Feminist Studies Vol. 28, No. 1 (Spring, 2002), pp. 95-127.
Across the desert: Aboriginal batik from Central Australia. Judith Ryan. National Gallery of Victoria. 2008.
Author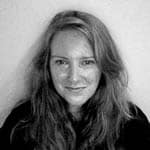 Michelle Montgomery recently completed a Bachelor of Art Theory at UNSW Art & Design. Combining image theory with her previous studies in art history and textile design, her passion is the history and theory of textiles and adornment. She is currently an Honours student at the University of Sydney and her research relates to the construction of identity and tribe via dress in a globalised world. See also her articles: Tuhirangi Writes on the Sky and Two Ways Learning – The Gift That Keeps On Giving.
✿
Like the article? Make it a conversation by leaving a comment below.  If you believe in supporting a platform for culture-makers, consider becoming a subscriber.
Tags