When Samorn comes to visit she almost always arrives with an armful of fresh vegetables grown in her Canberra garden. Sometimes she'll bring silk cocoons, leather offcuts or the most beautiful woven silk you've ever laid eyes and hands on. "That's how we connect with people", she explains. She believes that food and craft are two things that can immediately connect people across different cultures. Even without words we can still share experiences, exchange knowledge and celebrate each other.
Samorn Sanixay was born in Laos and came to Australia as a refugee with her family when she was still a young girl. Growing up she only felt loosely connected to her heritage, wearing traditional dress once or twice a year. But while studying Asian history and politics at university, she became more and more interested in how her family had come to be in Australia. She travelled back to Laos as a young adult, kindling what was to become a lifelong and deep connection.
In 2002 Samorn returned to Laos where she joined UNICEF as a scriptwriter and translator for children's books about health and education. The work often involved travelling to remote villages in the north where she spent time sitting and watching different weavers as they worked. Samorn became interested in learning the craft, and it was here she met her weaving teacher, Khaisy.
Weaving is a necessity in these remote villages where there is little opportunity to buy blankets and clothing from markets, and most girls learn from their mothers when they are young. For some though, it becomes their only livelihood. In Xan Neua, where Samorn spent time, girls came from minority hill tribes looking for work in the town's weaving houses and garment factories. Despite coming from areas with some of the most skilled weavers in Asia, their provenance made it difficult.
In 2004, Samorn and Khaisy built a weaving house in Vientiane and began Eastern Weft. They wanted to support disadvantaged young artisans through weaving, finding a place for those that didn't have one. While normally weaving houses would specialise in one technique, Samorn wanted to combine them, celebrating the different textile crafts that exist in Laos. Four orphaned girls from minority hill tribes joined. Each had highly developed expertise, skills and techniques unique to their home village. Using the skills of these women Eastern Weft created a new aesthetic that combined contemporary design with different traditional weaving techniques.
Today the weaving house has 30 weavers and many more working to grow and dye the silk. They are currently in full production making intricate work for private commissions. Twelve acres of land allows them to grow food to feed many of the families and women that live there, as well as grow and produce their own silk and dyes. Traditional dyes such as coconut husk, mango leaves, rice paddy mud, rosella, ebony and jackfruit bark are all grown on the property or collected from market stalls at the end of each trade day.
Living in Australia, fuelling and guiding this cross-cultural conversation, Samorn felt she wanted to extend it, to broaden the audience. She had already built strong connections with designers who had similar approaches. "You always find people to connect with, you attract them," she says. She believes it is young designers who make great collaborators as they are prepared to think in new and different ways.
In 2013 she brought together designers from The Fortynine Studio and T – S (Takahiro Shirai and Stephanie Said) to build a collection of contemporary bags and accessories. For Samorn, the team demonstrated an harmonious connection and respect across cultures. The project was a celebration of this connection. The team shared many meals together, exchanging food, craft, design, ideas, knowledge, politics and opinions. There were lots of laughs together.
The Harriet clutch was one piece that emerged from the collaboration, designed by Sarah Spackman and myself of The Fortynine Studio. It brings together traditional antique South East Asian textiles, stunning high quality 100% woven silk offcuts from Eastern Weft, and kangaroo leather seconds. The materials represent the multicultural nature of Australia. "It's about how we can sit together side by side". Despite the variation and imperfections in the materials, they come together to create something beautiful and useful.
The authenticity of the approach, and the materials is evident in the finished product. "We share the same philosophy," says Samorn of the zero waste approach to design that both she and The Fortynine Studio practice. Samorn has literally looked through the bins of leather suppliers to find offcuts or marked pieces that wouldn't normally be used. Likewise The Fortynine Studio use local, found and natural materials, and use simple hand processes.
When the collection was launched at the Australian Design Centre in 2013, through the Designer in Residence program, the genuine connection across cultures was evident.
"It's a silent kind of conversation that we all have" Samorn adds. Each person in the process has connected with one another through experiencing each other's craft. Weavers, designers, makers, and users all have a kind of silent exchange, a celebration of one another.
Author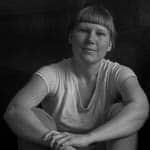 Harriet is a designer based in Sydney, Australia. She's interested in the way we relate to, understand and use materials and objects in everyday life. She hopes her work will offer alternative ways of thinking and consuming, and help to shift assumptions, values and habits towards a world that respects and protects biodiversity in all species. She is a founding director and designer at The Fortynine Studio and teaches at UNSW Art + Design. Some of her work is at cargocollective.com/harrietwatts
Tags