Moments of healing and friendship amidst uncertainty about the future are at the heart of a community artwork that will debut during the New Beginnings Festival for Refugee Week 2017.
Over the past year, close to 200 people involved in not-for-profit Settlement Services International's (SSI) initiatives have woven these stories of healing into a tapestry covered couch, creating a work of art that will be displayed as part of the New Beginnings Festival's Singular/Plural art exhibition.
Many of the stories have been gathered from people involved with the Friendship Garden, an inclusive community gardening project where people from all walks of life bond over the shared experience of gardening.
In developing ideas for the couch, gardeners who are still in the process of seeking asylum in Australia told stories about healing together—moments where their worries melted away, seeing things grow, sharing food, playing football, picking blueberries.
"The aim of the project was to hold space for people to spend time with stories of healing that were gathered from the community. Telling and retelling these stories, while physically building up imagery around them within people's hands," said social designer Tasman Munro, who co-facilitated the couch project as part of his PhD.
"During the project, we were also surprised to see how healing the making process was in itself. People become lost in the craft, and told us it was like meditation."
As one participant put it: "I have lived through war and very difficult things in my life. I need to do this at home, it makes all the bad memories disappear."
Tapestry artist Sayd Mahmod generously shared his expertise for the creation of couch. Originally from Afghanistan, Sayd has honed his craft for 30 years and happily passed these skills along to contributors in a series of workshops at SSI's Community Kitchen. Amid the hubbub of the fortnightly multicultural lunch for refugees and people seeking asylum, Sayd sat down with small groups to teach them the art of tapestry and work on a design that Friendship Garden members created together to illustrate stories of healing.
Artist Jane Theau, who also co-facilitated the project, said Sayd's tapestry technique was meditative, leaving space for conversations to grow.
"Initially, this was two separate community projects, one art-based, the other teaching woodworking skills in the garden. These were merged into what has proved to be a powerful collaboration involving hundreds of Community Kitchen attendees of all nationalities, young and old, men and women," she said.
People from the Syrian, Tamil, Rohingya, Afghan, Iraqi, Hazara, Persian, Vietnamese and Nepalese communities are among many contributors who sat together sharing their stories, while learning this unique tapestry process from Sayd.
"If people want to see tangible evidence of how to communicate despite not sharing a language, how to create a thing of beauty through collaboration and compromise, and the importance of community projects, they should view this exhibition—from the comfort of this tapestry couch," Ms Theau said.
SSI Arts & Culture Coordinator Carolina Triana, who is producing the New Beginnings Festival for Refugee Week, said the couch would be displayed with work from other artists from refugee backgrounds, along with more established Australian artists. Curated by Denise Thwaites, the Singular/Plural exhibition will be on display at 107 Projects from 21 June to 2 July.
"Exiled artists, filmmakers and craftspeople have made significant contributions to the Australian creative industries. This festival is a chance for Sydneysiders to experience art, film, installations and more, while also learning about the cultural heritage and artistic practices of some of our newest community members," she said.
"We hope to facilitate creative exchanges between refugee and non-refugee communities. Getting to know someone through their art makes us focus on their creativity and potential — labels are no longer relevant."
The New Beginnings Festival for Refugee Week is the first component of SSI's New Beginnings: Refugee Arts & Culture Festival, which involves a number of creative events throughout 2017. Redfern's premier creative hub 107 Projects will host the Refugee Weeks events from 21 June to 2 July, inspiring creative conversations through a mix of visual arts, film, installations and workshops. For more information visit newbeginningsfestival.com.au
Author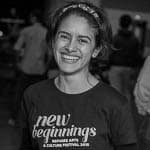 Colombian-born, Carolina Triana is the Arts and Culture Coordinator at Settlement Services International (SSI). As part of her role, Carolina is creative producer of the annual New Beginnings Refugee Arts & Culture Festival, a free public celebration of the diverse and rich creativity and talents of refugees. In 2017, Carolina was awarded one of the NSW Premier's Multicultural Community Medals in recognition of the work she has done to enrich the lives of refugees and people seeking asylum through creative expression and skill development.
✿
Like the article? Make it a conversation by leaving a comment below.  If you believe in supporting a platform for culture-makers, consider becoming a subscriber.
Tags