Iskandar Jalil: Kembara Tanah Liat (Clay Travels) is a survey exhibition on Iskandar's practice, spanning more than five decades. Recognised as a master potter, this exhibition will feature close to 200 works and maps his career from the 1960s to 2000s. The selection of works focuses on tracing the diverse cultural sources that informs his explorations with the ceramic medium ie. Southeast Asia, Japan, India and the Scandinavian countries. A significant thread running through the exhibition is Iskandar's experimentations with local clay and different glazes that he developed over the years. Primarily a studio potter, Iskandar's ceramic works also straddle the perennial tensions of functionality and non-functionality in his works.
Part of the research process included the writer, co-curator of the exhibition, visiting Japan in December 2015 with Iskandar, together with Gerald Leow, a contemporary Singaporean artist who was commissioned to produce an artwork in response to Iskandar's ceramic works. The group visited Iskandar's former school, the Tajimi City Pottery Design and Research Centre where he studied Ceramics Engineering for two years from 1972 to 1974, and also ceramic museums and exhibitions in Kyoto and Tokyo.
Iskandar's education in Japan was not limited to just the two years he spent studying there. He continues to visit Japan every year bringing his students to various ceramic sites and of course, going for holidays and visiting his old friends. Coupled with his incorporation of Japanese aesthetic philosophies like wabi-sabi and shibui into his works, Japan's cultural impact on Iskandar has been immense. Hence in 2015, Iskandar became the first artist from Singapore to be conferred the Order of the Rising Sun, Gold Rays with Rosette, an award bestowed by the Emperor of Japan
Iskandar Jalil: Kembara Tanah Liat (Clay Travels) is co-curated by Seng Yu Jin and Syed Muhammad Hafiz. The exhibition runs at the National Gallery Singapore from 1st Sept 2016 to 28th February 2017. Please visit the website www.nationalgallery.sg for more details about the programs and talks held in conjunction with the exhibition.
Artist's Profile
Iskandar Jalil is one of Singapore and Southeast Asia's most prominent and recognised ceramic artists. He creates organic, textured works of clay that marry Japanese discipline and philosophy with Southeast Asian motifs and inspirations from his travels. His works feature in many public and private collections, including those of the National Museum of Sweden, Sultan of Brunei and Minister Mentor Lee Kuan Yew.
He was awarded two Colombo Plan scholarships, to study textiles in India (1966) and ceramic engineering in Japan (1972), which started him on the road to a highly successful career as a potter. Iskandar Jalil was awarded the Cultural Medallion for Visual Arts in 1988, and is the first Singaporean artist to receive the Order of the Rising Sun, Gold Rays with Rosette bestowed by the Emperor of Japan in 2015. He was conferred an honorary doctorate, Doctor of Letters (honoris causa), by the Nanyang Technological University in July this year.
Author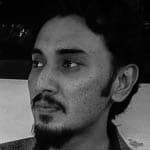 Syed Muhammad Hafiz is currently Assistant Curator at the National Gallery Singapore. He joined the Gallery in 2012 and was part of the curatorial team that worked on the inaugural Southeast Asian permanent galleries exhibition, 'Between Declarations and Dreams: Art of Southeast Asia since the 19th Century.' Prior to that, he worked as a Researcher for the Singapore Art Museum. His other exhibitions also include 'S.Sudjojono: Lives of Pictures' held at the Nanyang Technological University ADM Gallery in 2014. His current research focuses on the intersecting art developments within Southeast Asia specifically Indonesia, Malaysia and Singapore.
Tags