Lalejin is a pottery town near the city of Hamedan. In 2016 it was named a World City of Craft for Pottery. Its products are popular throughout Iran. Lalejin produces a blue tableware and an ornamental "oustanding" glaze (la ab barjeste).  The town contains an entire ceramic eco-system, from clay processing to product showrooms.
We look at one of the oldest workshops in Lalejin.
My name is Asgar Ali Asgari and I was born in Lalejin in 1929. I am 87 years old and have five sons. I started working in the earthenware factories at the age of six in Lalejin. One of my sons was martyred during imposed war between our country and Iraq and my oldest son is working with me in the factory now. Due to the fact that my factory is one of the oldest in Lalejin. The Cultural Heritage, Handicrafts and Tourism Office of Hamadan recognized it as an ancient remnant and registered it in the National Monument of Iran in number 9673.
My works mainly concentrate on producing big crocks, used for keeping pickles and big vases. And by now many famous people including actors have visited my factory and I have had several interviews with TV and some other documentary makers. I love my job and I ask God to give me the power to stay in it to the end of my life.
Ten rules:
The kiln can be fires by the artisan who owns the workshop or a skillful worker with a scheduled.
The tea is made by the youngest worker.
The workshop hours are 8am to 2pm.
A worker can make work for themselves.
A worker is free to play music as they please.
The glazes are applied by the master or the artisan who has also knows how to work with the wheel.
Special events like birthdays are not celebrated in the workshop.
Artisans complete their jobs under supervision of the owner based on a scheduled plan for glazing.
The artisan on the wheel carves his mark on the pottery and the artisan responsible for glazing writes their name.
Visitors can come to the workshop any time when they are open.
You can find Mr Asgari in this film about Lalejin:
Author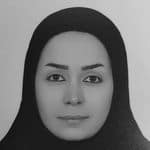 Seyedeh Fatemeh Masoumi was born in Hamedan in 1985. She received her BA degree in English Translation then studied history and ten years ago became a foreign tour guide. Her first Masters degree is in Culture and Ancient Languages and her second is in English Teaching.
Tags