Gary Warner has gathered 42 images that each reveal a remarkable feature of the sacred lotus.
Having sustained a long interest in the ancient plant species Nelumbo nucifera, the sacred lotus of Buddhism and Hinduism, I've cooked up a "feed" of morsels relating to it for Garland in our 'Year of the Lotus' 2022.
Sacred lotus is a vast, fascinating subject. My little project barely scratches the surface of its depths and complexity. Nelumbo is considered one of the "living fossils" of botany, along with the Wollemi pine and ginkgo tree. This familiar yet strange aquatic herb has been used by humans for millennia as a source of sustenance both corporeal and spiritual. It has inspired countless artisans, artists, architects, scientists, gardeners, monks and poets with its sublime beauty, incredible longevity, enchanting scent, magical water repellant leaves and ability to thrive in the murkiest of muddy waters.
My 'feed' takes the form of a simple illustrated slideshow intended to inform and perhaps surprise. Simply click on the picture link to start the show.
In a subsequent issue of Garland I'll be presenting a travel diary of a summer I spent in Kyoto, Japan seeking out Nelumbo nucifera in ponds, gardens, tubs, temples and everyday life.
Visit: A feed of sacred lotus
About Gary Warner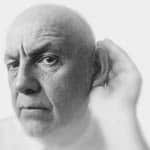 Gary Warner is an artist and art worker living in Redfern, Sydney on Gadigal land, with an off-grid bush retreat 50km north-west of there. In 1997 he started CDP Media, a cultural production company that has worked on numerous museum and gallery projects in collaboration with designers, architects, scientists, artists and curators. His personal art practice spans sound, video, drawing, installation and performance in contexts including writing, curating, collaboration, design, workshops and exhibitions. He teaches experimental drawing and digital media at the National Art School, Sydney and hosts the fortnightly Sonic Sketchbooks podcast. For more information, see garywarner.net, fieldwork.show, www.sonicsketchbooks.net and cdpmedia.com.au
✿
Like the article? Make it a conversation by leaving a comment below.  If you believe in supporting a platform for culture-makers, consider becoming a subscriber.
Tags