The Gallery VOICE is a semi-public facility which is managed by KYOEI ELECTRIC KILNS CO., LTD since 2006. From the beginning, we've held a series of exhibitions titled "The Present Situation of Ceramic Art". Through this series, we introduce ceramic artists who continue their creative activities through the medium of clay. In this article, we briefly introduce comments and works by six exhibitors from the exhibition.
Yuki Ando
One summer day, I had an opportunity to talk with a manager of a traditional Japanese garden. A specialist on landscape gardening of Japanese gardens, niwashi, composes the space making full use of nature and technical knowledge accumulated for hundreds of years. Yet, ideal gardens or ways of interacting with nature differ from person to person. Some gardeners make the most of nature, some put their ideas to work for processing natural sources. As you can see, there are various kinds of niwashi.
In any case, it is important to grasp your position clearly. My position is a ceramic artist, who does not have a choice but to look for a way to handle natural phenomena such as the influence of gravity, moisture condition, or drying shrinkage. I walked around the intricately designed garden wishing that I could find out a secret footway between the clay and me.
Saki Kawaura
When I am creating a piece of work, I feel as if I am cutting off one part of my body with a knife and offering it by myself. Until recently, while working, I felt pleasure arising in pain and distress at the moment when the edge of the imaginary knife put into my body. Now I am seeking a pleasure which rises up after getting accustomed to pain. During such fuzzy thinking, I use all the expressions of the clay that capture my heart and gather them to pile into a piece of work. That is what I hope now.
Juri Kanda
With coils in which my feeling is recorded, clay forms its shape after rolled, bent, interacted and overlapped, and then folding all the aspects together to be a ceramic work. I wish I could express the gentle look and movement that clay shows on different occasions.
Kenji Gomi
My guiding principle in creation is that "I should make something to fire out of clay". In other words, for me, firing is not a mere means of maintaining the shape made of clay, but "firing process" itself sits at the very core of my creation. Adopting my desire for technical and spiritual satisfaction and my pursuit for an optimum shape, I am gaining footholds for my production. In the moulding step, in order to leave the trace of the interaction between "clay", which is plastic, and "me", I use organic curving shapes emerging from the squeezed clay lumps. And I think that it is inevitable for me to do so. During my daily production, I always persuade myself that firing such a formed object intentionally into a piece of work, should be linked not only to the nature of my own meaning or realization of creation, but also to the essence of ceramic art.
Kiminori Takeuchi
Since I am involved in agriculture as well as in ceramic art, it is needless to say for me that earth and soil are "the source of life". If there were no soil, no vegetables nor rice nor grape would grow—aside from hydroponics. Considering that I am exchanging crops for cash and also eating them by myself, it is not entirely wrong to say that my body consists of soil. Since I naturally cultivate the soil, I start to make things with clay soil in a similar fashion.
In the case of a typhoon, I have to be prepared for the worst and to resign myself to waiting. God only knows how the harvest would be after all.
"Fertility" has to be considered in relation to the issue of "thread", and "prayer" connecting both of them. This is the concept I wish to infuse my own work with. I wish that something like "lump of soul" could be emerged from the clay during my creation.
I feel that it took me so much time nurturing my style deep inside me. I started with round shapes followed by cylindrical forms and then setting off some "waves" on these forms. Even though I am doing this with my own hands, I feel as if the clay had its own will and started to grow up by itself. Suffice to say, I have pleasant resulting from a strange feeling as though the clay made me create these forms.
I think I am deluded and driven by such strange feelings while being faced with the clay soil.
Kayo Nomura
I heap little pieces of clay one by one every day, then I notice that the rhythm and the way I concentrate my energy in the hands varies from the daily change of my mood or condition of the clay. I hope to value every aspect created by the passage of time and the colour or texture of the clay.
An exhibition titled "The Present Situation of Ceramic Art –An Art Form Consists of Clay – Part XVI" is being held at Gallery VOICE from November 3rd, 2018 to January 27th, 2019. There was a symposium on the opening day and gathered a large audience. Mr Takahiro Kaneshima, a producer and researcher of art, served as the coordinator of the symposium and steer it toward a successful conclusion.
Author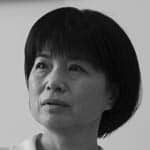 Tomoko Kawakami graduated from Ishoken (Tajimi City Pottery Design and Technical Center) in 1978. She won the Special Judge's Award selected by Yusuke Aida at the 5th International Ceramic Competition MINO (Japan) in 1998, and she also won the grand prize at the 54th Premio Faenza (Italy) in 2005 She has served as the general manager at Gallery VOICE since 2006.
✿
Like the article? Make it a conversation by leaving a comment below.  If you believe in supporting a platform for culture-makers, consider becoming a subscriber.
Tags