Dr Ghada's epic life was dedicated to raising the profile of craft in the world. The seeds were sown in her Palestinian childhood.
On returning from her travels, Dr Ghada's suitcases would often be bulging with beautiful handmade objects. These were purchases to show her appreciation and support for the artisans she met, and of course the many gifts she was bestowed These would then be distributed to family and friends: a selection was reserved to adorn her home, which was a glittering museum of world craft.
She would also host generous lunches for visiting members of the world craft community, which reflected the hospitality of her upbringing. The centrepiece dishes included Waraq Enab (stuffed vine leaves) and Maqluba (upsidedown eggplant cake) from her Palestinian homeland.
These lunches would often be crammed into an endless day of appointments with ministers and meetings about projects. But on this day, there was a rare interval after lunch before the next appointment. I seized the opportunity to enjoy a more reflective conversation. I inquired into Dr Ghada's life story. I was curious. In such a patriarchal society as Kuwait, it was remarkable for a woman to take on such a leading role. What were the origins of her ambitions?
As the conversation ebbed and flowed, it quickly became clear that Dr Ghada's determination was largely due to her mother. She described her mother as a woman whose great potential in life was never able to be realised. This set in place a resolve to stride forward in life, which she was able to do with the support of her future husband and family.
But there was one particular story from her childhood that made a deep impression on me at the time. Only now do I appreciate its significance.
It was an idyllic scene, set in the fragrant orange groves of Kafr Qaddum village in Palestine on the West Bank, near Nablus. The oranges were particularly delicious, but there was nothing to cut them. The old Ottoman railway still ran through the region, connecting Jerusalem, Damascus, Beirut and Gaza. To fashion a knife, Dr Ghada recalled finding an old nail which she then laid on the train track. The ongoing train flattened the metal, producing a serviceable blade. And so she was able to use it to cut oranges for herself and her friends.
Considering the sum of her life, there is something quite telling in this scene. it is like her life in microcosm. In an ideal world, traditional artisans embody a form of life at human scale, embedded in a village community that sustains enjoyment of festivals and beautiful things. But this life form is threatened by a "progress" that can entail mindless consumerism and the lure of bright lights in big cities.
But just as she used the weight of the train wheels to flatten the nail, so Dr Ghada was able to use the inexorable force of modernity to forge something useful to defend this traditional form of life. During her Presidency of World Crafts Council Asia-Pacific, she was able to turn the power of nation-states to support the traditional crafts. This came in a variety of forms, including better policies, promotional campaigns, festivals and nomination of World Craft Cities. She was constantly meeting with diplomats, ambassadors and ministers to argue the cause of their artisans. The response was impressive. She began a wave of national programs across Asia to support crafts, giving great pride to the local peoples.
Dr Ghada wasn't advocating that we catch the train of progress to some distant future utopia. She wasn't urging us to update their business plans and outsource their production to factories in other countries. It was enough that we could make objects of beauty and usefulness that sustained their cultural identity.
This was quite a democratic vision.
One of the strongest memories I have of travelling with Dr Ghada was our visit to the Iranian village of Darestan, which was part of the bid by Sirjan to be a World Craft City for Kilim Weaving. The immense pride of the village was evident on arrival when the entire population turned out to greet us. The roadway was paved with a human diorama of the many different stages of the weaving process.
It was Dr Ghada's tendency in these events to seek out either end of life: the youngest or oldest artisan. In Sirjan she was thrilled to find the venerable Mah Nasa, still weaving at 110 years of age. She sat down with her to learn how she first began weaving at seven years of age.
The other day, I was discussing with some Tongan philosophers about their path between the past and the future. They talked about moments in their island's history when a great figure would come forward to renew the spirit of Tongan culture. This person is given the title of "Lo'au" after the god of education, the "great carpenter". The last such figure was Queen Salote, who impressed the world with her grace and dignity.
It would be wrong to deny all the benefits of progress. But there are times when we leap onto something new without realising until later the benefits of what we left behind. I immediately thought of Dr Ghada, with her dignity and drive, as a Lo'au for the world.
I hope the memory of Dr Ghada is like that orange knife. It is a legacy that has been wrought from an alien world to sustain the things that we hold dear.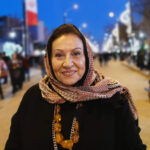 Dr Ghada Hijjawi-Qaddumi: An enduring legacy
A tribute to the President of the World Craft Council, who passed away on Thursday 1 April 2021.
A tribute to my mother
Saad Hani Al-Qaddumi reflects on the life of his mother, Dr Ghada Hijjawi Qaddumi, President of the World Crafts Council
✿
Like the article? Make it a conversation by leaving a comment below.  If you believe in supporting a platform for culture-makers, consider becoming a subscriber.
Tags