While many are lured by the promise of distant horizons, a Canberra gallery space focuses on the intimate experience of the small object.
In September 2017, the launch of Canberra's newest gallery made history as the smallest walk-in space to showcase art objects from Australia and overseas in a suburbia backyard. As the founder of GOST (Gallery of Small Things) I realised my vision of bringing art and culture to the suburbs: with a footprint of fewer than six meters' space!
I wanted to provide a platform for artists and makers to showcase their artworks and create a welcoming space/place for the community to engage with art at a local level. Our first exhibition, 3 CUBED, featured ceramic artists from Australia, Taiwan and the USA.
When I look back now to what I did, I realised that opening a gallery, when the retail sector was suffering a 10-year low, was a bold move.
If I had read Michael Reid's "Guide to Australian Art Galleries" where he quotes, 'Opening a gallery isn't for the faint hearted or the impatient. You will need from your directors: ten years of experience in every variety of art market, including dealers, auction houses and contemporary galleries … a good dose of business acumen – and that you're still only half-way there" I may never have opened GOST.
Instead, looking beyond the unused outdoor laundry, my husband Adam and I set about creating a low budget, purpose-built space. GOST now has crisp white walls, warm floorboards, floating shadow shelves, pale pink leather loops, professional lighting and hanging systems. A far cry from the sheet fibro-asbestos laundry. My vision of a space designed with a minimalist feel and a sense of intimacy has allowed each object, whether on a shelf or wall, to speak for itself.
Textiles artist Dr Sally Blake has been with GOST since day one. Her copper wire vessels and woven held mysteries can be displayed resting on a shelf as well as pinned to the wall. Visitors are curious about the objects, un(consciously) they are pulled in to examine and touch the object. This intimacy allows a conversation on how the object is made. The viewer has felt privy to the artist's world that wouldn't necessarily occur in a larger gallery setting.
When gallery sitting, I quietly observe how customers behave and that the intimacy of the tiny space disarms the viewer to ask pointed (and valid) questions. A common question from men is the wall hang of Sally's wire vessels. I reassure them a dressmaker's pin is suffice and leaves a lighter mark. This simple method can be the deal maker for the work to sell.
GOST houses a range of artworks from the visual mediums: ceramics, glass, jewellery, mixed media, paintings, sculpture and wood. From the outset, I was specific about size and would only accept works smaller than an A3 sheet of paper. By the second year, I set the prices to be less than $500.
Based on sale records, there seemed to be a happy medium for customers to spend under $500. The gallery had another purpose. To encourage customers to collect affordable artwork, build their collection and be confident to spend up to $500, $1000 and so on.
This approach complimented my initial reason for entering the arts landscape. Adam and I knew from day one the business was about patronage of the arts.
We had a firm belief that artists need support and guidance to kick start their career. By offering a price-point within reach, suddenly artists (particularly emerging) have this new playing field. They can go from making large, often less affordable works, to creating smaller works. These small works have just as much impact for its size and purpose.
GOST houses a range of art objects which include ceramic vessels, glass brooches, miniature sculptural works, crafted wooden boxes and jewellery. It also features paintings, works on paper and photographic prints. Contemporary textiles include silk scarves, crochet nests and Japanese accessories add to the collection as it expands. From 11 artists in 2017 to nearly 25 in 2019, GOST demonstrates that galleries are very much needed, and this is just the beginning.
I was determined not to follow the back to back exhibitions that galleries in Canberra were doing. I was confident this need had been covered – why repeat the process?
GOST had only been open for two months when Adam and I attended the Australian National University's Patron's Day. We decided to expand our patronage with a graduate exhibition award at GOST. I have since held two EASS shows with resounding success. The first featured textiles artist Christine Appleby in her first solo show. The second was a duo exhibition by painter Thomas Wood and jeweller Boya Yu.
Christine Appleby, drifting leaves, hand woven with copper, cotton, stainless steel and wool, 2018, variable, photo: Brenton McGeachie
In early 2018, I secured my first partnership with Megalo Print Studio + Gallery. Together we held an exhibition in two locations. Small artworks at GOST, and large works by the same artists at Megalo. GOST aims to connect and collaborate. While some businesses worry about competition I thrive on disrupting the norm.
We are only competitive if we choose to be. At the end of the day we all serve a common purpose – to showcase artworks and to support the artists. I've been so lucky because Canberra has this incredible arts community that support each other in more ways than one.
Earlier this year, I announced a workshop series called Business Basics for Visual Artists. The workshops are specifically geared to assist artists to professionalise their practice. This in turns helps the wider art community as artists improve their CVs, tighten and focus their grant applications and price artworks confidently. The results reflect success, with all workshops booked and private tuition numbers on the rise.
I am looking forward to the 3rd annual group show, Looks like music, sounds like painting, opening on 29 September 2019. The show will feature 26 artists selected by Ruth Waller, the former head of the Painting Workshop at the ANU School of Art and Design. She says, "This theme invites artists to connect with or respond to music via painting in any way. They can consider how music influences them in the studio, either directly or indirectly. The highlight is that all works must be made using a CD cover case as a support or a container for painting".
I have already put in motion a collaboration with a regional gallery in 2020, an exhibition with a local antiques gallery and a partnership with a boutique hotel for a special exhibition. The hotel exhibition is part of my sponsorship of the Little Things Art Prize with founder Marnie Ross. I may have a small gallery but my future is big!
Author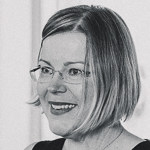 Anne Masters, Canberra. I am the owner and operator of GOST – Gallery of small things. It is a beautiful representation of the supportive art community, offering a platform for artists and makers from Canberra and beyond. Visitors will experience a cozy space less than 6 meters' square as well as view artworks under A3.

Tags