Cleaning is a guise, a mask that veils the imperfections of human living, hiding the detritus of everyday family life. Cleaning is always labour, predominantly women's labour, even today, especially in the home. Cleaning is usually care-work, but care-work is never just cleaning.
Linda Brescia's practice engages with dynamics of visibility/invisibility, masking, care and self-assertion.
In October 2016, Brescia began caring for her sister who had a terminal illness. It was during this time that Brescia began coil weaving at her kitchen table with a roll of domestic cleaning cloths. The repetitive weaving process became therapeutic, lessening the emotional turmoil and tug-of-war between sadness, stress, love and frustration. Brescia felt the heavy responsibility, being stuck at home "holding up the sky" maintaining the mask of keeping her home a relatively normal and stable base for the rest of her family—whilst also confronting the illness, and then death, of her dearly beloved sister. Managing, somehow, to stay grounded through the ancient haptic female creativities of weaving and knitting.
Grief sometimes forces our socially-adjusted masks to slip publically, to be openly emotional, then even the most stoic may reach out to others for support. "Sometimes we juggle masks, sometimes they just fall off." Through her grief, Brescia extended her extreme knitting pieces into endurance processes, balanced by attending social knitting groups, Spin a Yarn at Fairfield City Museum & Gallery and Crafties Social Group in Canley Vale. There she met local women generously sharing their skills, knowledge, experiences and stories. Collectively they found shared connections in making – holding up the sky together – to care, support and to be supported. Women are not just holding up the sky, they are also reaching for the sky: for space where their voices can be heard, their stories told, their experiences valued, not just by each other but also more widely by society at large.
Brescia's Holding up the sky exhibition interweaves these embodied experiences of textiles, cleaning, caring and labour. Working with hundreds of meters of domestic cleaning cloths, Brescia's soft sculptures, Resilience spiral (2018) and Holding up the sky (2018), playfully disturb our assumptions about what is usually considered valuable or valueless. This engagement with notions of what should be concealed or revealed is synonymous with her extensive use of stockings and pantyhose as masks of appearance and disappearance.
Linda Brescia adds…
✿ How long did you take in making the work?
The work was made over a twelve month period. The first six months while caring for my sister and then completed after she died.
✿ Was there anything new for you about the technique you used to construct it?
This was a "learn as you go" process. I had been shown a coiling technique at a weaving workshop at the Parramatta Artists Studios but realised in the making that tension affected the construction. This tension resulted in the waves that are especially noticeable in the centre of the work.
✿ Was there anything else significant about the process of making it?
The very act of coiling enabled me to become centred, at a time when my life was in turmoil. Caring for and mourning a loved one takes its toll on one's wellbeing. The repetitive action of weaving had a calming effect and watching the coil grow was surprisingly satisfying. 
Author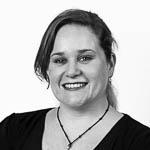 Dr Kath Fries is a Sydney-based artist, writer, curator and researcher. She has a PhD from Sydney College of the Arts, University of Sydney. Fries is interested in how we are entangled with our material and immaterial surroundings through our senses, memories and relations. She exhibits widely and has participated in a number of artist-in-residence programs in Australia and internationally. Over the past twelve years Fries has been involved in artist-run-initatives, galleries, community spaces, local government initiatives and education institutions; working as an artist, researcher, arts administrator, lecturer, tutor, curator, writer, artist board member, judging panel member, and as a mentor to emerging artists. She the founder and director of the John Fries Award and the Gunyah artists-in-residence program. Fries is currently exhibiting in The Matter of Objects and Materiality at Gallery Lane Cove NSW as part of Art Month Sydney. She is also curating HIDDEN Sculptures 2019 at Rookwood Cemetery NSW. See her website www.kathfries.com
✿
Like the article? Make it a conversation by leaving a comment below.  If you believe in supporting a platform for culture-makers, consider becoming a subscriber.
Tags