As a participant in the Sheber Festival Astana (Kazakhstan 17-18 December 2016) and Artistic Jewellery Workshop, Martina Dempf gives us a rare glimpse of the creative life of Astana, Kazakhstan.
The Sheber-Keruyen Festival Astana 2016 was held by the Union of Artisans of Kazakhstan, UNDP in partnership with the Chevron company, Shopping Center Keruyen, UNESCO, FECA, galleries Has Sanat, the National Museum of Kazakhstan, and included the final of the Sheber competition, in which artisans from all over the country took part.
The festival purpose was to stimulate creative process and promote national art. The festival was also a feast for citizens and increased the attractiveness of Astana for tourists. It connected Kazakhstani artists with artisans from other countries by inviting myself from Germany, as a multiplicator for contacts in Western Europe.
During my whole stay I was guided and accompanied by Serjan Bashirov, jewellery artist, and Azhar Nurbay, my excellent translator and volunteer at the festival. It was with my greatest pleasure to meet artists which I have met during my first visit in Almaty 2012, namely Iliya Kazakov, Sirikaliy Kokenov and others, and continue our exchange of knowledge and expertise on jewellery and other arts and crafts.
Mrs. Aizhan Bekkulova as the head of the Union of Artisans of Kazachstan invited me to participate in the Fashion Show with my artistic jewellery, and to give a workshop at the Arts College of Astana for selected members of the Union and students, in co-operation with Serjan Bashirov, jewellery artist Astana and professor at the Art College.
The Sheber Festival included a contest for artisans with an award ceremony and exhibition of the winners' art, in the Shopping Center Keryuen. The highlight of the award ceremony was a fashion and jewellery show organised by Aizhan Bekkulova. A number of Kazakh fashion artists were showing their latest creations, followed by a presentation of artistic wood/silver jewellery by Martina Dempf.
The award ceremony and fashion show was accompanied by a two-day crafts market, where local craftsmen presented their works. A great selection of artistic contemporary jewellery, ceramics, felt art, embroidery, weaving, silk painting, leather work, woodwork and sculpture, as well as traditional musical instruments were successfully presented for sale. Visitors were very attracted and impressed by the variety and quality of original crafts. For the craftspersons this was an exciting experience, as they came from all over the country including some very remote places, where authentic traditional crafts are still produced.
I was very impressed by the high quality of the art works for the competition and by the passion of Kazakh artists in reviving their traditional culture and finding contemporary answers in art and design. Not only the awarded artists proved their capability to deal with this difficult goal.
The National Arts Museum of Astana, an impressive building of modern architecture, hosts a great variety of exhibitions, from pre-historic culture to contemporary art.
Mr. Amalgeldy Mukhazanov presented his oeuvre of jewellery, paintings and objects, an excellent selection for an impressive exhibition at the National Arts Museum of Astana. I was kindly guided through this extraordinary show by Mr. Mukhazanov himself, and the director of the Museum of Contemporary Art, Mrs. Roza Abenova.
Another highlight of the museum is the exhibition of Skythian art and jewellery, as well as ethnic jewellery, costumes and daily life artefacts from the different regions of Kazakhstan.
I gave a lecture and master class "Jewellery and Wood – an Artistic experience" in co-operation with Prof. Serjan Bashirov. The workshop focused on artistic concepts and techniques for wood jewellery, as a free creative process to discover new fields of jewellery making techniques in wood and individual designs. The workshop resulted in innovative creations for each maker, who succeeded to design and make one or more pieces of great artistic expression.
When I first visited Kasachstan (Almaty) in 2012 for the Sheber festival, I realised that many artisans including jewellers were good wood workers, with a great passion for this material. Within my own artwork, wood has been an important longstanding source for me as a material for artistic expression.
Wood has ever been a source of inspiration for artists and has a long history in art practice, including jewellery. The versatility of wood and the way in which it can be transformed is almost unlimited.
Over recent years, wood has become more of a focus for contemporary artistic jewellers. The creative mind of the artist, in combination with his/her experienced craftsmanship, is able to yield stunning and innovative jewellery in wood.
Within the workshop, the artisans (woodworkers and jewellers) were supported to work with wood in an innovative sense, and expressed themselves spontaneously, which led to really surprising works. The aim of the workshop was to open new ways for contemporary jewellery and woodwork, and at the same time respecting the great art history of Kazakhstan.
Besides the festival and workshop itself, the most impressing event was the visit of the exhibition of Amageldy Mukhazanov in the National Arts Museum of Astana together with the artist and the curator. Mr. Mukhazanov is great jeweller and painter, and regarded as a national treasure. I especially appreciate his contemporary interpretations of ancient myths in combination with a free expressive style.
The hospitality and generosity of all the Kazakh people I met during my stay was an overwhelming experience for me. I am very grateful to have been invited by Mrs. Aizhan Bekkulova. I would also like to thank Chevron and UNDP for making my stay possible.
Author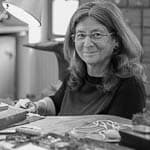 Martina Dempf, a jewellery designer-maker and anthropologist who lives and works in Berlin, where she runs her own studio and gallery. Her scientific studies and her creative work are strongly related to each another. Her jewellery is a cross-over in style and material and is shown and collected at international exhibitions in museums, galleries and fairs throughout the world. Martina Dempf also works as a design consultant and lecturer for artistic jewellery with local artists and designers in Asia, Africa, the Middle East and Europe. Next projects include Florence Jewellery Week 24-28 May 2017 and Summer Academy Idar-Oberstein, Germany, August 2017. Upcoming exhibitions include "a ring is a ring is a ring" Gallery Brinkmann Berlin, April-May 2017, Athens Jewellery Week, main exhibition at the Benaki Museum, Athens, May 2017 and "Frauen – Flechten – Formen" in Rwanda, Landesmuseum Koblenz, Germany, June-October 2017. Her website is www.martina-dempf.de

Tags
jewellery | Kazakhstan | wood