Nyibol Deng uses her African connections to create unique textile products from a combination of recycled jeans and Malawi wax prints.
Nyibol Deng was born in Gambela, a town of around 40,000 people which was incorporated into Ethiopia in 1956. She belonged to a Nuer minority, who were forced to flee slave traders through the eighteenth and nineteenth century. Their culture revolves around cattle, which determines kinship. They mainly eat fish and millet, killing cows on rare occasions and with great ritual. Traditionally, they believe that God is in the sky, and the rainbow is its necklace.
Nyibol's family followed a nomadic lifestyle, moving according to the seasons and growing corn. Nyibol herself grew up during a time of war between Ethiopia and South Sudan and remembers soldiers coming and going. They left the village in 1998 and moved to a refugee camp in Kenya, eventually coming to Australia in 2003.
Initially, she was shocked by the sense of isolation here. "I was shocked at not being friends with your neighbour. Everyone was always working. Where I was from, neighbours become part of your family."
Nyibol settled in Ballarat and started a family which now numbers five children. Not being able to afford child care, she looked for a business she could do at home. The Anglican Church put together a playgroup and taught women to use a sewing machine. Nyibol then learnt more techniques on YouTube and did a Certificate 3 course in textiles in Coburg, Melbourne. The Ballarat Welcoming Centre gave her a room and studio for her sewing machine.
She started a business A Tuk which means "beginning" with Mere Deng who makes beads and Mere Top who makes aprons.
She started to make cushions and bags out of recycled jeans. Using her African network, a family friend brings back wax printed fabrics from Malawi.
Her aunt Nyadol Nyuon is a prominent Melbourne lawyer and activist. She says of Nyibol:
Nyibol is an extraordinary woman. She has a deep belief in herself and her ideas. She is creative and entrepreneurial. I have found her approach to life to be inspirational and educative. Watching her grow her business is a lesson to all the younger women within her circles. Just by the way she lives her life, the decisions she makes, and her willingness to face any challenges, she teaches us (the young women in her life) self-confidence, self-respect and self-worth by her attitude.
Nyibol is just getting started. With plenty of local support, she has the potential to expand her work and draw further on the resources of the African diaspora. Her recycled bags offer a canvas for the vibrant colours and designs from Africa to brighten up the grey bluestone lanes of Victoria.
A statement from Rafeif Ismail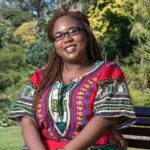 Rafeif Ismail is a Perth-based author of Sudanese background who helped launch Garland's Kaya issue. Her award-winning entry in the Deborah Cass Prize for Writing can be found here. She shares her thoughts about the Sudanese diaspora:
"There is a discomfort that comes from writing about the Sudanese experience in Australia. Mainly because there is no one South or North Sudanese experience; like the nations from which we arrived, with their many languages and cultures, our journeys here may share similarities, but the stories are never the same.
"How can one speak consciously on the decades of war and it's after-effects which have resulted in Black-bodied children becoming settlers on Stolen Blak Lands an ocean away?
"Instead, let us speak on the work of young South Sudanese and North Sudanese individuals in Australia. In reclaiming, celebrating and exploring their passions, young people from South Sudan and North Sudan have been nothing short of phenomenal. There is something hopefully in seeing the work of these young people. It's a reminder that the voices of Sudanese peoples will never be extinguished, no matter how many systems of oppression are set against us."
✿
Like the article? Make it a conversation by leaving a comment below.  If you believe in supporting a platform for culture-makers, consider becoming a subscriber.
Tags