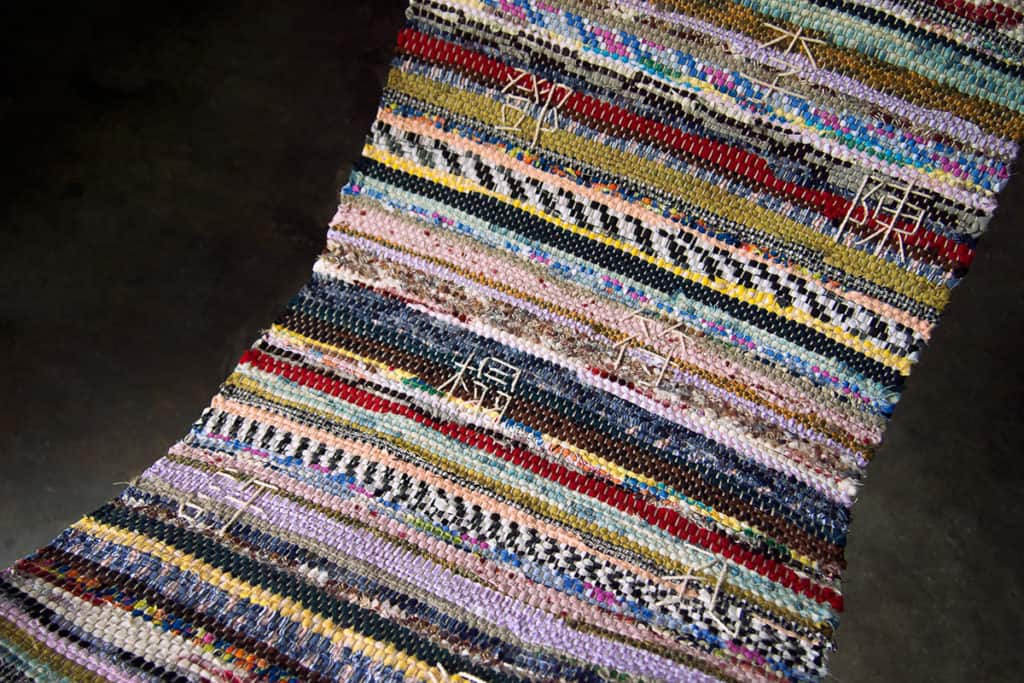 The Yen Chow Street Hawker Bazaar is the oldest operating outdoor fabric market in Hong Kong. Occupying an entire block in Kowloon's bustling Sham Shui Po district, the bazaar is one of the last of Hong Kong's uniquely makeshift environments.
A chaotic labyrinth of fabric bolts piled ceiling-high and somehow fashioned into stalls, where every arrangement is ad-hoc and improvised. It's a rare informal structure in a city that increasingly favours order and regulation, and it is for exactly this reason that it faces a precarious future. Hong Kong's iconic street vendors are disappearing—fast.
On my first visit to the hawker bazaar a few years ago, one of the things I noticed was just how strange it was to be in a space in Hong Kong that was just one storey. Its ramshackle appearance earned it the nickname "Pang Jai" 棚仔, which loosely translates to "little shacks'. With its tented awnings and patchworked sheet metal canopies, it has the look of a temporary encampment that has somehow managed to last for almost half a century. Pang Jai's lasting power is due in part to its positioning in the hawker heartland of Sham Shui Po. It is Hong Kong's most working class neighbourhood and one of the only areas in the city to still have a predominance of walk-ups or 'tong lau', the classic low rise tenements from the early 20th Century. Pick any exit of Sham Shui Po's MTR station and you'll emerge into a sea of street markets flanked by these characteristic concrete buildings, their once bright coats of paint faded and peeling.
Navigating my way through this neighbourhood on my way to the bazaar, I found myself absorbed in its frenetic social rhythms and anything-goes entrepreneurial spirit. It was easy to see how Pang Jai came to exist here. After a few minutes of walking I arrive, slipping through the front gate into a dimly-lit warren of hushed activity, the ceiling-high stacks of fabric having an unexpected noise-cancelling effect.
Stack after stack, after enormous stack of fabric. Moving through the narrow aisles of the market is an experience akin to being squeezed through the digestive tract of some great textile beast. There is no real distinguishing one stall from the next, and aside from the odd homemade shop sign it can be some time before you're able to correctly match a stall to its owner. Once you do though, it's usually a matter of seconds before the owner has found what you're after. The sellers of Pang Jai have been helping designers, hobbyists and DIY-ers find what they need for decades. They are the human index in this crazy fabric filing system.
After the Second World War, Hong Kong's clothing companies and fabric hawkers were all relocated to a section of Yu Chau Street in Sham Shui Po. With the construction of the subway in the late seventies, the sellers were made to relocate again to their current location. In 2015, after forty years of trading, the government declared that the market was to be closed permanently.
Space is a rare commodity in Hong Kong, and the large, undeveloped market site was never going to go unnoticed. The community rallied in response, recognising Pang Jai's unique contribution to the area's heritage, economy and fashion industry. The Pang Jai Concern Group was formed, and they worked with the sellers to propose an alternative plan for the continuation of the market at a nearby site. It was an ambitious proposal that would require an abrupt change in thinking from the government. Talking with members of the concern group and the sellers earlier this year, I got the distinct impression many of them resented the idea of undertaking such a disruptive and labour-intensive move. Without a fair relocation plan, how could they justify it? But negotiating with the government in Hong Kong is exhausting, and time is starting to run out.
From Pang Jai it's a short walk to Garden Hill, one of the best lookout points in Kowloon. On what was a surprisingly clear evening in winter, I made my way from the market down the length of Yen Chow Street and up the sheer concrete steps to a lofty rest area dotted with amateur photographers. I could see all the way across Kowloon, over the harbour and up to Hong Kong Island's famous Peak. From this height, the structures seem to rise out of the ground like the product of an accelerated chemical reaction. Just south-east of Sham Shui Po I could see the radiating lights of Mong Kok, the most densely populated district in the world. It's still incredible to me that this city can exist on such a small fragment of land.
Sitting up there in the sunset breeze, observing the streets below me, I wondered how you can truly measure the value of a city. The old 20th Century ideals of speed, convenience and comfort are being reevaluated as our cities prepare to adapt to a difficult future. When we want to measure a city's worth on face value we often look to its buildings – how they're designed, their historical significance, what they offer the public, whether or not they 'fit in'. We ascribe social value to our buildings while their more substantive value is being determined by the desirability of the ground they rest on. These buildings are pouring financial utility into our cities, but for who? Where do people fit into this picture? How do we measure the value of a city's culture, history, stories and experiences? I thought about the Yen Chow Street Hawker Bazaar, in the city's poorest district, being forced out of its location in favour of more "valuable" developments. It will mean the irreparable loss of a vibrant part of Hong Kong's heritage and the rupturing of a community. So, which value is more important?
I've learnt that collective memory is very important to the people of Hong Kong. If Pang Jai is fated to be demolished, then recognising and documenting it seems critical. I wanted to do something to support this community, but had reservations about how effective and invited my input would be as an outsider. In a way though, I could see how the sellers of Pang Jai might feel like outsiders themselves. In an economy that values luxury and the sheen of the new, many dismiss their approach as a quaint relic of a bygone era. The lack of acknowledgement and respect for those working at the gritty face of the fashion and textile industries can often leave communities hurt or struggling.
Not long before I was in Hong Kong this year, I had started learning hand weaving in an effort to bring my own making back to fundamental principles. There is something about the process of weaving—bringing many parts together in a strengthening, connective action—that seemed to reflect the circumstances of the Pang Jai community. The livelihoods of the sellers have been woven together for over 50 years, but now government bureaucracy threatened to unravel these connections. I hadn't considered whether my textile making could become a tool for advocacy before, but thought at the least it could be a way to show support and recognition.
When I brought this collaborative weaving project idea to a friend—designer, activist and Pang Jai Concern Group member Michael Leung—he informed me that the sellers themselves were no strangers to social movements. "I've known the sellers for over three years, whilst joining their struggle, which is also ours who have rights to the city." he explained. "The most memorable moments are when our values and politics overlap, and we empower each other". For example, one of the sellers, Mrs. Ho, made 100 metres of multicoloured carnival flags for the 2019 Wang Chau Jackfruit Festival—a greenbelt village scheduled for eviction and concretisation this year—and recently another of the sellers, Margaret, sewed a 4.5 x 10 metre banner for the anti-extradition bill protests that have dominated the political environment. "These gestures," said Michael, "show the determination of Pang Jai in fighting for social justice in an overwhelmingly capitalistic city like Hong Kong".
And so Weaving Pang Jai was born—a tangible dedication to the tenacity and resilience of the people of the Yen Chow Street Hawker Bazaar. The process began by inviting each of the sellers to contribute a fabric scrap of their choice. Initially, this request was met with bemused response from many: "Why don't you just pick something out?". Fair enough. Was I not just another customer after all? It was difficult to articulate that this was an act of both material and cultural preservation—their preservation—and that their personal input was an important part of accurately representing Pang Jai's collective identity. But after talking some more, and with Michael's innate understanding of the rapport and dynamics of the market, the purpose of the project came into being. The sellers ended up contributing a wonderfully diverse range of fabrics.
The next stage of hand-cutting the fabrics into hundreds of thin strips was the most time-consuming aspect of the project, and involved help from several people. Once the fabric was in yarn form, I used a basic table-top hand loom to weave them into two textile pieces. The first piece recognises each of the contributing sellers with a rectangular stripe woven from the fabric they chose. The second piece is made from randomly interweaving their fabrics, evoking the jumbled interconnectedness of the market. The embroidered surnames of the sellers float across the surface. Through their vibrant mix of colours and textures, it's my hope that these textile pieces convey a sense of what makes Pang Jai so special—the unique story of its collective identity and the individuality of the people at its heart.
Pang Jai is more than just a hawker market. It is part of the city's unique social fabric; a symbol of people's self-determination and resourcefulness in the face of bureaucratic demands for conformity. It is the Hong Kong that exists between the gaps of towering skyscrapers and sterile shopping malls.  At street level, relationships emerge that have been woven together through time and experience. And just as with weaving, the tighter and stronger the bonds of the threads, the longer the fabric remains connected.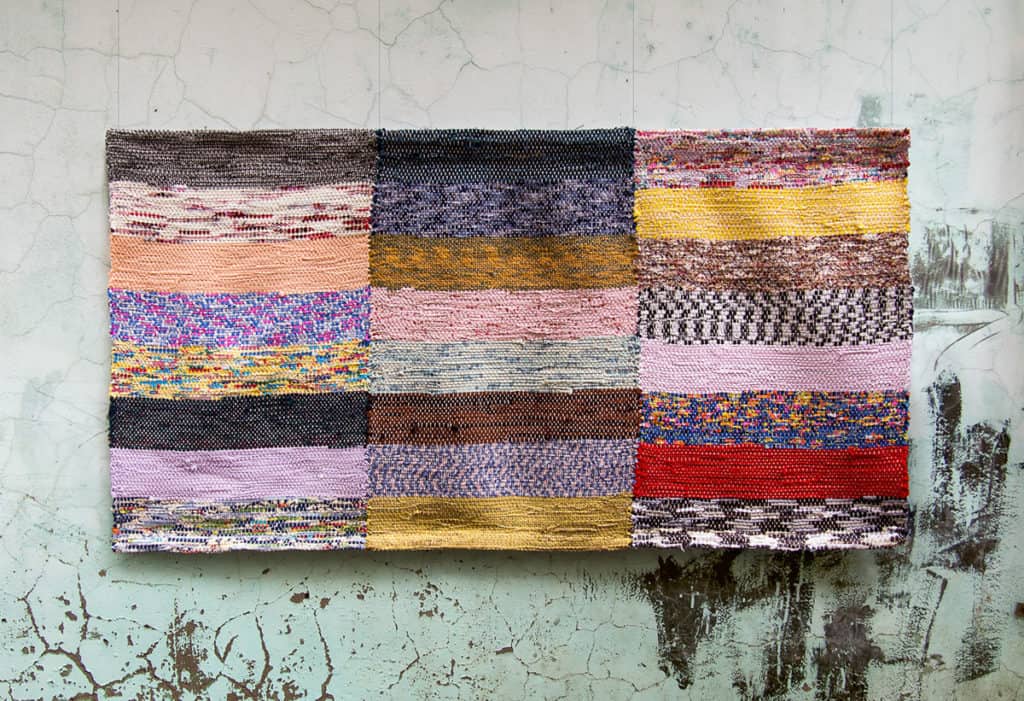 Author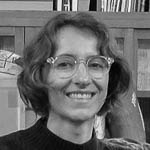 Eloise Rapp is an Australian designer, researcher and educator specialising in textile design. She worked in the Sydney and Melbourne fashion industry for eight years before turning to independent research and consultation, focussing on education, sustainability and community development. Eloise has lectured in the fashion and textile program at Sydney's University of Technology and at Vantan Design Institute in Tokyo. At UTS she developed a new textile print subject for the Masters of Design program and, most recently, she curated The Intuitive Thread; an exhibition of contemporary textiles at The Japan Foundation in Sydney. Eloise regularly works with fashion social enterprise The Social Outfit on product design and creative direction. A lifelong admirer of Japanese textiles, she has just finished a year of research and study in Kyoto and will spend next year researching and making in Tainan, Taiwan.
Tags
China | Eloise Rapp | Hong Kong | recycling | revival | textiles