(A message to the reader in Tajik.)

(A message to the reader in English.)
Ikomi Nigina (the Tajik way is to put surname first) is a key figure in the Tajik craft scene. In the above image, she is coordinating a workshop with the EU about tie-dyeing in Khatlon region in Kulyab city. Ikromi comes from Panjakent, of ancient Sogdian heritage. ancestry.
Like its neighbour Uzbekistan, Tajiks use the work "hunar" for skill. One of their sayings is panj panjah hunar ("five fingers full of skill") which applies particularly to craftswomen.
Ikromi has been executive director Union of Craftsmen of Tajikistan for four years. To celebrate her period, she is producing a project Chill Ruz which produces a profile on Facebook and Instagram of artisans every day for forty days. We include a selection of four of these below.
---
Saidov Miramin/ Chitgari ( Block print)
Usto Miramin Saidov-Chitgar is one of the hereditary artisans of the famous Saidov family. The Chitgari craft is a hereditary skill, one which is passed down from generation to generation. Usto Miramin was born in Istaravshan, known for its artisans and craftspersons, and was raised around an eclectic community. His father was a hand block printer, Usto Sharofi, who learned the art from his own father Mirsaid. From a young age, he watched, learned and showed much appreciation and desire to learn the craft. As he grew into his position as a master craftsman, he also developed an appreciation for the natural and organic process, both sustainable and respectful of the environment around him. He quickly realised that this art, skill and craft is no longer in practice and therefore took on students and apprentices to pass on his legacy.
Chitgari, or hand block printing, has been part of the ancient traditions of the Tajik and Central Asian region for centuries. Due to the downfall of the Tajik textile industry, unfortunately, this tradition has been near-extinct. This artist has been taught by his father and grandfather as a youth, which has been passed down to them by their forefathers. This is the tradition of most artistry and crafts in Tajikistan. The love of the art is apparent and obvious in details and patterns created by such small blocks on such vast and large canvases. This artist is also the only practising Chitgar (block printer) in Tajikistan.
---
Karim Raqibov/ Kundal
I was born on January 1, 1956, in Vanj district that is located in Badakhshan region of Tajikistan (in Pamir). My life was not so easy. In 1973 when I moved to Dushanbe, I entered the Art College. I was supposed to study for four years and graduate from college in 1977, but suddenly I was drafted to the army and was forced to leave study. After serving for the homeland, I returned and finished my art college education in 1979. After graduating, I started to learn the art of different nations and countries in order to broaden my knowledge of the art sphere. I am always developing my skills and trying to learn something new. Today, I am studying at the Institution of Design. I have not only local customers, but foreigners customers as well.
KUNDAL came from the Arians period. This culture began five to eight 5-8 thousand years ago, during the period of Dzhamshed Governance. This is a traditional design and it comes from the spirituality of the people of our culture and heritage. The base of the design in this folk artwork was taken from the three sources:
1) Geometric ornament, which consists of the quadratic, triangle, circle, rectangle and other geometric figures.
2) Arabesque ornament, whose designs are taken from the trees, tree leaves, branches of trees and flowers.
3) Zoomorphic ornament, using figures like birds, a lion with wings and fabulous bird or stars and moon.
This work teaches people to be patient. In my family, two of my sons now continue my work. At the same time at Art College, I teach to the students this work and I have thirty students who will continue this artwork together with my sons.
In ancient times, this Kundal was mostly used by rich people, because it was made from the red sand and covered by gold. It can be found in the Throne of Dzhamshed, in the walls of Afrosiyob, in the ancient town Varakhsha city (near Bukhara) and we can see this work in most towns and mosques of Samarkand. In addition, the best samples of this work we can see in the mosques of Isfahan (today's Iran). From the ancient time, this work continues today and travels event to Taj Mahal in India. In Tajikistan, one of the best Kundal works is visible in Kokhi Navruz (the biggest teahouse in Central Asia) which is located in the centre of Dushanbe city.
---
Gaforov Ergashboy/ceramic toys
This craft had been passed to Usto Èrgashboy from his father Gafurov Gadoybek,  a holder of the title People's Artist of the Tajikistan and grandfather Gafur Khalilov, whose works are exhibited in many ethnographic museums in the world. In the collection of the master, which is located on the territory of his home, you can find a lot of whistles, each of which is different in size, pattern and shape. Each of them has absorbed a unique piece of creature's imagination.
I was ten years old when I became an orphan, and Usto Hadyr took me to his apprentice. He sculpted the tandoor oven for baking bread. I also made many tandoors, but at night I dreamed that I sculpt some strange beasts. I used to jump up at night to fashion their reality but did not dare follow through. The Koran forbids to depict people and animals because they can come to life. I was past sixty when finally made my dragons. But when I sculpted them, I painted them red. This is the wound on the body of a dragon. If he suddenly comes to life, according to the Koran, then it comes to life with his wounds, and then the dragon dies. But I know that my animals are not able to bring evil. I put them in my soul.
Until recent times, people have believed that "Adjuba" has a magic power: to rule the elements of nature or to cause the wind or rain. For this reason, they had been given such name Adjuba  (aҷib – amazing (Taj)). In our time they are used as toys, or to be precise as a whistle for kids
---
Hamdamov abduqahor/carpeting/istaravshan
I was born in the city of Istaravshan in Tajikistan, where I was raised. I graduated from high school and eventually attended college graduating with a degree in accounting. I then entered the Osh State University of the Republic of Kyrgyzstan, where I was planning to study law. Unfortunately, after a third course, for a number of reasons, I had to leave school and help my mother.
At the moment, this type of folk craft is considered the main income for our family. In the process of working, my mother helps me (as much as she can), my wife, children and apprentices. I am an excellent student of the culture of the Republic of Tajikistan, a member of the Union of Artists and a member of the Council of CPT. On the part of the bodies of gst and arta rt, our products were recognised as the best handicraft products of the year and awarded a diploma. The region was awarded a diploma for contributing to the revival and development of traditional folk crafts hand-carpet-making and spinning yarn from local breeds of sheep and goats".
Carpet weaving and rug making have its roots within my family for generations. I learned from my father as a young man, helping him to weave carpets and to retain the knowledge. For weaving hand-made carpets, a master must have the skills of a weaver, artist, spinner, a dyer and a washer, or hire craftspersons with these capacities. This entails labour-intensive work. The artist determines the size of the proposed carpet and creates a design, selects colours and this design transfers to cell paper where each cell is considered one node. This is called a carpet card. The wool spinner sorts quality wool, dries and spins the yarn of the desired thickness. The dyer colours the yarn according to the colour of the design. The weaver, in accordance with the cells on the map, refills the machine base and weaves the carpet observing the given density.
After the weaving process, the Washer cleans the carpet, thereby giving the carpet its cleanliness and shine. Each of these areas of skill has its own special skills and for many centuries, this kind of craft is passed on to children and pupils. As a hereditary master of carpet-making, we are engaged in creating a design, dyeing (natural and chemical) dyes, weaving and washing.
Carpet weaving is considered one of the ancient kinds of craft. Carpets that are handmade are not only a household item but also a work of art; such carpets warm the soul and please the eye. For Tajik people, this kind of traditional art has been passed on from generation to generation by craftspersons from generation to generation and traditional techniques have come down to us unchanged. For spinning yarns, we also created groups in villages of rural women who spin yarn for us and thereby earn money to improve the quality of their lives. Spinning yarn from wool for these rural women is considered a traditional method.
Author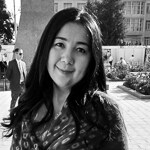 Nigina Ikromi was born in Panjakent, in northern Tajikistan. She studied languages at University of Central Asia. Her professional degree is in the Institute of Enterpreneurship and Service in Dushanbe, Tajikistan. As a patchwork artisan, she become a member of the Union of Craftsmen of Tajikistan, where she was appointed as Executive Director for the last four years. She developed the Tajikartisans website and increased international profile and connections. In 2017 she became alumni of USA State Department program International Visitor Leadership Program for Women and Enterpreneurship. She worked as UNESCO national consultant for Silk Road Heritage Corridors in Afghanistan, Central Asia and Iran. Since 2018, she has been a member of Consultative Council on Improvement of Investment Climate under the President of Republic of Tajikistan. In August 2019, she became alumni of Market Readiness program for Aid to Artisans.
Tags