LOkesh Ghai shares his journey into the Himalayas, in search of a remarkable pleated fabric.
June 2021.
"This village has a mix of communities living"; my guide pointed out the information, something I should be aware of. I kept quiet, waiting for him to add. With field experience, I have learnt to avoid any questions that might instigate unwanted deviation.
He went on, "the tailors belonged to the lower caste."
"Sorry there is no road, you would have to climb". Not a problem, I replied. The climb was not steep, in the past few days I have taken much steeper ones in the mountains of Kullu District, Himachal Pradesh that felt like a new home. Every time I am tired, I tell myself to walk a bit more—well done, I am increasing my stamina, for something important to come. It has been two months now, recovering from Covid.
Earlier, the previous morning, the climb to the guide's house was no less. If the turn is missed, a wrong path would mean walking down the slope and starting uphill again. I almost did that, before reaching his house and then forgetting the fatigue when struck by the view of snow mountain peaks and the roses at the entrance of the house.
His name is Rohit Chauhan, my friend. Varun's mom said we should address him as "uncle', he has grandchildren. My friend said he is not that old and "bhaiya" (elder brother) would be appropriate.
Rohit was a dancer, he was not born in a dancer's family, it is something he took up as a passion. He is semi-retired now and looks after his apple farm, that is Fresh Green, in July. Soon the colour would turn red. The Ever-Green club, Rohit said, has new youth members and he had given away almost his entire attire to the young dancers. Except for the chola. "The chola must have emotional value for you?" He neither agreed nor disagreed. Lost his thought for a moment. The bag was opened.
During my previous study of indigenous clothing in the North East Mountains of Arunachal Pradesh, near the Indian border to Tibet and in the desert of Kutch, West India, I had recorded special manners of folding and storage of indigenous garments. These garments predate the invention of ironing. Travel was an important aspect of the communities, with cattle such as sheep, yak, goat and camel. It is said that the story of humankind is the story of migration. How could clothes be left behind?
The chola was unfolded, opened like a hand fan. Rohit wore it at my request. The wife looked at us with a smile from the little window, typical of the Himachal mountain houses. She had access to a view from a height, an insight that may take me years to gain, after all, I am a visitor, not a local resident and it would take me time to build my understanding.
Counting the number of panels that gave a beautiful girth to the garment and a fit at the waist almost became a little game for my friend and Rohit. The panels were addressed as kunji literally meaning "KEY" in Hindi. I inquired if the number of panels depends on the width of the fabric available. "No, it is according to the body of the dancer. 32 to 36 kunjis usually."
On my request, Rohit encircled a dance step, but only after the wife had passed the cap. "The cap you see is the crown, so photograph me once I wear it, not without the cap."
A few steps further in the village, I checked if my mobile phone battery was sufficient. I walked with Rohit through the apple greens, met a tailor with a sorry story. He had lost his son in a landslide.
"My daughter is married in this village, that is my son in law and here is the house he is building", gestured Rohit. It must be a large family, I asked. "No no, they are a small family, this would be used as a homestay". I kept again quite avoiding expressing my disappointment in the strange concrete modern aesthetics, a contrast to the beautiful, originally wooden, earthquake-resistant traditional house in Himachal. This was a different direction.
We reached the chola maker's house, the man was 85.
"I was hard of hearing and was thrown out of school. My father taught me to tailor and thus I could make a livelihood". His wife and grandson helped me with the conversation and soon I gathered that if I use my lips slowly he could read and understand me.
"You could not study at school, but if you teach me how to make the chola, your craft could reach the school and your knowledge as a teacher". I expressed my desire to learn, and further asked, "How many cholas have you made so far?"
His wife replied, over a hundred! He joined, "I could teach you to cut the chola. With my age, I can't stitch it. My son or grandson have not been interested in the craft." We discussed that March would be a good month to return with the festival and dance.
His wife happily showed me the loom she hand-weaves the fabric on. I could study the making of the cloth and cutting it to fashion the attire with zero-waste.
I was finally taken to the son in law's beautiful house, the old one, where the "devtas" Gods are supposed to be residing; hence, it could not be converted into a homestay and a new one must be built to benefit from the rush of weekend tourists, a different category from travellers.
There are so many parallels between the food, the melting snow on the mountains, global warming and perhaps emotional well-being.
My mind is stuck on how the chola was carefully folded into pleats.
Time to unlock insights, knowledge and wisdom with the pleated panels called KEYS.
The second part of this story: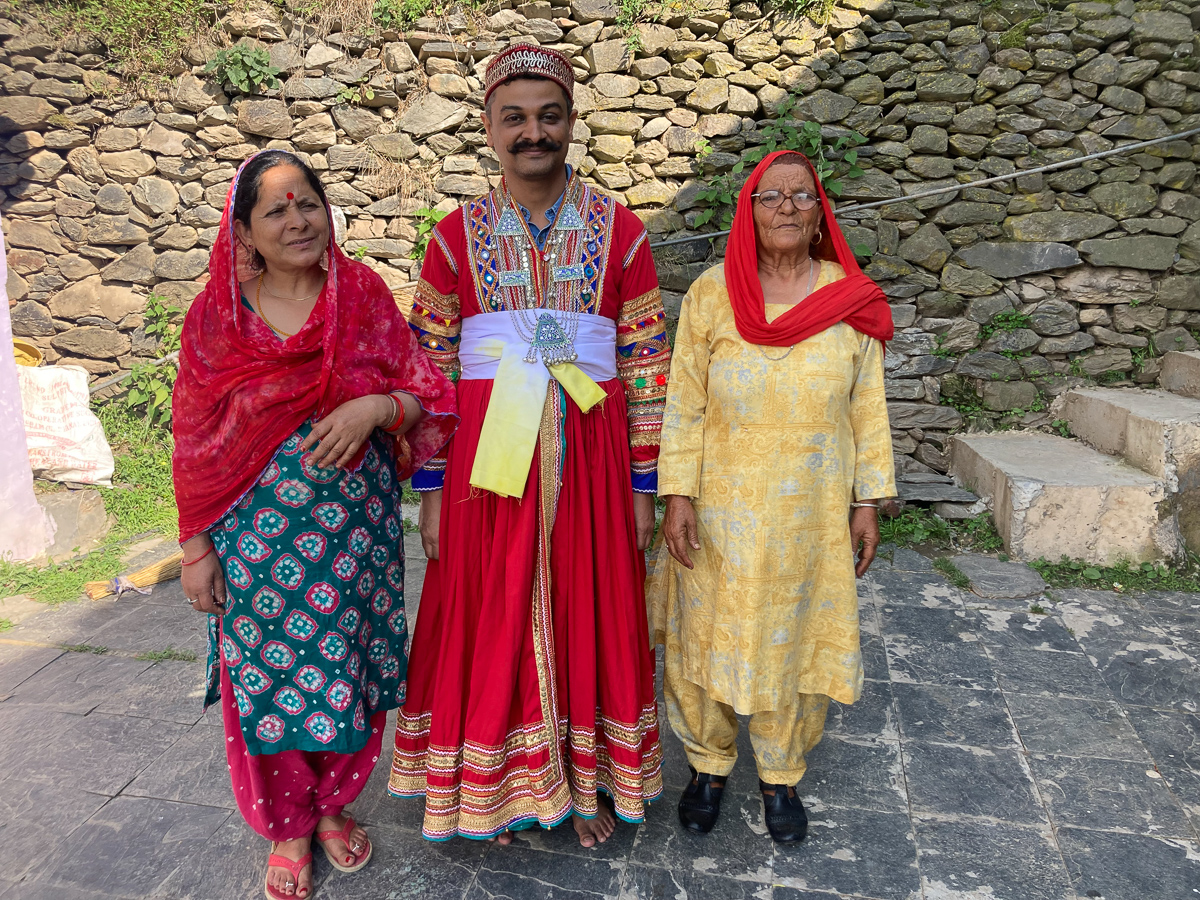 To steal a golden earring: In search of the chola in the mountains of Himachal Pradesh
LOkesh Ghai continues his journey through the Himalayas in quest of the legendary choga over-garment.
About LOkesh Ghai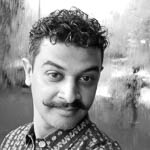 LOkesh Ghai is a textile artist, researcher and academician working with traditional craft practice. In 2011, his textile art responding to the study of Frozen Charlotte was featured at the V&A Museum of Childhood, London; Harley Gallery, Nottinghamshire. As part of Cultural Olympiad of 2012, he led public workshops and presented his work on the theme of Cotton-Exchange at Gallery of Costume, Manchester and Harris Museum, Preston. In the same year, he created a textile shrine at Blackburn Museum. As a designer and associate curator, he presented 'India Street' exhibition in Scotland; the show was a runner up for the most sustainable design practice award in the Edinburgh International Art festival 2014. This was followed by 'India Street' part-two showcased in Tramway, Glasgow; and at Conflictorium museum, Ahmedabad in 2016-17. In 2002, LOkesh presented a solo fashion on Khadi for Studio Mélange NCPA, Mumbai and design installation for Ahmedabad International Art Festival 2011. He has been visiting lecturer at numerous institutions in both India and the UK including the National Institute of Fashion Technology, Gandhinagar, Royal College of Art, London and Somaiya Kala Vidya, Kutch, India's premier design institute for traditional craft communities. He has been working with the Warli tribes of folk artists for a decade, towards the 70th year of Indian independence as part of Re: imagine India, the project was showcased in art galleries and educational institutes in India and England.
✿
Like the article? Make it a conversation by leaving a comment below.  If you believe in supporting a platform for culture-makers, consider becoming a subscriber.
Tags