Kenneth WONG and Jaffa LAM describe a new education program that reflects a renewed interest in the handmade traditions of Hong Kong.
Hong Kong is a modern-day melting pot where East meets West and numerous opportunities for multicultural exchanges are constantly brewing. The city's affluence and world-leading living standards, stemming from long-standing prosperity, also presents an abundant array of novel choices and an ultra-fast circulation of the latest commodities. As luck would have it, proximity to China has tied Hong Kong to a long lineage of multifaceted indigenous traditions varying from language, religion to craftsmanship, which significantly enriched its cultural profile. Hong Kong's Chinese-dominant population plus the constant influx of Chinese immigrants also set the foundation for these indigenous cultural activities to flourish locally. Some of these practices have been refined over time and have remained as the essence of Hong Kong's very own intangible cultural heritage and unique identity.
Intangible cultural heritage is the collective crystallised intelligence from our existence throughout millennia. Some have faded over time and left no traces, whereas the rest has continued to shape our contemporary everyday life. Hong Kong has 480 intangible cultural heritage items falling under five domains in the First Intangible Cultural Heritage Inventory of Hong Kong, among which 127 belong to "traditional craftsmanship". Not only have generations of civilians relied on these more than half-a-century-old craftsmanship skills to keep a roof over their heads, but these customs were also once essential elements of what constituted their daily life when it came to food, garment, housing and social activities:  cheongsam as women's archetypal daily fashion choice, paper cutting decorations for festive celebrations, wooden furniture and galvanized iron products as household interior and storage must-haves, bamboo steamers to carry delicate dim sum for regular morning meals, and the list goes on. These artifacts are an embodiment of extremely skillful dexterity and artistry, endurance and determination from countless craftsmen, as well as a yearning to pass these masteries on.
Mere appreciation of these traditional crafts doesn't guarantee their prosperous development in the face of immense competition and the availability of convenient options on the commercial market. In recent years, a new surge of young adults with great enthusiasm for local history, culture and art has injected vigour and possibility into these sunset industries. In fact, these traditional craftsmanship skills tell the tale of an old Hong Kong and learning about them creates pathways to trace our cultural roots. Funded by The Hong Kong Jockey Club Charities Trust, initiated by Lingnan University and Hong Kong Art School, "Jockey Club ICH+ Innovative Heritage Education Programme" was launched in 2018 with a holistic approach to connect secondary school students and young apprentices with master craftsmen and artists to promote, redefine and revitalize Hong Kong's intangible cultural heritage.
For the past three years of concerted endeavour, this programme has trained 45 adult apprentices under the nine ICH+ Selected Items and brought countless innovative, experiential traditional craftsmanship learning courses into secondary schools, benefitting over 7,200 students in total. Students enjoyed these valuable opportunities to have a taste of traditional hands-on production work and bring their creativity into full play. The first annual showcase took place inside the signature Hakka architecture of Sam Tung Uk in Tsuen Wan, where the main showcase hall was a traditional bamboo theatre retouched with a contemporary spirit. We had a classical lion dance performance to kick-start the opening ceremony, followed by a cheongsam fashion show where students mix-and-matched with trendy white sneakers. Students' creative work throughout the year won rounds of applause from multiple parties.
The second annual showcase took place in the heart of Causeway Bay. The main exhibition area was set within the busy central atrium inside a 30-floor commercial and shopping complex surrounded by a renowned international bookstore branch and stylish cafes. The second exhibition area was located within a characteristic Hong Kong tenement house among young people's current favourite hotspots and our collection of traditional craftworks beautifully blended with the voguish household decorations attracting many young visitors. The third exhibition area was a 3000-square-foot ground floor shop connecting to nearby transport with a theme reminiscent of Hong Kong's local neighbourhood grocery stores which drew attention from passers-by. These three exhibition areas were curated around the concept of informal language, or "slang," and designed as a coherent route for an exciting journey during this difficult COVID time.
Not only were workshops for the public featured in our entire showcase, but also singer-songwriters were invited to hype up the young crowd and share travel encounters with intangible cultural heritage from other cultures. Our very "Instagramable" spots at shopping malls were extremely popular and many online promotional videos reached tens of thousands of clicks. We extended our physical showcase to the online realm so anyone could view these amazing craftworks by students and masters anytime, anywhere.
The upcoming third annual showcase will be curated through an unprecedentedly innovative approach inside an underground art mall in a shopping complex connecting to Tsim Sha Tsui subway station, Hong Kong's very own unique cultural landscape thriving among all the hustle and bustle of Hong Kong's major central business district. "Jockey Club ICH+ Innovative Heritage Education Programme" is focused on preserving and revitalising, transforming conservative interpretations of heritage into bright and sustainable ideas, and showing a way for craftsmanship, art and modern life to merge and co-exist.
Further reading
Jockey Club ICH+ Innovation Heritage Education Programme
About Kenneth Kwan-kin WONG and Jaffa Laam LAM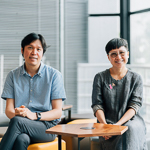 Kenneth WONG currently works as Research Development Manager under the Hong Kong and South China Historical Research Programme at Lingnan University. He has engaged in historical research and education for nearly 20 years and participated in over 40 research projects. His main research interests are the history of Hong Kong, China-Hong Kong relations, and social and cultural history. His focus these recent years are on the promotion of education programmes on the history of Hong Kong for local secondary teachers and students, to increase awareness of local and regional cultural heritages. He has been one of the main persons-in-charge for the "Jockey Club ICH+ Innovative Heritage Education Programme" since 2018 and is responsible for systematically sorting and studying various intangible cultural heritage items, designing courses, drafting educational kits and promoting the programmes.
Jaffa LAM is a sculptor specializing in large-scale site-specific works of mixed-media sculptures and installations, which are primarily made with recycled materials. She is interested in non-verbal conversations and dialogues exploring issues related to local history, culture and current affairs. She contemplates themes such as public art, loss and revival of traditional craftsmanship, the cycle of human beings and objects, and capturing seemingly trivial human stories in the greater flow of history. In the past 20 years, she has been involved in many public art and community projects, and exhibitions both in Hong Kong and overseas. She has also worked as an art educator in multiple tertiary educational institutes. She received the Désirée and Hans Michael Jebsen Fellowship from Asian Cultural Council in 2006. In 2010, "Perspective" Magazine listed her in their 40 UNDER 40, recognising the next generation of design talent. She was also one of the awardees of the Secretary for Home Affairs Commendation Scheme as a result of her long-term contributions to the promotion of art and culture. She is now the Academic Head of Hong Kong Art School. She has been one of the main persons-in-charge of the "Jockey Club ICH+ Innovative Heritage Education Programme" since 2018 and is responsible for the planning and promotion of training programmes for adults.
✿
Like the article? Make it a conversation by leaving a comment below.  If you believe in supporting a platform for culture-makers, consider becoming a subscriber.
Tags