(A message to the reader.)
"Uzbekistan," my mentor Ann Robinson exclaimed upon hearing my news, "apple seedlings grow through the pavements in Uzbekistan!"
I'd just been invited to the First World Handicrafts Festival and the fact about the origin of apples was affirmation, food for my soul. In the community I grew up within, I was the kid known for stealing fruit. Ripe or unripe, my small hands picked from communal gardens. My mother was scorned by others, for my tree climbing ways. From a vantage point in trees, I could see the layering of branches against the sky, study the texture, colour and shape of leaves, and know the structure of flowers. It was a rich life, far from shops. What we grew was both important and delicious.
I've been asked to tell a story of a craft journey, a travel moment where something "clicked". In more than 25 years of glass casting, there have been so many moments where people or place have influenced design or pattern in my work. Instead, I will share a journey of influence and imagination through gardens and childhood exposure to craft processes. I believe we are a product of what we investigate and what we are exposed to, and that influences what we are drawn to when we work or travel.
Our job as artists is to be in the world and interpret our experience for others to see and to use. Handcrafted objects are tactile, made for holding, wrapping or wearing. Experiencing tactility of an object differs from only observing it. In using craft objects they become more than useful things: they can become vessels for memory and portals to stories of unique or shared experiences. That is what my work is about: traversing my mind's eye, the value of connection to people and place, as well as the need to make beautiful things. Shakespeare says "And as imagination bodies forth. The forms of things unknown, the poet's pen. Turns them to shapes and gives to airy nothing. A local habitation and a name." In writing, as in crafting, that is what we do as makers: we make manifest images of the mind for others to see and use and enjoy.
I believe seeds of ideas grow over a lifetime. As a child, my mother read to me from a book called The Spice Woman which instilled flavours and images in my mind's eye. It nourished a childhood desire to plant my own edible garden as an adult, which now exists.
My garden is lush with olives, avocado, banana, pomegranate, apple, oranges, pears, peach and plum. From this garden, I drew images for "Black Fig" a bowl carved and cast in glass. This large vessel reminds me of a day, a garden, a tree providing shade, planted by me, a marker of time. I can feel the temperature of the season, sanding glass with my belly stretched full with new life. Figs are a rich food and a symbol of fertility, in this bowl, the fruit is protected inside the vessel, yet visible on the convex surface.
In my work vessels offer a three-dimensional canvas. The translucency of glass creates layers of imagery, where carving on the internal and external surfaces combine. Birds, blossoms and buds branch across simple forms, dignified and exposed. It is my intention that each work is peacefully engaging and with a purpose. This enables me to discuss my connection with others and the environment. In telling the story of Black Fig, I see my childhood influences that come from sitting among branches, small and observing the world in increments, both micro and macro. In my work now, I value smooth negative space, vast like the sky, surrounding carved detail. The micro detail of carving reminds me of the feeling of wonder I had observing the mechanics of a flower, and the small beginnings of fruit, the intimacy of soft down which covers an apple in its infancy, the wonder of life and the promise of fruit to come.
In my childhood, I was continuously exposed to processes of creation. Homes were built, the community cooked together, furniture was constructed, ceramics formed and fired, baskets were woven and wool was spun. In the summer bronze casting courses were held at Moehau Community where we lived. Coincidentally the process I use now, casting glass into moulds made by the lost-wax process, was adapted by my mentor Ann Robinson from the ancient mould recipe for bronze casting.
My first experience of crafted glass was in the rain. One morning my father held me up to the branches of a manuka tree, "Look, it's a necklace of raindrops". I recall my four-year-old eyes opening wide in wonder. There was a necklace of glass beads, the palest of pink, translucent, the shape of teardrops, on a web of fine grey thread, that my father had placed there earlier. I still have one remaining glass bead from my "necklace of raindrops" and it is still magical and tactile for me. It represents memory, opens a door to the landscape of my mind, to a story of me as a young girl visiting my dad, and him making something wonderful for me. It represents human exchange and love.
I now understand that my necklace was simply a faded milk doily, my father had cut the centre away to leave a lattice circle of crochet with small glass beads along its edges. He had been reading a book to me called A Necklace of Raindrops, and had seen a way to bring that story to life for me. My life has continued to play out with the creativity of making something out of nothing, with imagination, a story, and crafting process. I am driven to see my ideas manifest into tangible objects. At the basis of this is the magic of human exchange and the absolute need for my hands to be busy and to make. I wonder what in the future will be made manifest from this travel to a land where apple trees grow from the pavements?
Images by Kevin Smith, fotoarte, NZ
Author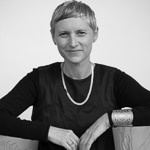 My name is Layla Walter, I am a glass artist from New Zealand. For 25 years I have cast glass by hand, using the lost wax technique. In brilliant colours, carved birds and flowers are visible through the translucent walls of each vessel. My imagery pays homage to the importance of people and the environment. Drawing is the beginning of this process. Soon I will participate in the First World Handicrafters Festival of Uzbekistan. I will draw plants from the ancestral land of apples, almonds and plum. I wonder who I'll meet and what will come of this travel? How will it nourish the landscape of my mind, and manifest in glass? See website, Vimeo, @layla_walter_glass, Masterworks, Avid Gallery, Milford Galleries and Traver Gallery.

Tags