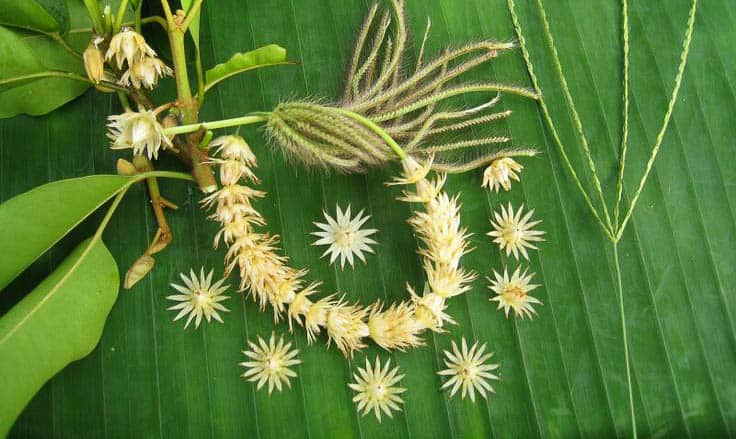 A young girl called Pikul was pure of heart and spoke with a golden tongue. Tormented by her jealous stepmother, the angels took pity on her and granted her a blessing: every time she spoke, golden pikul flowers world fall from her mouth. Pikul was forced to talk by her stepmother who gathered the golden flowers and sold them. Eventually, Pikul did not want to speak for fear of the flowers that fell from her mouth.
While this tale from a Thai village is presented as a moral lesson to be "master of your speech", the imagery of words transformed into flowers is charming in itself. The village is the repository of many such cultural treasures, which this issue of Garland seeks to uncover.
In our journey around the Asia Pacific, we have been moving between different regions to discover the genius of various creative places—enjoyment of labour in South Korea, love of nature in Cairns, mystical beauty in Iran and storytelling in Western India. With this current move to Southeast Asia, we consider a category of place. While villages can take radically different form depending on their host country—from the Indonesian kampung set in a lush valley to a hamlet off the coast of New Zealand's south island—they do share a common difference from the ubiquitous city. Most people who live in a village are likely to know each other's name. Relations are not as dependent on financial transactions: there is often collective work towards a community space, such as a temple (in Britain, a place must have a church to be called a "village"). And often there is a set of traditions associated with that place, including myths, rituals and craft skills that make the most of materials at hand.
In Asia, the village has been seen as intrinsic to identity. Gandhi claimed that "The soul of India lives in its villages". In Vietnam it is claimed that "Royal decrees yield to village customs." And in Thailand, the word moobaan means "village is where the home is", which is where 75 per cent of the population reside.
Of course, this fond picture of the village can seem nostalgic in the twenty-first century. Urbanisation seems inevitable and now more than half the world's population lives in cities, probably including you. From a development perspective, villages can be seen as "backward", involving superstition, prejudice and boredom. But can we imagine a world without a village?
According to the Italian poet, Cesare Pavese, "Your own village means that you're not alone, that you know there's something of you in the people and the plants and the soil, that even when you are not there, it waits to welcome you." So where is your village? Is it a birthplace in another country, where a dear grandmother still lives, refusing to leave? Or is it a place discovered during travels, which touched the heart?
We have some striking examples of how Thai culture today still turns to the village. Rudee Tancharoen journeys to Ban Pa Ao to find a lost bronze casting technique. Pawinee Sukhaswasdi Santisiri discovers a way of using water hyacinth in Isan. Watanya Siriwan makes a sacrifice of her art work in a unique village ceremony of Kra-tin. Jakkai Siributr creates embroideries that tells the story of the loss of home village by Rohingyas. And Sali Sasaki joins others in Chiang Mai to look at the contemporary relevance of village crafts.
Elsewhere, Bangkok-based jeweller Cecê Nobre collaborates with a Chinese tribal silversmith to create work for the homeland of Kilombu. Tuk Sukumarl Leksawat writes warmly of her exchange with a village in Turkey. The Kurdish artist Rushdi Anwar reflects on his work with Lana paper makers in northern Thailand. Singgih Susilo Kartono takes us the Indonesian village of Kandangan, where he has located his design business. Emi Weir celebrates the cotton made by Taileu villagers. Harriet Watts relates how textiles for a village in Laos village end up as Australian craft products. Sahr Bashir writes how a village in the Punjab helps urban designers think of the bigger picture. Pauline Tran presents the collaboration between textile artist Sara Lindsay and refugee Karen weavers. And Kevin Murray takes us to Denmark, a village on the south west coast of Australia, where artist Cecile Williams has helped forge a unique community.
In other articles, Kanita Kaniyomwakin tells the history of her "craft classic", the Khao Tom Mud. Paul Northam writes about the Philippines exchange with Castlemaine (the village of our next destination). And thinking of future possible exchanges with villages, Zina Burloiu and Terry Martin reveal the collaborative potential of WhatsApp in Australian-Romanian wood art. Pamela Irving tells us what she has been able to with Ming shards in China. Shannon Garson writes about another ceramic exchange, this time across the Pacific. In other corners of the Asia Pacific, Hyeyoung Cho reports on the Kogei Triennale in Kanazawa and Martina Dempf on a jewellery festival in Kazakhstan. And in Australia, we hear from Bethany Wheeler about the glass workshop 1000 Degrees, Sonja Anderson's encounter with the Cairns jeweller Kate Hunter and Michelle Montgomery's take on Utopia art returning to domestic craft.
But no doubt the well-polished gem of this issue is Alice Pung's longform essay about Vipoo Srivilasa. Vipoo is a Thai-born ceramicist who has flourished on the other side of the Indian Ocean, where he has established not only a striking artistic practice, but also a base for a flotilla of projects that help foster exchange in our region. Alice is able to reflect on a characteristic of Vipoo's art that is rarely acknowledged despite its obviousness—that cute elephant in the room. Drawn herself to this cuteness, Alice asks why we tend to be suspicious that this quality is not serious in art. Whatever the outcome of her inquiry, the means she takes to get there is testament of a serious regard for Vipoo's work.
Many people have helped with this issue. First, Vipoo has provided not only inspiration through his work but also guided us to discover some of the most interesting Thai work around at the moment. Sincere thanks to Jongsuwat Angsuvarnsiri, Atty Tantivit, Dr SImon Wallace and Sara Lindsay. And we appreciate the partnership with SACICT's International Innovative Craft Fair, which has provided the source of so many stories.
Smell the pikul flowers…
✿
Like the article? Make it a conversation by leaving a comment below.  If you believe in supporting a platform for culture-makers, consider becoming a subscriber.
Tags