Starting with the idea of an empty gallery as a blank canvas, we conceived of a Design Tasmania community exhibition of baskets: Wicker Wonderlust. We imagined not the imposition of an echoing space, but the potential to fill that space with woven treasures from the Launceston community. "Show us your baskets" we asked, and they did.
In a radical twist for a gallery, the exhibition opened with bare walls and plinths, waiting to be filled by the basket-owners who walked through the door and instantly became co-curators. Control was given over entirely to the basket-owners who responded to our unrestricted, open invitation. What we offered to them was an open hand seeking the wisdom and generosity of the audience. The potential that we imagined was surpassed, with a response that was amazing.
We now have more than 130 baskets, and every basket has a story. The community has really stepped up on this project. We began with 20 baskets in situ in our largest gallery space. It was confronting but exciting to see such a large space in this way, pregnant with unknown possibilities. Each week more baskets were brought in and added to the display by their owners, as community engagement grew through an invisible, organic process. The stories of the baskets were documented on tags as they were brought in, and many of the stories were also documented by video.
Baskets are ubiquitous, every home has at least one example it seems, and most of them hold a very personal history—of inheritance, of discovery, of a journey, or a quest of some kind: they are deeply embedded in their owners' lives.
During its gradual evolution, the exhibition became an interactive exploration of the relationship between Tasmanians and the myriad woven objects they shared with us. From Aboriginal heritage to colonial industry, from historically significant to currently fashionable, Wicker Wonderlust shows how baskets and other woven objects remain useful and beautiful. Usually produced anonymously in modest workplaces using local plant materials, they retain the integrity of their origins and the honesty of their making, close to the source.
This communal project aspired to link object and story, institution and community, at a grassroots level. The exhibition utilised a simple everyday object, the basket, to generate spontaneous engagement and participation. Although we worried at first that it was a risky and audacious proposition, it turned out that there is an inbuilt success factor in empty rooms when you let go of institutional control and give the objects and their owners a space of their own.
Over the course of three months, we hosted a series of events and talks aimed at building on this community involvement. Weaving workshops, conversations with artisans, a discussion with a curatorial expert, and a series of videography sessions on You and your Basket revealed more about basket weaving through the dynamic collective consciousness of the exhibition and its eager participants. The whole project culminated in this presentation of discoveries. 
Our unusual, experimental exhibition process revealed an intimate narrative of relationships between the baskets, their owners, their makers, and their fresh observers. It became a living wickerpedia, with community members contributing details and new research about each others' baskets, filling in the blanks about different uses or the reasons why a basket was made in a particular way.
One participant embodied the multi-level interactiveness of the show: Judy Gibson. The descendant of four generations of basket makers, Ms Gibson's father Ivan Ballard and grandfather Gordan Ballard were well known in the Launceston region for their basketry. She brought in some of her own pieces made by her father and grandfather, and then recognised a number of other baskets in the exhibition that were made by them. She was able to provide the details of the makers for various owners who had bought the baskets second-hand without knowing anything about their history. This collaboration and synchronicity have built new relationships and communal knowledge.
Our very frequent use of social media was critical to the success of the exhibition and its importance was twofold. It lured Tasmanians to "take the bait" and essentially create the exhibition by bringing in their wickery, and it was also the platform for sharing information and generating interest exponentially as the installation of the baskets progressed. Due to our intensive social media campaign, sharing happened not just in the gallery but in a virtual exhibition space as well. Social media mirrored the exhibition, connecting and observing the objects and the lenders. And it echoed the tone of the project, which was relaxed and conversational—appropriate in a democratic "for the people, by the people" mentality.
This virtual outreach included people in the community who would not have otherwise engaged with Design Tasmania. In particular, it became an opportunity for Tasmanians who do not live in Launceston to have a real involvement with our city gallery for the first time. People saw the announcements and photographs shared by friends, and brought in their own baskets to add to the displays. We also highlighted some of the loan items through guessing games, where mysterious baskets were featured online and the virtual community attempted to correctly guess their function. This was an opportunity to seek answers from the community, as some baskets were actually of unknown origin or purpose. Some owners specifically commented that the exhibition was their chance to get real information about baskets they had owned for years.
One example was a very large basket that had been previously described as a fishing basket although the owner wrote on its gallery label: "Found on a previous property 90 years ago. My father Fred suggested that it may have been used to transport crockery from England on the sailing ships." One gallery visitor inspected the basket and thought the description was inaccurate, so we challenged him to undertake some research. He subsequently sent an email with images from a maritime museum suggesting that it was a coaling basket. "Until the late 1940s, local wharfies would unload coal from ships by shovelling it into these baskets. They would work from eight in the morning to ten at night, to clear the hold as quickly as possible."
Wicker Wonderlust has brought in children, parents, teenagers, the elderly, object makers and non-makers, collectors, and a lot of people who just happen to have an interesting basket in their possession. It was truly a community based, community led, and community inspired event.
Author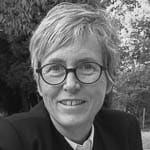 Karina Clarke is the CEO of Design Tasmania and has returned to Tasmania after forging a successful design career with over 25 years experience across education, interior design, furniture design, design manufacturing, management, and retail branding. In her role as CEO she is charged with developing new opportunities for designers in Tasmania and presenting a vibrant and engaged artistic program for Design Tasmania located in the Gary Cleveland Galleries in Launceston.  Karina was the former Program Director for the Undergraduate Design program within the Faculty of Art and Design UNSW. In 1992 she undertook a Masters degree in Furniture Design at the Centre for the Arts, University of Tasmania studying under John Smith and Kevin Perkins.  After completing her MFA at UTAS she went on to work for Chiswell Furniture creating award-winning furniture designs. On the back of this success, she was employed by the national retailer Country Road to be their Product Development manager for all homewares, lighting and furniture. Karina's experience as a designer in the commercial sector gives her an acute appreciation of the market for furniture and homewares.
✿
Like the article? Make it a conversation by leaving a comment below.  If you believe in supporting a platform for culture-makers, consider becoming a subscriber.
Tags