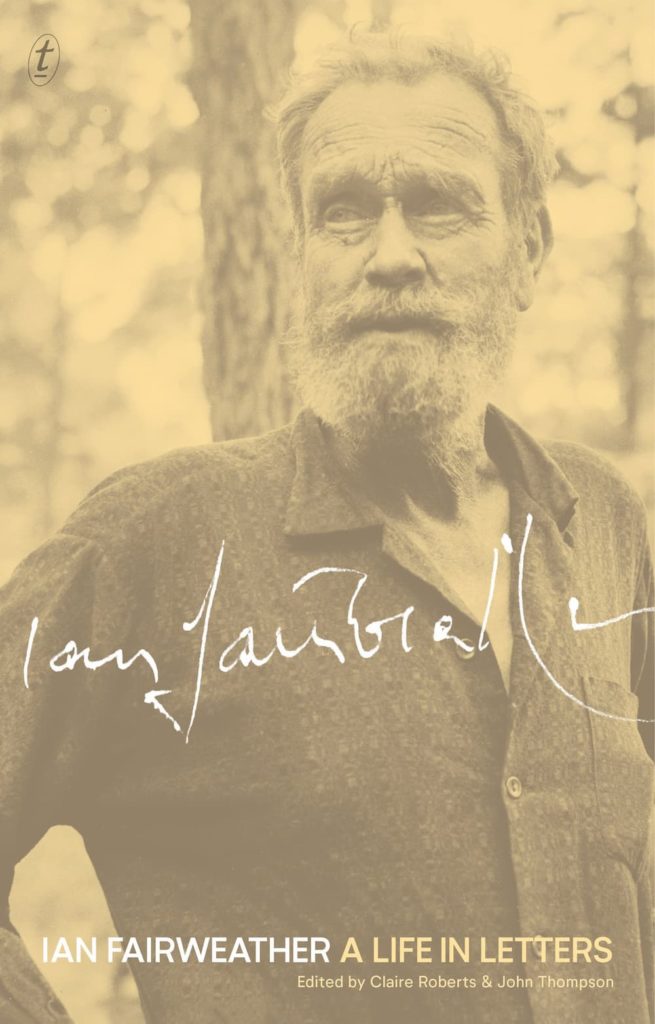 Stephanie Radok finds the letters by painter Ian Fairweather about his life in isolation on an island to be an inspiring companion for these days.
The new book of artist Ian Fairweather's letters edited by art historian Claire Roberts and librarian John Thompson has a subtly rough cover, something like a piece of fine grade wet and dry sandpaper. I am not sure if it is meant to subliminally assert the rough exterior of Fairweather himself or to make the book hard-wearing and able to be tossed around and really used.
It is not a book for beginners but for aficionados who will hunt out their copy of Ian Fairweather by journalist Nourma Abbott-Smith published in 1978 and their several copies of author Murray Bail's large book on Fairweather which came out in 1981 and in an enlarged version in 2009, and note again how many of the most potent words in these books are by Fairweather. It was Bail who encouraged Roberts to take on the Fairweather letters project.
Roberts' other major book Friendship in Art: Fou Lei and Huang Binhong published by Hong Kong University Press in 2010 also focused on letters, in that case between an artist and a critic and historian of art. In the introduction to that book, Roberts reveals that after intensive language study in Beijing she studied the practice of brush-and-ink painting from 1979-1981 in China as one of the first international students admitted to the Central Academy of Fine Arts after the end of the Cultural Revolution.
Thus Roberts, now well-known as a scholar and curator of contemporary and historical Chinese culture, can be said to be truly tuned in to Fairweather's medium as well as his formative interests in Asian languages and cultures.
Roberts and Thompson worked on the project for many years and from around 700 letters have published a selection of 354 each with clear contextualising notes on their recipients and other references. There is also a chronology of Fairweather's peripatetic life and photographs of the artist (his face as a child on page xvi has the same slightly weary abstracted inward look as his over sixty years old Bribie Island face on the cover), his work and his living spaces. The vast majority of the letters were written on Bribie Island where Fairweather spent the last twenty-one years of his life.
The book shows that in a way he was an architect as well as a writer and translator. Some of the fourteen huts that he built throughout his life (some sketches are included) were not mere temporary dwellings but have some affinity with a more soaring and structured kind of building such as we associate with men's houses in PNG. The anonymous photos of his huts on Bribie Island memorably also show the grove of thin Bribie Island pines, a type of callitris—the delicate native Australian conifers, within which Fairweather built, as well as echoing the broken light and surfaces that appear in his paintings. For most of his life he painted with a dancing overallness in which space or emptiness has as much energy as mass.
Fairweather first encountered the pictographic quality of the Japanese language when he was a prisoner of war, a situation which he responded to by being a repeat escape artist as well as enjoying the opportunity to not have to worry about making a living.
Like many people, he went from learning Japanese to Chinese and much like Ezra Pound was moved to do translations. The Drunken Buddha translated by Fairweather with illustration by him was published by the University of Queensland Press in 1965. Like Pound, he enjoyed the images, metaphors and moods that nestle in the language.
Fairweather's stubbornness about trying to make a living from his work or rather making his work his living and his living his work is impressive. In the letters, he often writes "oh hell" expressing limits, frustrations and doubts. Like Estragon and Vladimir in Waiting for Godot he doesn't give up but is often in the worst place he has ever been, and, wherever he is, is always looking for somewhere else. I can't go on, I must go on.
The letters abound with travel, travel plans, poverty and poverty-beating plans, and above all with painting. Though made in solitude, except for animal companions, and at night, Fairweather's paintings were always meant to be seen, to be exhibited and to be sold. He was very lucky in his contacts with Jim Ede, and with Australian artists and gallerists. His own record of his work was in his thoughts and his occasional denial of authorship of certain works when he did re-encounter them only shows how we don't always recognise ourselves.
This is not a book that you read from end to end even if you are committed to review it. It is a book that, like Fairweather's paintings, generates thought and even walking so that you taste it, put it down, go off and come back. After marking a page or two.
His comments accurately describe the experience of many artists working in solitude and trying to get somewhere with their work: "I had missed what I was aiming at but inadvertently got something better." "As usual when things were past hope—I began some good work." "Art is really not a skill and certainly not a business—it's a kind of belief." "I feel a painting like a tapestry should hang on a wall and not pretend to be a window."
Writing to his sister Annette Waters in 1958 Fairweather describes the uncertainty and the movement of making art. "You ask about abstract art it is something I think like the Buddhist idea of suspended judgement —The mind is cleared of thought but not of awareness—Always the purpose of art is to find its way through the forest of things to a larger unity containing all things—I often had the idea in Jersey that running over rocks (of which I was inordinately fond) had some psychological or psychic significance—To balance one must run quickly from point to point—You cannot rest on one point."
I haven't done any formal comparison but it strikes me that there is a depth in some of Fairweather's art that is not found in that of Jackson Pollock or Wassily Kandinsky or Mark Tobey yet they will be wheeled out again and again as important abstract artists while he remains an Australian, and a Scot as well, hence obscure in so-called global histories of art.
Ian Fairweather: A life in letters, Edited by Claire Roberts and John Thompson, Text Publishing, 2019
See Ian Fairweather's Gethsemane painted on Bribie Island at Queensland Art Gallery
Author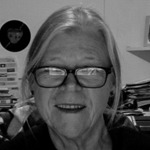 Stephanie Radok is an artist, writer and curator based in Adelaide, South Australia. Her survey exhibition The Sublingual Museum was held at Flinders University Art Museum's City Gallery in 2011. In 2013 her book An Opening: twelve love stories about art was longlisted for the inaugural Stella Prize for writing by Australian women.
✿
Like the article? Make it a conversation by leaving a comment below.  If you believe in supporting a platform for culture-makers, consider becoming a subscriber.
Tags