Keri-Mei Zagrobelna shares several powerful taonga puoro, traditional Māori instruments, made by Tamihana Katene.
Based in Porirua, Tamihana Katene is a computer software developer by trade, but he also makes and plays taonga puoro, traditional Māori instruments. He is inspired by his materials, including shells, bones and pieces of work.
Pūkāea
Pūkāea are known and classified as traditional Māori wooden trumpets. They are not played like the western trumpet as musical accompaniment, but as a form of communication over distance. Commonly misunderstood as exclusively used in wartime, the pūkāea can be subtle and gentle in alerting the people of the land both near and far for the arrival of guests. They help synchronise the harvesting of gardens and the announcements of the birth of our precious tamariki (children). This particular Pūkāea has a personal name of "Te Huka a Tai" which was the name of the anchor stone our great navigator Kupe left in the Porirua area. It is made from native Rimu timber bound with natural fibre and adorned with a pōhoi Toroa (tuft of Albatross pelt) and coloured with Kokowai (Red Ochre clay)
Koauau Toroa
This image was taken while using traditional scraping methods to create a Koauau Toroa (Albatross bone flute). These are traditionally made from the humerous wing bone of the Albatross. the scraping method utilises Tūhua (obsidian) for scraping and also sizing
Pūpakapaka/Pūmoana
This Pūmoana I created for my mother for her 50th Birthday. The Tuki (wooden mouthpiece) is carved from native Kauri timber and inner with Paua (Abalone) eyes. It is joined to a Pacific Triton shell and bound with Muka (Native Harakeke fibre) which is dyed with the bark of the Tanekaha tree. This type of Taonga Pūoro is significant in our creation stories and symbolises the binding of the enduring peace between our Atua of the forest and the ocean.
Whakakai wheua (Bone pendant)
Whalebone
This piece is a depiction of one of my Tūpuna (Ancestor) whose actions as an honourable and respectful warrior gave rise to the naming of my Iwi (Tribe) Ngāti Toa-rangatira. It is traditionally carved from the bones of whales as a tribute to our great brothers and sisters from the ocean. The patterns depict the movement of Mauri (life essence in all things) and the migration of our people from our historical home in Kawhia.
Pūtōrino
There are roughly 44 individual types of playable instruments (for lack of a better term in English). Of this list of 44,  the pūtōrino is the only Taonga Pūoro that is uniquely attributed to Māori. Its shape is inspired and taken from the cocoon of the Native New Zealand case or Bag moth. Known in our culture as Hineraukatauri, the Atua of all flute music. This particular Pūtōrino is carved from Native Tōtara timber, split and hollowed then reattached and bound.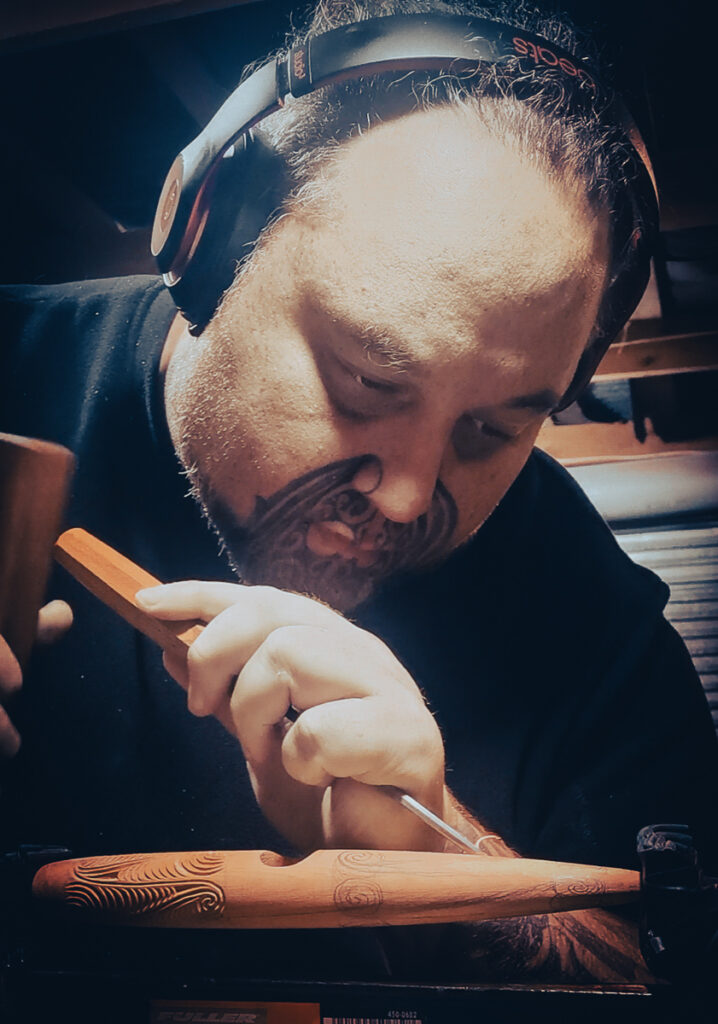 Follow @tamihanakatene
✿
Like the article? Make it a conversation by leaving a comment below.  If you believe in supporting a platform for culture-makers, consider becoming a subscriber.
Tags