Books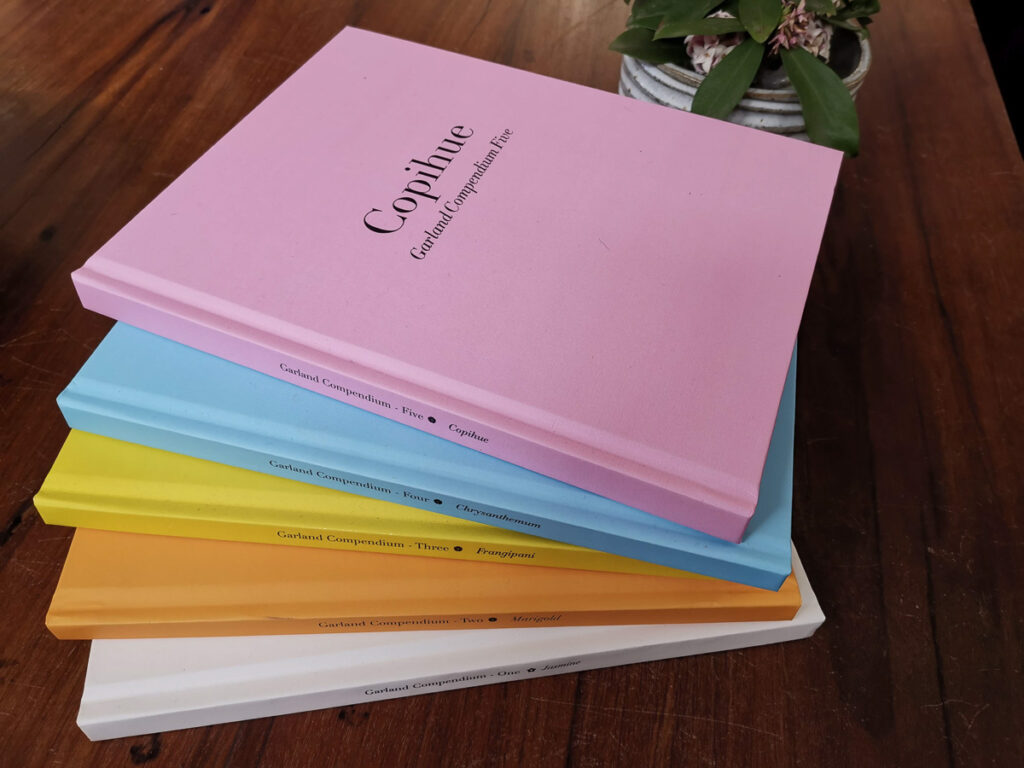 Garland produces an annual compendium of actions reflecting stories from four stops along our journey. Each volume is named after a flower to be found in the garland.
Jasmine
Our journey begins. Garland starts in South Korea where objects express the joy of labour, then we go in search of the lost garden in Adelaide via the Punjab, followed by the Persian prospect of renewed beauty in Iran and finally partnership with nature practised by Aboriginal artists in north-west Australia. Along the way, you can read the quarterly essays by Julie Ewington, Gopika Nath, Sanaz Fotouhi and Kim Mahood. Jasmine can be purchased for $AUD 40 here.
Marigold
The journey continues. Garland travels across the broader Indo-Pacific to learn what different cultures make of their world. The second year includes western India, Thailand, the town of Castlemaine, Australia and Bali. We explore the value of the handmade as a form of storytelling, a way of reconnecting with the village, intimations of post-capitalism and working freely together. Garland uncovers handmade objects of beauty and meaning. Marigold can be purchased for $AUD 40 here.
Frangipani
Midway through the journey, Garland visits both sides of the Indo-Pacific—Moana and the Indian Ocean. We learn from Moana that "the past is in front of us", while the Indian Ocean reveals a rich encounter of world cultures, prompting "Kaya", or welcome in Noongar language. We then venture south to Tasmania for a tunapri offering of knowledge, finally to Oaxaca in Mexico to understand the Zapotec principle of guendalisaà (crafting kinship). Enjoy the stories behind what we make from the wider world. Frangipani can be purchased for $US26 here.
Chrysanthemum
Moving towards the end of the journey, Garland ventures East. We learn from Japan the value of "living craft" and the experience economy in Kyoto. From Sydney, there are stories of a "safe harbour" where those seeking a second chance can recover their lost culture. In China, the "ancient now" theme reflected an epochal revival of traditional crafts, with a special focus on lacquer. And from the furthest corner, in Central Asia we discover how the silk road is thriving today in the exchange of crafts skills. Chrysanthemum can be purchased for $US27.69 here.
Copihue
In the final year of Garland's first journey, we move South. We begin in Turtle Island (North America), where we find stories of gratitude, where objects are made as offerings. Next, we return to India, this time the southern part, to experience the value of Uphaar, or love objects. Then we go to Africa, following the theme of umswenko, which is about looking good and pride in heritage. Penultimately, we revisit Indonesia, in particular the island of Java, to learn about pembaharu, or innovation, among a new generation of makers. Finally, we arrive in South America, where we step back, gaze at the stars and reflect on tiempo profundo, deep time. We made it. We have only just begun. Copihue can be purchased for $US26.91 here.