Khushbu Mathur ✿ A soulful voice for craft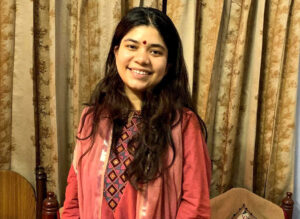 Khushbu Mathur is here wearing a jat hand-embroidered handloom kurta paired with handwoven Kota Doria Dupatta on Handloom day, 20 August 2020.
Khushbu Mathur was born in Jaipur to a family involved in managing the local textile industry. Her grandmother and mother instilled in her a craft ethic and she was encouraged to learn practical skills. At school, she was influenced by her teacher, Mr Laxpal Singh Rathore, to follow a path in the crafts. This led her to the Indian Institute of Crafts and Design (2008-2012), where she gained experience outside her previous cocooned urban youth to experience the hard life of those in villages. She bonded closely with the artisans she encountered and now dedicates her life to supporting them.
Her own work has a strong ecological basis. She conducted a research project with TATA Motors Design Studio, Pune with the idea of introducing natural fibres in the interior of eco-car to reduce the carbon footprint. She also established a corporate gifting company, Indibni, which featured green products. Until recently, she has been Marketing Specialist for All India Artisans and Craftworkers Welfare Association, Delhi.
She finds these words by Vandana Shiva quite inspiring:
"The fact that I still find so much beauty in a handicraft is because my mother taught us to see not just the craft as a product but the craft as an embodiment of human creativity and human labour."
Khushbu is a Garland perennial, whose articles share stories of a better world at hand.
✿
✿
Khushbu Mathur s an esteemed Garland perennial.