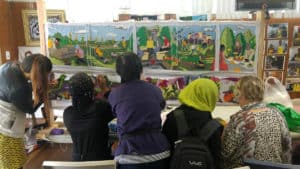 Sydney – A City on the Make
11 October 2017, 6-7:30pm
Australian Design Centre, 113 William Street, Sydney
A public forum about the energies in Sydney's craft spaces and communities
What does Australia's largest city make? Join a timely discussion about Sydney's craft culture, including its display spaces of museums and galleries, Indigenous stories, recent migrant skills, studios, workshops, making and teaching spaces. Where is creativity most active? How does craft respond to the changing patterns of consumption, where the focus is more on experience than possession? What pathways are there for craft practitioners to present their work outside Sydney, especially in our Asia Pacific region?Presented by Garland and the Australian Design Centre. Featuring Bridget Kennedy, Carolina Triana, Lisa Cahill and Nadeena Dixon. 
This is part of Sydney Craft Week's Craft Up Late program and is a partnership between Australian Design Centre and Garland magazine. Attendance is free, but book online to secure a seat. 
✿
Like the article? Make it a conversation by leaving a comment below.  If you believe in supporting a platform for culture-makers, consider becoming a subscriber.
Tags