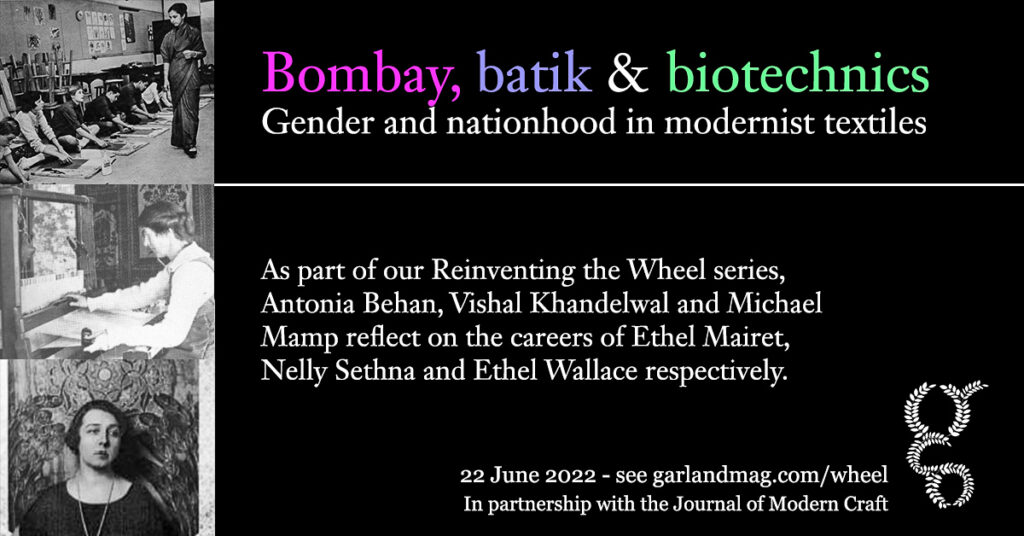 As part of our Reinventing the Wheel series, Antonia Behan, Vishal Khandelwal and Michael Mamp reflect on the careers of Ethel Mairet, Nelly Sethna and Ethel Wallace respectively.
This event connects with the Journal of Modern Craft issue 14.3. Two of the featured authors discuss how two twentieth-century designers forged a place for textiles that straddled gender and global divides.
Antonia Behan on Ethel Mairet
Antonia Behan, 'Ethel Mairet's Textile Biotechnics and the Aesthetics of Materials' The Journal of Modern Craft, Volume 14—Issue 3 November 2021, pp. 211–228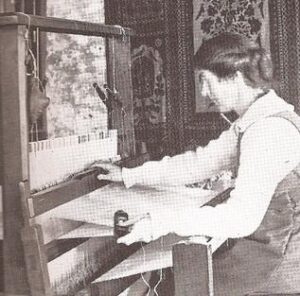 Scholars have generally analyzed the weaver Ethel Mairet's work in terms of her craft practice and textile objects but have generally neglected her written work. More than a practitioner, Mairet read contemporary architectural and social theory, and her written work responds to discussions of design, technology, and biology found in Lewis Mumford, Sir Patrick Geddes, and Laszlo Moholy-Nagy. This engagement is most clearly signalled by her adoption and extension of the concept of "biotechnics." In this article, I argue that this concept allowed Mairet to mediate between embodied and historical knowledge, tradition and modernism, and, by positioning the craft workshop as a research laboratory, between hand craft and industrial production. This article begins by surveying discussions of biotechnics among leading architects and designers, high-lighting Mairet's unique appropriation of the concept for the histories of materials, and textiles in particular. I then examine two sites of Mairet's engagement in biotechnics: the school and the workshop. Mairet developed teaching programs for primary-school students based on the idea that the study of textiles and their bio-technics offered a method for under-standing how materials were shaped by historical processes. In this way, she used textiles to connect students to history, geography, biology, and other subjects of study in science and culture. Research in biotechnics was thus not limited to scientific spaces, but had been practiced throughout the history of craft by sheep breeders, spinners, dyers, and, finally, weavers. Next, I examine how Mairet conceived that the weaver would use this knowledge in determining how to "express" a fiber's biotechnics. I compare Mairet's approach to that of Bauhaus weaving, demonstrating that despite considerable agreement on approaches to the craft, Mairet's approach is distinctive in its treatment of history and materials. Finally, I suggest how Mairet's approach to materials positions her as a modernist, yet one who remains connected to historical and traditional knowledge. Biotechnics allowed Mairet to mediate between her Arts and Crafts values and roots and the imperatives of modern industrial production so persistent in the debates of her period and subsequent scholarly literature.
Vishal Khandelwal on Nelly Sethna
Vishal Khandelwal, 'Nelly Sethna and the Reception of Textiles between the United States and India' The Journal of Modern Craft, Volume 14—Issue 3 November 2021, pp. 229–251
Abstract: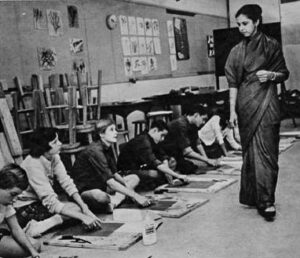 Using the Indian textile artist Nelly Sethna's work at the Cranbrook Academy of Art in the late 1950s as a starting point, this article excavates little-known aspects of the Indian and United States art worlds centered around textiles. It elaborates contemporary writings on Sethna's practice to demonstrate how questions of aesthetics, materiality, functionality, identity, and consumption filtered into the discourse on her rugs, room dividers, wall hangings, and upholstery fabrics. The article suggests that Sethna's works created tensions among categories such as fine art, crafts, and design. Yet, whereas her work in Michigan was received within a vibrant market for designer textiles among affluent buyers, Bombay (now Mumbai), the city to which Sethna returned after Cranbrook, was a nascent milieu for textiles as design and art objects. At Bombay galleries where her textiles were consistently displayed, Sethna's works became attached to ideas about consumer taste, national identity, and the overlaps between fine and applied art. By focusing on an artist who has received substantially less attention in comparison to her contemporaries such as the mostly-male Bombay Progressives, the article highlights the ascendancy of the textile arts and the criteria by which they were evaluated in postcolonial India.
Image: Sethna featured in an article from The Detroit News Pictorial Magazine, June 1959. Courtesy of Cranbrook Archives, Cranbrook Center for Collections and Research.
Michael Mamp on Ethel Wallace
Michael Mamp, Ethel Wallace: A Forgotten History of Batik and Fashion, The Journal of Modern Craft, Volume 14—Issue 3—November 2021, pp. 253–273
Abstract: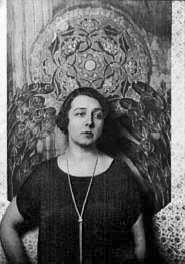 Ethel Wallace gained notoriety for batik textiles in the early twentieth century. Based on newly available primary sources from a private collector this article presents a more holistic summary of the accomplishments of this woman artist, with a particular focus on her textiles of the 1920s. Wallace's batiks were exhibited widely, also used for fashion, and can be positioned with early twentieth century Modernism and the American Arts and Crafts movement. She was influenced by modernists, such as painter Joseph Stella and opera singer Eva Gauthier, the latter of whom embraced Orientalism in both design and performance. Wallace's batik fabrics were positively reviewed in a wide variety of news media of the period, and progressive New Woman influencers such as Gertrude Whitney were among her clients. After she died in 1968, her accomplishments as a woman designer and maker were lost to the passage of time.
Image: Ethel Wallace in front of a batik wall hanging of her design, ca. 1920. Photograph by Arnold Genthe, author's collection.
✿
Like the article? Make it a conversation by leaving a comment below.  If you believe in supporting a platform for culture-makers, consider becoming a subscriber.
Tags