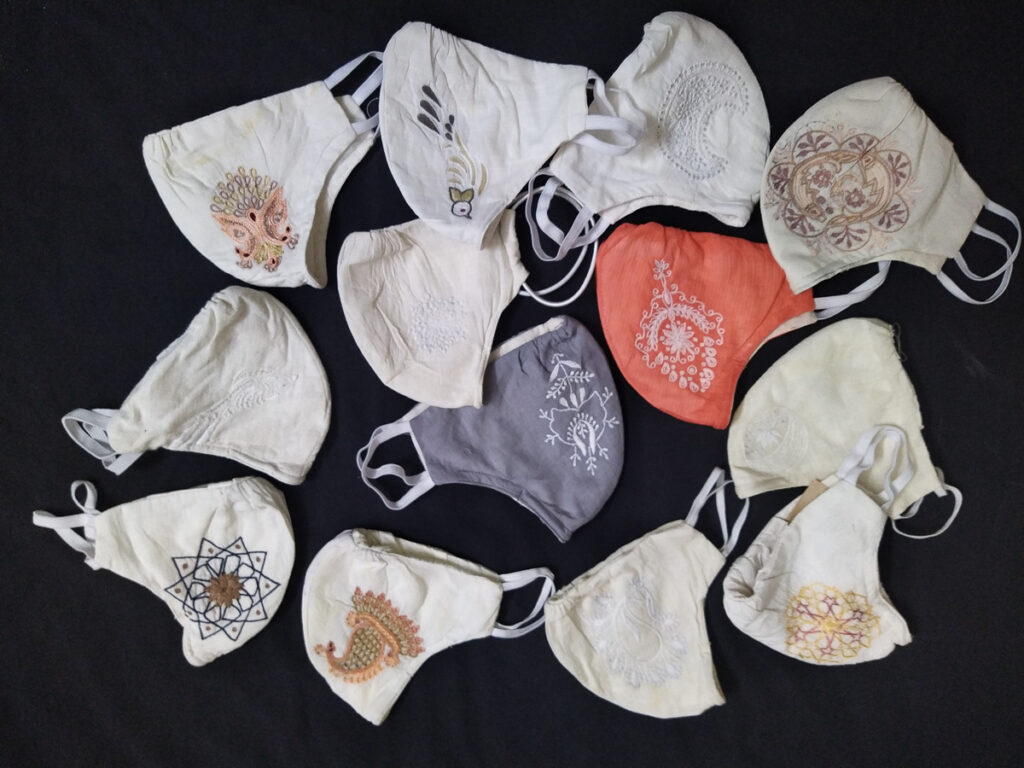 Jaspal Kalra's scholarship leads him back to Lucknow where he celebrates those who add delight to our new masked identities.
(A message to the reader in English.)
---
(A message to the reader in Hindi.)
---
Being born Lucknow, a city of craft, culture and history, I started appreciating the nuances of cultural narratives wrapped in crafts. The subtleness expressed in the whitework of chikankari drew me close to embroidery. Chikankari is an age-old embroidery made in Lucknow city of northern India. It has been known since long for its intricacy, transparency and variety of stitches which also includes jail (network). It's the sheer finesse of stitches and transparency they create that makes it exclusive. While studying design around 23 years ago, I got an opportunity to research on craft of chikan and was stunned by its magnificence. Interaction with the artisans made me appreciate not just its appearance and technique but also the historicity of its motifs. The association that started more than two decades ago was to become a companion for life.
My design language became synonymous with handcrafted techniques and stories associated with it. Chikankari stayed with me even in my professional qualifications of Masters and Doctorate. Doctoral research established a close connection with the social aspects of chikankari. Lucknow presently has more than 0.2 million artisans associated with this craft. The women artisans involved in chikankari work from home and live a financially marginalised, socially excluded life in deprived conditions. They have inadequate access to health and other services, are isolated in the value chain, face destruction of social capital, alienation and powerlessness. The high skilled artisans fail to get dignified earning through their skill and become middlemen for better earning.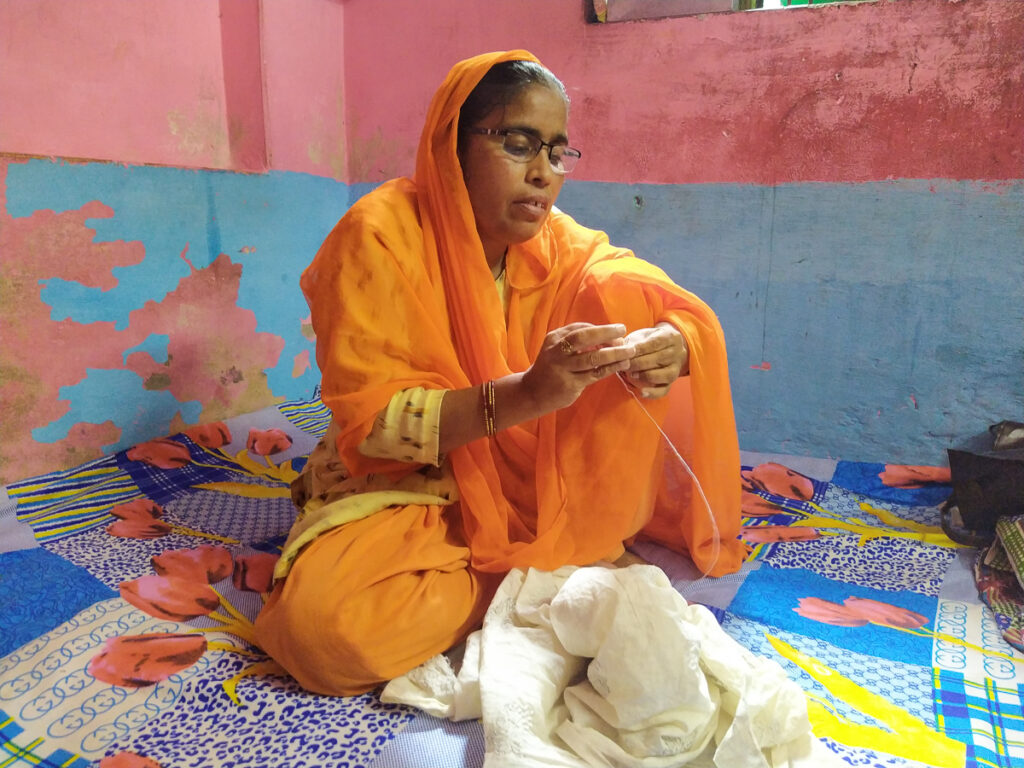 During the doctoral research between 2014 to 2017, I worked towards developing a service prototype (design education programme) and tested it in two trials. The insights in the design empowerment of artisans was that role of the designer should not be as a leader, but as a provocateur, facilitator and leveller in craft projects. The true empowerment of artisan is about regaining confidence in their effectiveness, creativity and outstanding skills by getting a chance to receive appreciation from buyers and designers. The future of craft is innovating while valuing its traditional techniques and subjective aspects of composition not just at the product level but at the level of artisans. The artisans who were subjects of this research had started believing in collective power. They moved from the position of social exclusion and marginalisation to social innovation through personal empowerment and co-created with me the brand Sangraha which in Hindi means a group of people and also a commitment to sustaining tradition.
Chikankari and ari artisans barely earn less than a dollar in a day. COVID as a pandemic had changed their lives and they have lost that meagre income too. Many of them did not have the means to sustain their monthly needs. The belief of artisans in their craft had started dwindling when the Government of India announced lockdown to limit the spread of COVID-19. With no savings and resources, the situation became gloomy day by day. The power of community is then seen in such tough times. Some artisans from our team, gave up their resources to support others. It is not easy to imagine the plight of being without food sitting in air-conditioned rooms of our home which we can call work. The power of survival becomes collective and individuality gets lost when it comes to facing challenges, and this is the beauty of the Indian artisan. We can only see the magnificence of what they embroider but not the vastness of their heart.
Recently, our team has been immensely moved when we were informed by an artisan that a widow in her locality (embroiderer of course) committed suicide as she was not able to feed her kid for four days. She was reluctant to ask for help, as her dignity didn't let her do it. It led to the start of two COVID-19 Initiatives by Sangraha Karigar Atelier.
The team at Sangraha Karigar Atelier which is primarily people coming from artisan background but have also acquired design skills through various training conducted by the organisation and the founder. This team wanted to create a similar example to set precincts of collaboration. The organisation had been depleted of all its funds due to the collapse of the market at its peak sales season and withdrawal of almost all orders by buyers. It was inevitable that they had no funds but were high in spirit and wanted to approach people to support the artisan community at large. What they could give in return was something they are proud of, their craft.
Research and development started on what could be the product that will become a symbol-of-hope in this hour of crisis. Well-being lies in social distancing and protection and it was decided to add some delight to protective gear.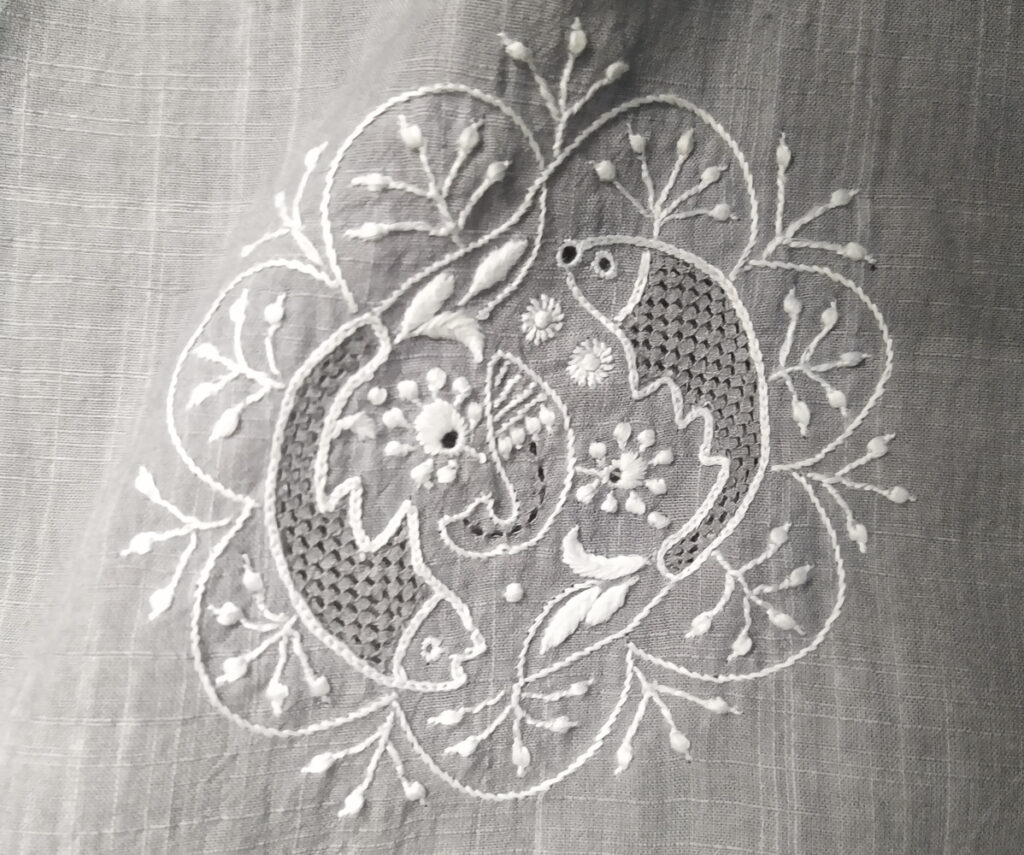 The funds as voluntary payment for mask started coming in as we started discussing. With all the fabric in stock, all waste from cutting was recycled and mask printed. An artisan when offered money for treatment of his son wanted to return back the gratitude. Our decision to acknowledge the power of artisan to return back support with a token from the craft, that's a gift from the Almighty, thus became firm and we decided that we will not donate but give supplies for work.
We soon had a return gift of a smile from Saima for supplies she was given with work to embroidered, the team takes it as their biggest earning for life. The project continued for 10 weeks and has now evolved into a permanent social initiative with a range of products under Sangraha: Sacha Sauda. It is based on Sacha Sauda principle of Sikh preacher Guru Nanak Dev, whereby the accumulation of skills, knowledge, blessings through community service is considered "ethical trade".
Author
Born in the culturally rich city of Lucknow in northern India, Dr Kalra is a design academician and social entrepreneur, with a practice-based PhD degree from NIFT titled 'Design Education of Chikankari Artisans: A Tool for Social Innovation'. He studied Fashion Design from NIIFT, Mohali and craft became his core interest since his days of design education. He later completed masters in design working on the expression of narratives in embroidery. Besides craft, his core interest is zero waste cutting technique. Having travel as his passion, he loves to absorb cultural expressions of every city he visits. He started an organisation to promote co-design and design practice sharing with artisans. He is presently working with his team to amalgamate various crafts of Lucknow to create sustainable, low waste and innovative products. He also serves as Executive Director of Kalhath Institute, a distinctive place to train artisans in design and entrepreneurial thinking.
LINK: www.sangraha.org.in/covid-initiative
✿
Like the article? Make it a conversation by leaving a comment below.  If you believe in supporting a platform for culture-makers, consider becoming a subscriber.
Tags