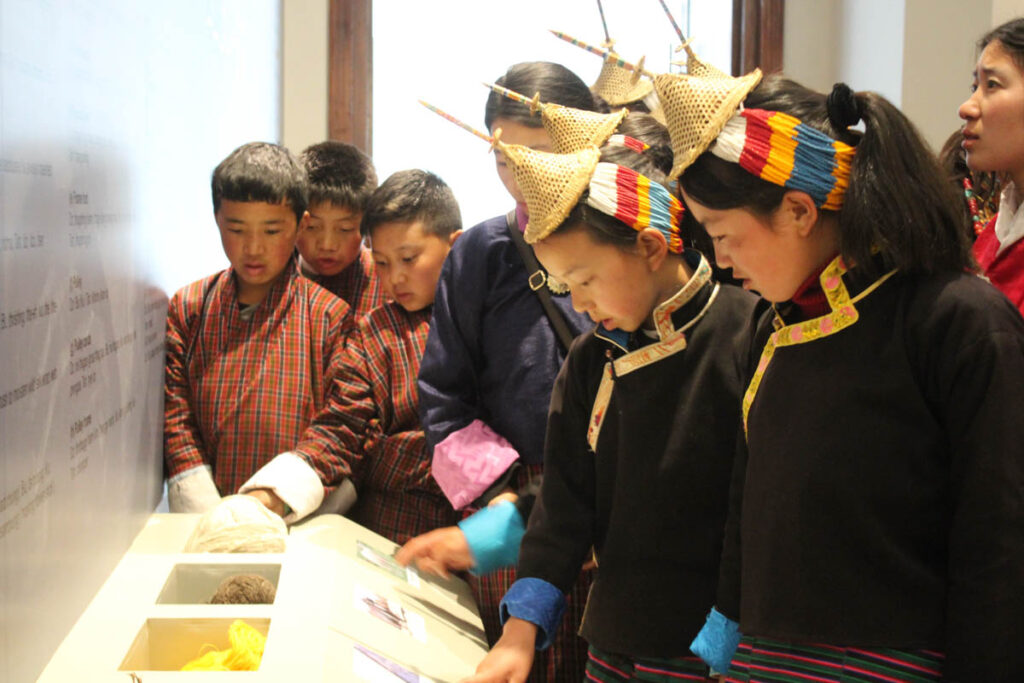 Clusters of craft have strong historical roots in "place" but sustaining these clusters lies in an ecosystem of institutions. From education and training institutions to cultural organisations, and from tourism to community centres, Rosy Greenlees and Joseph Lo report on a seminar that asks, how can we support and encourage this eco-system?
This is the fifth in the Future at Hand series.
The Covid-19 pandemic has brought about the unprecedented closure of borders, insulating and isolating communities. As a result, localisation has resurfaced, re-asserting its relevance once again. Notably, craft practices and expressions have strong historical roots but sustaining these clusters lies in the ecosystem of institutions that support them: from places of education and training to cultural institutions;  from community celebrations to individual life-style choices. Thus, as craft does not exist by itself but within a community's economic, social and cultural framework, it is then vital to strengthen the craft sector's relationships and networks to ensure its sustainability and mitigate against future crisis.
In this discussion, the definition of the local cultural ecology of crafts is explored, citing examples where local systems have strengthened the crafts sector. Significantly, who are the actors involved in this venture and the nature of the relationships that exist between parties? It is also important to comprehend that ecosystems are not static but constantly evolving, responding to both the internal dynamics of the community as well as external agents. But at which point is craft de-contextualised from its host community?
These are some pertinent issues to explore in the expectation that understanding these issues will help strengthen the crafts sector against future emergencies.
Webinar Details
This webinar was the last of a series organised by World Crafts Council International and British Council in 2020 to explore ways and means to strengthen the crafts sector, in anticipation of future global crisis. It was held on Tuesday, 8 December 2020 and was chaired by Ms Ritu Sethi (India), Founder and Trustee, Craft Revival Trust.
Panellists included Ms Lorato Liphuko (South Africa), Designer and Programme Manager, Africa Fashion International; Ms Jane Friend (UK), Associate, Making Matters, Farnham Maltings; Ms Marlene Stanciu (Romania), Founder,  KraftMade Traditional Knowledge Research and Lab; Ms Rinzin Dorji (Bhutan), Executive Director, Royal Textile Academy of Bhutan; Mr Michael Fortune (Canada), Maker and Vocational Trainer; Prof Chen Anying (China), Tshinghua University, Beijing. The webinar was facilitated by Prof Lynn-Sayers MaHattie (UK), Innovation School at The Glasgow School of Art and Dr Simon Ellis (UK/Canada), Consultant, UNESCO.
Craft within the Local Context
Through the WCC International and British Council Webinar Series 2020, the discussions thus far have raised some common themes: the need for evidence, data and statistics to make informed and credible decisions; the importance of focusing on the next generation of makers and craft practitioners to ensure its sustainability; understanding the impact of external forces on craft; and finally the internal dynamics of the community. Underpinning all these topics are the crafts practitioners and their social, cultural, economic and physical environment: the local ecosystem of crafts.
As elaborated by the Chair, Ms Ritu Sethi, crafts exist within a community's economic, social and cultural frameworks, developing mutual inter-dependencies of cooperation and co-creation. Ms Sethi explained that crafts have symbolic connections with the host community upon which actions, activities and networks are established, nurtured and strengthened. Furthermore, these relationships are mutual and the production of arts and cultural offerings (which crafts are placed within) is generated from these complex networks. Activities and inter-activities include learning and inspiration, access to materials, markets and trades, and the establishment of organisations and institutions orientated around crafts.
increased demand for products may strengthen the practice of craft but it may alienate the practice from the cultural tenets of the local community.
In terms of where crafts are practised, the physical sites linked to craft practices are connected to places with historical underpinnings, reflecting local craft skills and knowledge, demonstrated through networks of relationships within the community; for example, festivals, cultural practices, lifestyles, etc. The local ecology of crafts has been nurtured and developed over the years. Moreover, much like any bio-system, a change in one element within the system will have an impact on the whole ecology. Hence, the shifting dynamics from both local and non-local factors may impact positively or otherwise. For example, increased demand for products may strengthen the practice of craft but it may alienate the practice from the cultural tenets of the local community.
Institutionalising the Local Eco-system of Crafts
Ms Marlene Stanciu (Romania) is the founder of KraftMade. KraftMade is a research studio based in Transylvania, dedicated to exhibitions and hands-on learning. Key concepts forming the organisation's principles are 'ethnicity/culture', 'ecology and eco-systems', 'generative thinking' and 'sourcing resources with a limited or local territory'. The studio provides several services including offering residencies to crafts practitioners and makers to create capsule collections and research on craft techniques.
In respect of research, the focus has been on understanding the specific manner in which crafts are practised. The findings indicate that in most cases, the craft practices of a specific site are related to the origins of the community and its physical surroundings – geography, terrain, vegetation, etc. These factors, in turn, affect the design, production and consumption of crafts. Hence, the findings supported the proposition that craft is not an activity that is divorced and isolated from its makers' social, cultural, political, economical and physical environment but is closely related to all these sectors.
This finding has directed KraftMade approaches where communities' traditional knowledge,  stories of the local environment, ecology, culture, history, politics, economy and craft techniques are key designing inputs to those who work in KraftMade studios. Craft makers working with KraftMade also have to consider and choose appropriate techniques which are most sustainable in their practice. Such design practice can be termed as 'slow design' where products are beneficial to the entire ecosystem or cultural landscape.
The Local Ecology of Crafts reflected within an Urban Environment
Jane Farmer, an associate with Making Matters, Farnham Maltings (UK),  presented on craft ecology in practice. Farnham was accredited as a WCC International Craft Town under the WCC International Craft City Network Programme.  Its accreditation was due to her analysis, demonstrating the importance, relevance and significance of the crafts sector to Farnham's community.
In order to demonstrate craft's value to Farnham's urban landscape and community, she used an ecological perspective, rather than a sectorial approach. Much like how one would examine the biological ecology of a specific site where species of flora and fauna are identified and their relationships mapped out, she reviewed the crafts sector's relationships with various segments of the community, such as businesses on the high street, the elderly, schools, tourism, etc. Significantly, Ms Farmer found that the relationship was multi-facetted, and crafts' connection with the community made the practice relevant, functional and sustainable.
This understanding of Farnham's craft ecology contributed to the re-generation of Farnham's high street.  This led to the establishment of craft retail spaces such as pop-up stores and studios; encouraging the professional development of budding designers, producers and emerging makers; lobbying Farnham Town Council to invest in a new online platform to encourage people to buy local; setting up a system whereby the commission from sales of craft are channelled to fund community projects.  All of these actions contributed to increasing public awareness; building the demand for crafts and supporting the mental health and well-being of the community through craft practice.
More importantly, by using this method to map out crafts' relationship with the community and its landscape, it brings crafts to the forefront and raises the consciousness of crafts in the minds of the community. As such, craft activities are now integrated into the educational system in Farnham schools.
It is important to have a bird's eye view of the entire system to decipher the meaning and purpose of the crafts sector to the community and its landscape.
It is important to have a bird's eye view of the entire system to decipher the meaning and purpose of the crafts sector to the community and its landscape. This enabled her perception to be more holistic and produced a fuller and richer picture. However, the process is 'messy' as relationships and networks are complex and convoluted. Furthermore, in many cases, there were no tangible indicators beyond the value of crafts in monetary terms. For example, how does one measure the impact of crafts on the mental health of the community? Yet, in spite of these challenges, it is nevertheless important to map the ecology of crafts and their relationship with the community in order to demonstrate their value to that community. By doing so they will be able to take ownership of this sector, re-invest and re-capitalise, strengthening it against future crises.
Institutionalising the Local Ecology of Crafts
Ms Rinzin Dorji is the Executive Director of the Royal Textile Academy of Bhutan. Because of Bhutan's development philosophy – Gross National Happiness – where the growth and development of the country are not only measured through economic indicators but also based on the health of the natural environment and the well-being of its citizens, cultural practices and expressions are institutionally protected. This institutionalisation and the value of life beyond economic terms has thus strengthened and served to protect Bhutan's crafts' ecology.
Textiles play a profuse role in the lives of Bhutanese. It is prevalent in all spheres of life: spiritual/religious, social, economic, political and cultural. For example, different coloured scarves worn by men during official functions symbolise different ranks and status of the wearer. Textiles have served as a form of tax payments, and embroidered thangkhas function as aids during one's meditation practice.
In spite of modernisation, Bhutanese still wear the national dress on a daily basis. This is because of several factors. Beyond being proud of wearing the Bhutanese national dress – the 'gho' for men and 'kira' for women – on 16 January 1989, the fourth King issued a decree (kasho) making wearing the national dress mandatory when visiting the dzongs (fortress housing government offices and monasteries) and for all public and formal occasions.
Enshrining this cultural practice has protected and strengthened the practice of hand-woven textiles in Bhutan. Hence, unlike elsewhere where the practice of hand-woven textiles is limited, it is still widely practised here.
However, it does not mean that other types of textiles cannot be used for gho and kiras. As a matter of fact, there are many shops in Thimphu today that sell Bhutanese-like textiles but woven on industrial looms which can also be used as ghos and kiras. These machine-woven textiles are more economical and these textiles are used daily, for going to work and performing other official functions. However, for important and significant events such as weddings, festivals, etc., Bhutanese pride themselves in wearing elaborate and complex designs woven on traditional back-strap looms.
the mandatory wearing of the Bhutanese national dress for official functions
Beyond the mandatory wearing of the Bhutanese national dress for official functions, other institutional support systems have also helped to fortify the local ecosystem of Bhutanese hand-woven textiles. For example, the Royal Textile Academy organizes the annual national design and art competition which encourages excellence in weaving, embroidery, painting and carving. This helps to benchmark excellence while identifying new generations of artisans to sustain and re-capitalise craft practices and expressions.  A rolling fund establishes the Weaving into the Future programme to create an infrastructure to help systematise weaving through several activities including purchasing and distributing yarns through village yarn and dye banks and establishing Lifetime Award Programmes in regional communities.
The government also plays a part in strengthening the local ecosystem of craft practices in Bhutan. Under the auspices of the Agency for the Promotion of Indigenous Crafts (APIC), the Bhutan SEAL of Excellence programme helps to establish quality standards for Bhutanese crafts products. APIC also organizes local craft bazaars to help makers sell their products.
Importantly, through both RTA's and the government's initiatives, national surveys on the textiles sector have been conducted to gather empirical data and information to guide the formulation of policies. For example, RTA commissioned three national surveys to understand the types and quantities of textiles that are consumed nationally. This will thus help to fine-tune the demand and supply of textiles. In order to develop programmes to sustain weaving practice, a national youth attitudinal survey was conducted to understand and align future plans to young people's aspirations. The national hand-woven textile industry survey, conducted every decade, helps to appreciate the challenges of the sector and formulate solutions.
Therefore, through His Majesty's decree, government policies and programmes established by non-governmental organisations (such as RTA), have strengthened the sustainability and vitality of Bhutan's crafts eco-system.
Revitalising the Craft's Local Ecology
Prof An-ying Chen, Director, Department of Arts and History, Academy of Arts and Design,  Tsinghua University, Beijing explained that in China, safeguarding intangible cultural heritage (ICH), of which crafts is a sector, is a two-stage process comprising identification and revitalization. In 2015, the Ministry of Culture and Tourism initiated a programme to revitalize ICH in China. The programme first connected artisans and craft practitioners who are based in local communities with academies and universities. This was to enhance transmission between elderly ICH practitioners and the next generation. The programme also encouraged universities to build the local ecology of crafts so as to strengthen ICH.
Prof Chen cited how this programme was executed in Qingzhou, Shangdong Province. Qingzhou is famous for its lacquerware. It has a long history, starting from 223 BC when China was unified under the Qin Dynasty. However, in recent times, the lacquer practice has been in decline and a revitalization programme is needed to rejuvenate the practice.
Recognizing that the local ecology of crafts is made up of different components, each with different abilities, the revitalization programme involved three parties, each with its own expertise.  Tsinghua University, being an academic institution was given the lead to direct the programme and to provide research and technical inputs. As the practice is local, the programme was implemented by a local art school. The provincial government provided financial and policy support to the programme.
Because of Tshinghua's expertise, the academy was able to test and teach artisans how to refine raw lacquer in order to achieve better quality.  This increased artisans' income as they were able to command higher prices with better quality products. The local art school organised master workshops to introduce lacquer-making to young people. The school also organised local craft competitions to promote the crafts while benchmarking design and quality excellence. The provincial government promoted this craft through re-branding, providing spaces for artisans to exhibit and market their wares, and presenting an international conference and exhibition on lacquer in 2018. Through Tsinghua's extensive network, lacquer artisans from Korea and Japan were connected with those in Qingzhou. Lacquer artisans in other parts of China were also connected and together, a network and active alliance was formed.
The successful revitalization of lacquer crafts in Qingzhou was through a combined efforts of different agencies with different expertise. Importantly, each addressed different aspects of Qingzhou's lacquer ecology including transmission of knowledge from elderly masters to the next generation of makers; research to upgrade knowledge and skills in order to improve quality, re-branding, promotion and marketing of lacquer products; and finally, establishing global and national networks of lacquer makers.
The Local Ecology of Crafts in South Africa
Loreta Liphuko reported that crafts are pervasive in South Africa because it is an entry-level income generation activity: an important opportunity for rural-based women to generate income, especially for poorer black women. Significantly, 80% of crafts are sold within the country, only 20% are exported. Thus, there is a high demand for crafts made in the country. In urban areas, crafts are linked to design and high-end markets, but crafts are also linked to traditional festivals and celebrations. Furthermore, both producers and their clients are highly discriminating against poor-quality products. For example, good-quality beads are used for traditional items whilst imported Chinese beads are used for contemporary low-value items. Thus, it can be seen that local demand takes priority over tourist markets demonstrating the intensity and depth of South Africa's craft ecology and cultural practices.
However, it does not necessarily mean that there are no challenges faced by the sector. For example, traditional crafts, such as basketry and beading, are undervalued by younger people and the educated. Crafts are associated with poor pay and the underclass. However, when minimum wages were introduced, products became uncompetitive.
Thankfully, both government and non-governmental organisations are trying to address these problems. For example, crafts education in schools has been instituted to help improve the status and change perceptions of craft. The government also values the craft sector because it contributes to the building of social networks, develops local economies, encourages entrepreneurship and fosters social capabilities, especially for rural women.
Challenges Facing the Local Ecology of Crafts
Michael Fortune (Canada) is a master artisan whose work spans North and Latin America.  For this webinar, he shared his experience of the crafts sector in Latin America.
In Latin America, the craft sector has been mainly focused on export, especially in exporting furniture made in large quantities. Its characteristics are low quality and cost, as high-value items have very limited export opportunities. In recent years, tired of this situation and gaining a poor international reputation for their work, makers have turned to the local markets, which are far more profitable thus reinforcing the relevance and need to nurture the local ecology of the crafts sector.
Yet, it is a challenge to re-connect to and re-contextualise crafts in its local ecology: the return to traditional modes of making, slow design, using local resources, etc. However, it does not necessarily mean that such a transition is without its challenges. A change of mindset is necessary for both producers and customers. For example, older people have a romanticized nostalgia while younger people are not interested in craft. Unlike Bhutan, there are limited policies in Latin American countries to support the development of crafts. Furthermore, there are tensions when transitioning from local and non-local, including finding a balance to serve the local community and the export market (which is still relevant in terms of providing employment, etc.), usage of contemporary technology and skills versus traditional methods of making; and scaling down from export-orientated production to small-scale production.
As it is, it is an ongoing process and the Latin American craft sector is finding a balance between serving the local community and its export-orientated form. One means of achieving a balance is through adjusting tools and technology depending on the different markets, using local technology for production serving local buyers, and more advanced tools for export, in order to be productive and competitive. Hence, at this moment, the craft sector in Latin America is evolving, from an export-orientated system to one that is reconnecting with its local community and its ecology.
Brief Statements and Conclusions
At the end of the discussion, the Chairperson requested each of the panellists to give a brief statement as a means of summing up the local ecology of crafts and to identify key takeaway points. Reviewing these comments, the following themes have emerged.
In many developing economies, the craft sector exists as an informal economy. Subsequently, it is often beneath the radar of most government and institutional support. Yet, in order to mainstream the crafts sector it is imperative to engage with governments to seed awareness and appreciation of the positive impacts of craft on local communities. Craft organisations need to be ahead of the game and be proactive in connecting with government to advocate for the needs of the sector.
However, if the crafts sector is purely driven by governmental and institutional agendas, the connection with the community may be lost, threatening the authenticity, the spirit and the raison d'etre of the practice.  Furthermore, government support may not be consistent; and assistance, like all other governmental activities, are funding dependent, reliant on lobby groups advocating the craft sectors' agenda.
The question arises, how does the crafts sector engage in a meaningful dialogue with the government? This is when empirical data, statistics and information serve as important lobbying tools as evidence makes the case. Unfortunately, as many craft practices are informal (for example, being a supplementary family income-generation activity) there exists limited data. Even at a national level, many statistics institutions lack detailed information on the crafts sector. Therefore, it is imperative that credible and concise information, data and statistics be gathered and analysed to support craft sectors' dialogue with the government.
Sustainability of the Local Ecology of Crafts
Much like the biosphere and the natural ecology of a place, the sustainability of the system is important to ensure the continuation and longevity. In crafts, the sustainability of craft practice lies in the next generation. They are the future of the crafts sector and the local ecosystem. As social, economic, cultural, technological and political contexts change, so attitudes and values evolve.  The craft sector must ensure that its practice and expressions also evolve, in order for it to be relevant and in line with young people's aspirations.
The crafts sector needs to re-invent itself, to explore what is 'cool' so that future generations are interested and engaged with craft practices. For example, while the older generation of craft makers have been concerned with the economic value of craft (so as to put food on the table), young people, being more affluent today, may not necessarily see it in the same way. Rather, with social media, crafts could also be seen as a means of self-expression, individualism and well-being.
As one of the pillars of crafts is technical mastery, it is essential for craft skills to be transmitted from one generation to the next. Thus, mentoring a future generation in craft skills is an important factor in the sustainability of the local ecology of crafts.
One of the foremost challenges in exploring the local ecology of crafts is finding the balance between being local whilst maintaining a global outlook without being protectionist. Although catchphrases such as 'open to global but focusing on local' is well expounded, there are no objective markers to identify boundaries between being local and global.
Technology within the Local Ecology of Crafts
As technology is now present in every aspect of contemporary living, it is also important to discuss the impact of technology on the local ecology of crafts. In many ways, technology has impacted positively on the local ecology of crafts. For example, social media has enabled the promotion of crafts products while connecting with other makers and buyers to build a more resilient system.
However, technology is a double-edged sword and could also expose the vulnerability of the sector. For example, putting one's work in the public domain may lead to intellectual property abuse. Thus, although it brings benefits, systems must also be in place to safeguard craft's local ecology.
Healthy and Balance Ecology
In order for an ecosystem to function at its optimal, it needs to be balanced. Hence, all elements within the local ecology of crafts need to find their equilibrium. Significantly, ecosystems do not necessarily remain the same through time: they are dynamic and respond to changes. Likewise, the local ecology of crafts needs to be sensitive to such variations and adjust accordingly.
Finally, in order to appreciate the local ecology of crafts, one needs to take a macro view. It is only at this level that one can appreciate the entire system and understand crafts' relationship with other sectors and areas of the community. For example, it will be an uphill task to conserve the making of a cooking pot if one does not preserve the cuisine which it is made for. Thus, in preserving the cuisine—the preparation of the ingredients, the method by which it is cooked, the way in which the food is presented and eaten—the community would naturally conserve the way in which the pot is produced. For without the pot, the food will not be made…
Therefore, it is important to understand the role of craft, not just from the economic point of view, but how it contributes to the social network, personal and social capacities of the community. Crafts serve to give people strength, resilience, health and well-being in all dimensions – personal, social and economic. It is only through this holistic approach that the craft sector can build greater resilience to face future crises.
Note
Although the term 'ecology' refers to the study of the relationship between living organisms and their environment, in this paper, it also includes interactions between living and non-living things, cultural practices, economic systems, social organisations and institutions, etc.
✿
Like the article? Make it a conversation by leaving a comment below.  If you believe in supporting a platform for culture-makers, consider becoming a subscriber.
Tags