Using his hard-won English skills, Rajan Vankar shares his pride and knowledge of Kutchi weaving designs and techniques, inspired by nature and traditions intertwined.
I'm a fourth-generation textile weaver artisan who was born into a traditional weaving family living in the Sarli village located in the Kutch region of India. My family and I have been creating intricately handwoven textiles for six generations. I learned our traditional weaving techniques by watching my father and grandfather in my family's workshop when I was a child and began exhibiting with my father when I was nine years old.
I use the traditional shapes and geometric patterns that are symbolic and significant in the culture of my community. Frequently used motifs in my textiles include Chaumukh and Dhunglo which represent mountains, dhulki and landhar which embody a snake slithering, as well as Sachivaat which means the true way of life, its geometric patterns inspired by nature motifs.
Matching the yarn's colours
You can see I'm working with colourful yarns. But, I'm matching the colors to make mirror work and tassels for the shawls which you can see in the photo.
When sitting with the shawls and yarns it feels blessed, awesome, and very connecting.  Because my eyes open to the yarns every morning since my childhood.  When I was child 3 to 6 years old, I played with the yarns and it connects me. I grew up watching my father when he was matching the colours. My father "Vankar Bhimji Kanji – Master Weaver and Pioneer of My Kutch Weaving" is the true matching master. I learned a lot from him and still learning. In my creative vision,  a person's first like is the colour, then second design, and then the story behind the design.  So, the colours are very important. In my culture, each colour represents its own significance. Popular colors are used in my weaving which is traditional and typically from my place is Black, Red, Green, Orange, Blue, Brown, and White.  You can see that all colours in my upcoming dhabda blanket, shawl & throw.
Traditional Kutchi handwoven dhabda blanket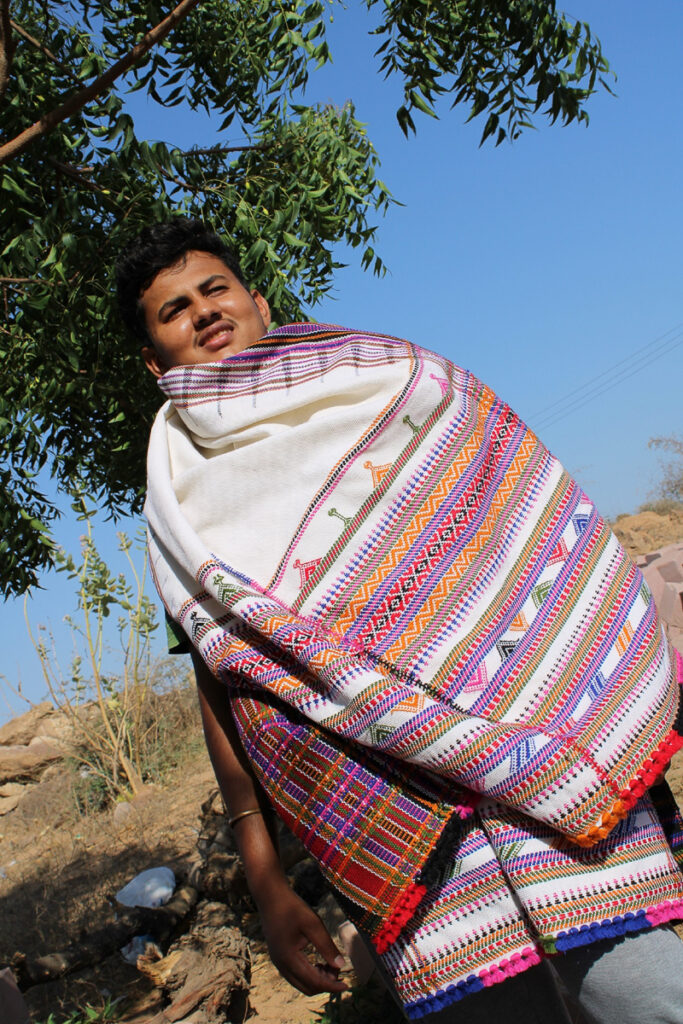 This dhabda is handwoven on our traditional Kutchi four-paddle pit loom. Dhabda is one traditional product which can be blanket, shawl or throw. In this dhabda design, traditional motifs are featured such as Biscuit, Dhunglo (Represent Mountain), Wankiya, Landhar (Represent Snake slithering), Chaad, Dori, Saachi-vaat which means the true way of life! And of course, finished with the beautifully handmade tassels. Then, it is hand-stitched using Macchi-Kandho (Fish-Bone) stitching technique by my mother. This dhabda and colourful combination is typically known and the identity of my Kutch region. Dimensions are 54 width X 86 length (Inches)
I call it "Fragrance of weaving traditions" which I inherited from my father: my father inherited this beautiful tradition of weaving from my great-grandfather.  This design and colour, and always have a place in our hearts. Because five decades ago my great-grandfather wove this kind of dhabda for Rabari community.  In these days Rabari community, who are cattle herders, provide sheep's wool to my grandfather and then it is handspun by my grandmother and Rabari women. Then, my great grandfather weaves the dhabda product. Then they give dhabdas to the Rabari community peoples. That was the working system of those days. In short, Rabari peoples provide sheep wool to my great grandfather and then my grandmother and Rabari community women handspun the yarn. At that time the work is done by barter system between my family and Communities.
I feel blessed that I inherited this tradition of weaving.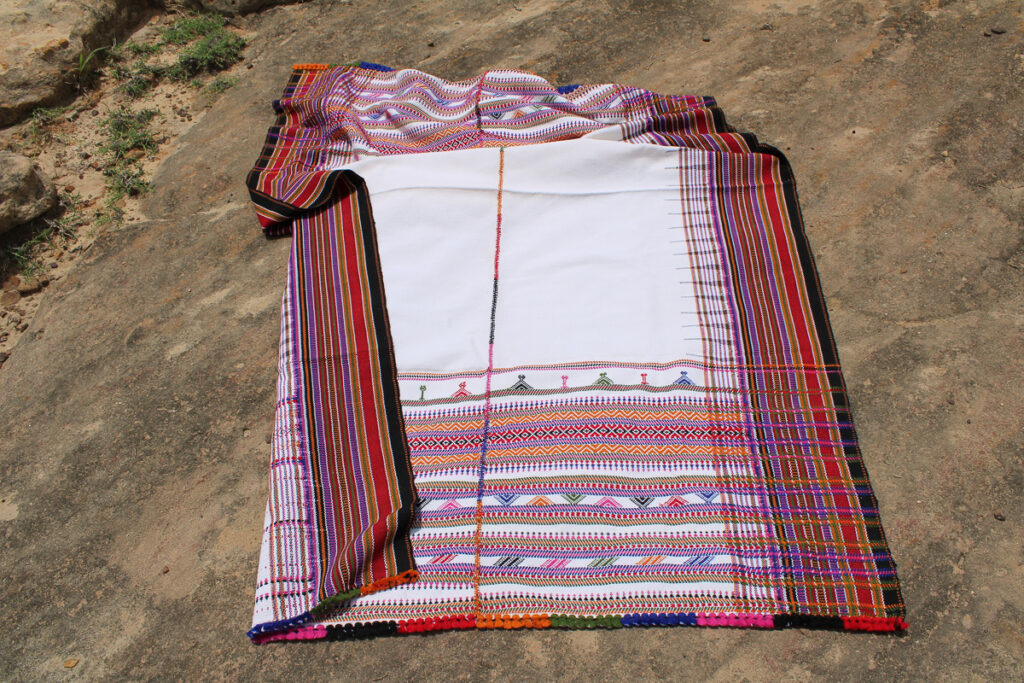 Handspun silk dyeing and washing process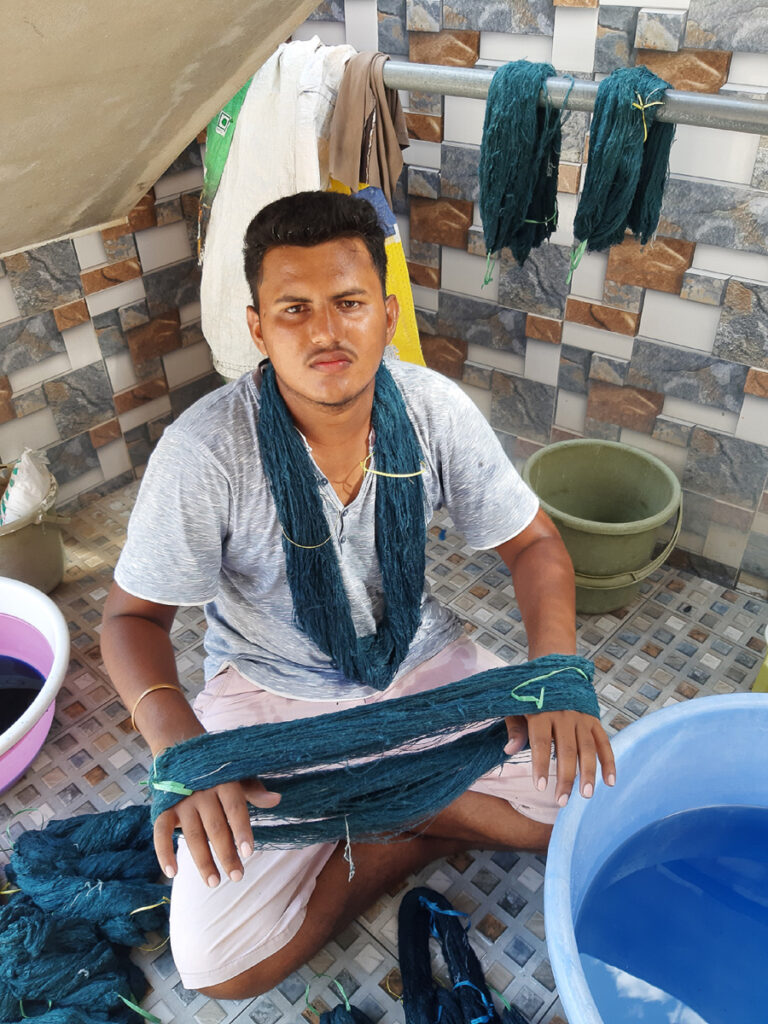 The handspun silk's dyeing washing process makes colors more solid. In this process, I have to take care of silk yarn threads as a mother takes care of the child. It is the same way I have to do it with the yarns. I have to do this process with care, patience and love from my heart to preserve our family's ancient weaving culture. If these silk threads get stuck in each other then it will be confused in each other. After that, it is a very complicated and painstaking process to separate each thread. So, this process takes time, understanding and knowledge.
Handspun desi wool Kutchi handwoven wankiya border shawl/throw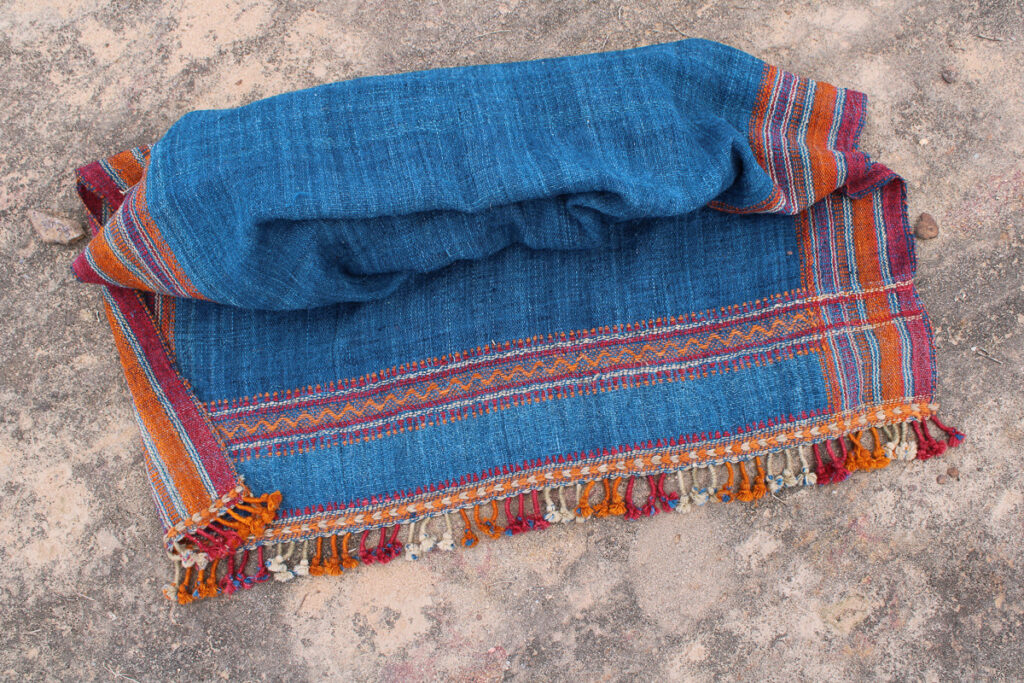 This shawl is handwoven on our traditional Kutchi four paddles pit loom and woven in handspun desi wool yarn, which is local wool of my region. My family wove this yarn for generations. This shawl will keep you warm in winter seasons and give you comfort style. Dimensions: – 38 Width X 86 Length (Inches)
Old days' presentation and English learning story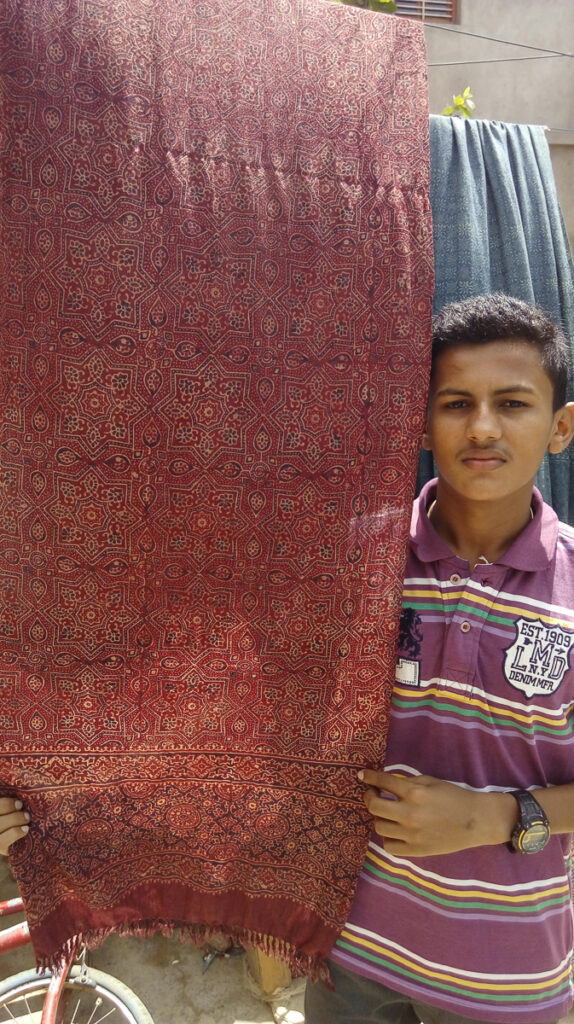 For me, it was a challenge to learn English!  I studied in my regional language Gujarati Medium School and then high school far from my village.
When I was a child, I learnt with my father in our family home workshop and in all fields of our weaving work. So, at that time many visitors from India and Foreign countries come to our family home workshop for seeing, buying and working with us. But, at that time, some guides come with the visitors.  So, the guide is translating between my father and visitors.
I want to change that method. So, as a teenager, I decided to learn English by myself.  And slowly, slowly, I learn English. And from my that effort, I'm able to tell our weaving stories whether it is about traditions, techniques, culture, and my knowledge about traditionalism of my Kutch weaving.
I have a passion for my weavings and telling the stories of weavings. They tell whomotifs, designs, colours are connected with us in our life and part of our weaving culture!
Chomukh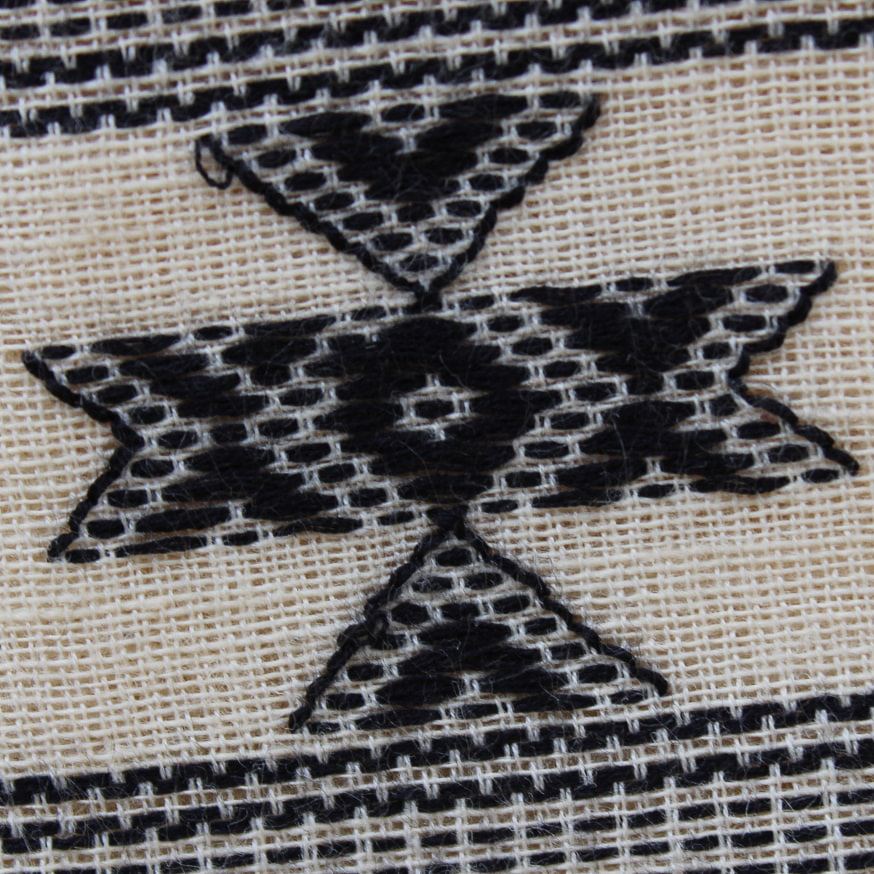 Chomukh it is significant identity motif of my traditional Kutch weaving.  My family and community have made this motif for centuries!
This motif is handwoven on our traditional Kutchi four paddle pit loom using an extra weft weaving technique by hand. This technique is special from my Kutch region!
Dhunglo
Since childhood, I have felt connections with the mountains. And I love to hike up them. Since years I feel that we have connections with the mountains. We weave a motif called "Dhunglo" which represents mountains. Since centuries we weave that motif in our traditional Kutch weaving.  It is woven by hand on a loom using a technique called extra weft technique which is special to Kutch.
Traditional Kutchi handwoven border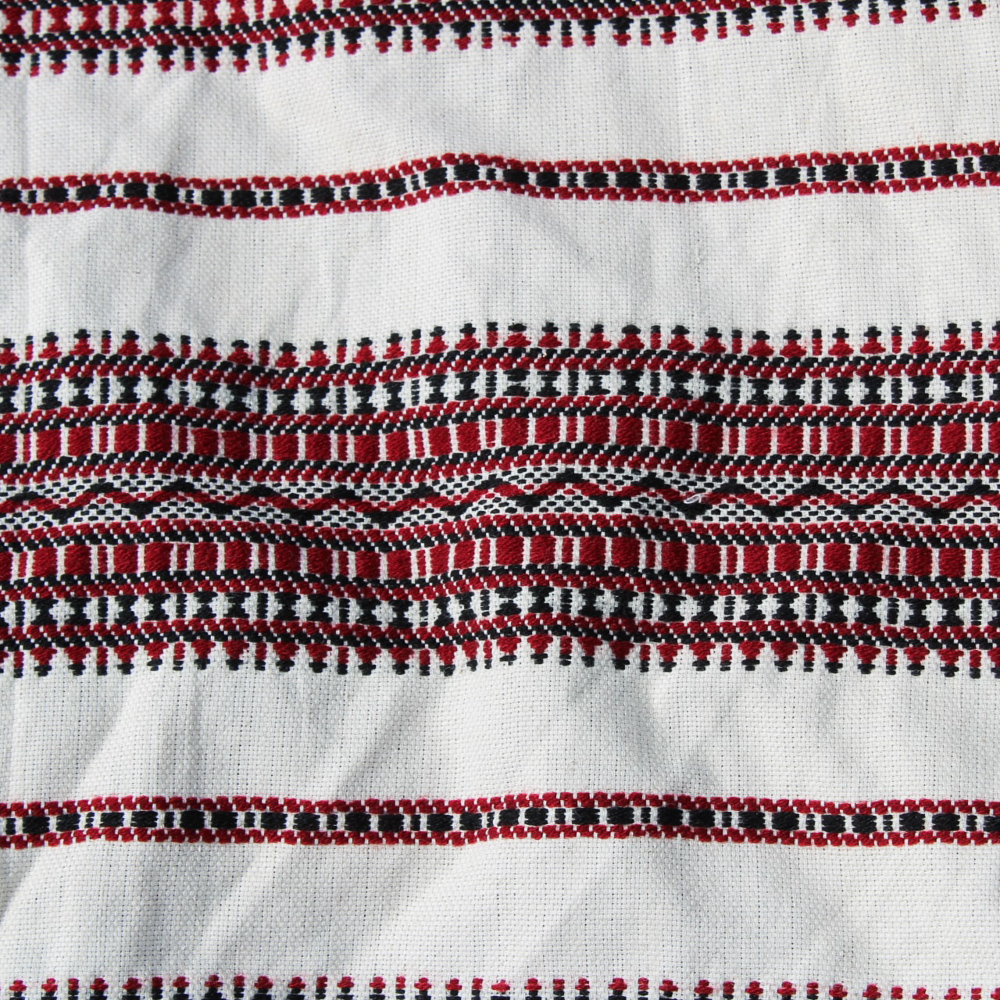 This border is handwoven on our traditional Kutchi four paddle pit loom using an extra weft weaving technique. This border features traditional motifs as Chaad and Landhar (representing a snake slithering), Kongri. The Extra weft weaving technique is special from my Kutch region! The border is made from three motifs combination!
While weaving the motifs for me it is important to focus on the colour and motifs too. Because I have to set the colors for the motifs. Then, the piece and weaving both look extraordinary!
Jal (tree)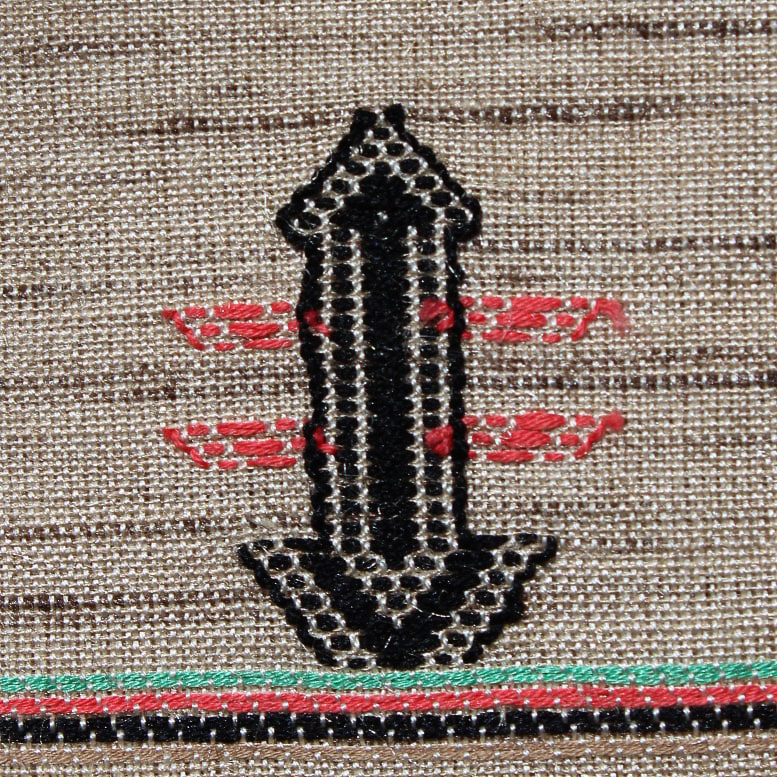 The Jal motif represents the tree of life, a desert tree of my Kutch region. This is handwoven on our traditional Kutchi four paddle pit loom using an extra weft weaving technique by hand.  This motif is woven using the Dhunglo motif (mountain). On the side is a biscuit motif, and in the middle is a straight Jal line motif. It's a woven together from three different extra weft weaving technique traditional motifs to make it a one "Jal" motif.  The extra weft weaving technique is special from my Kutch region.
Childhood loom love and connections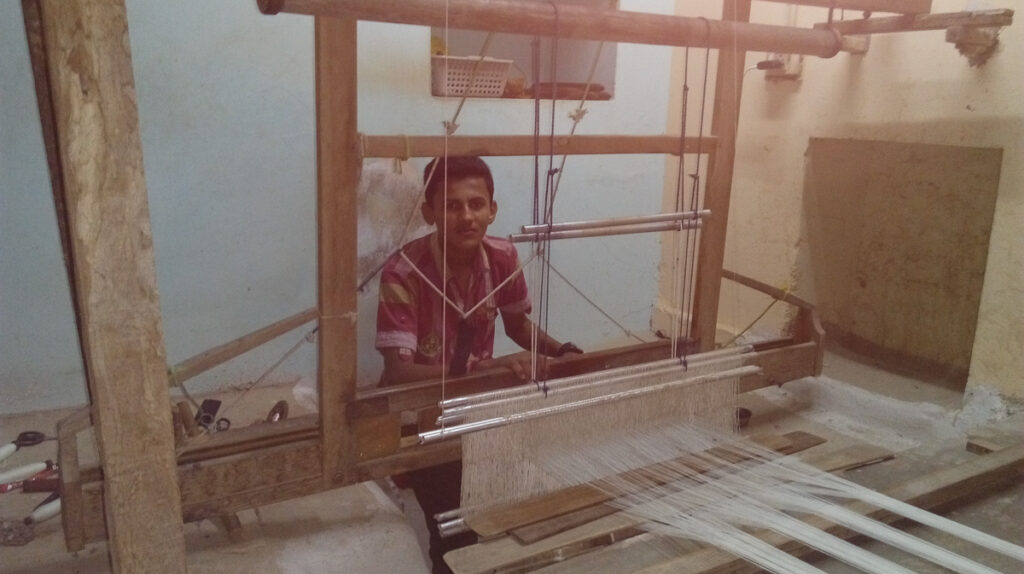 It feels amazing when sitting on the loom, making some new designs or just weaving on the loom.  Every part of the loom is important. This is our traditional Kutchi four-paddle pit loom which made from wood By hand. Our loom has 14 different components.
When weaving is in process on the loom, the sounds are magical, positive, self-confident, and energetic!!! When weaving is in process, many things are in motion and in action, such as my creative thinking. Then by my heart and hand, I express my feelings and thoughts in weaving while on the loom.
Author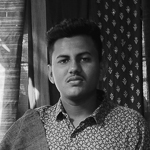 You can follow Rajan Vankar at @rajan_vankar, email at vankarrajan478@gmail.com or phone +91 9537348821. You can learn more about him from his article The craft wisdom of Kutch weaving.
✿
Like the article? Make it a conversation by leaving a comment below.  If you believe in supporting a platform for culture-makers, consider becoming a subscriber.
Tags