Linda McIntosh ✿ A heartfelt interpreter of Laotian craft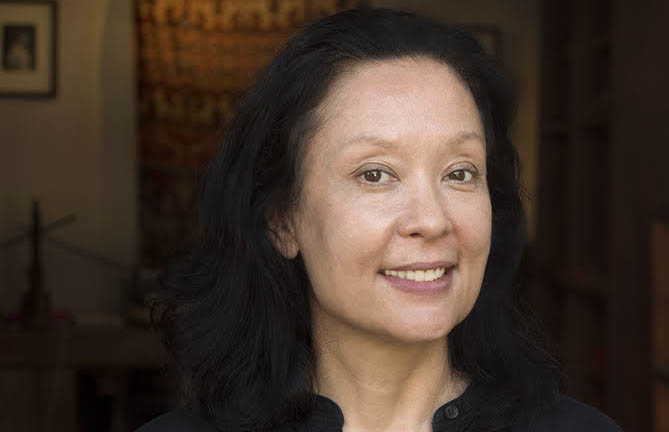 As a Garland perennial, Linda McIntosh has been sharing stories that reflect the deep cultural meaning of the crafts in Laos. 
Linda received a Master of Arts degree in Southeast Asian Studies at the University of Wisconsin-Madison, USA, and a doctorate from Simon Fraser University, BC, Canada, focusing on the roles of handwoven textiles in Laos and Thailand. She first became interested in textiles of this region since her mother, who is Tai Daeng from Laos, continued to weave in the US as one of her few connections to her homeland.
Linda was a consulting curator at the Tilleke & Gibbins Textile Collection from 2005 until 2013. During this period, she also curated two exhibitions and wrote the accompanying catalogues: Status, Myth, and the Supernatural: Ritual Tai Textiles and Weaving Paradise: Southeast Asian Textiles and Their Creators at the Jim Thompson Art Centre where she was designated senior curator at the James HW Thompson Foundation. She authored Art of Southeast Asian Textiles: The Tilleke & Gibbins Collection published in 2012 by Serindia Publications. She expanded her research areas to Insular Southeast Asia.
Another of her major publication is Thread and Fire: Textiles and Jewellery from the Isles of Indonesia and Timor published by River Books. This tome is based on the collection of Francisco Capelo, now part of Casa Asia, Lisbon. Linda is presently contributing a chapter on Ikat of Southeast Asia in a forthcoming catalogue of the David Paly Collection.
She is continuing her research of textiles in Laos, including former royal Lao goldwork embroidery and Katu backstrap weaving, and textiles of groups living in Alor Regency, NTT, Indonesia. She has just been awarded a grant from the Endangered Material Knowledge project housed at the British Museum, London.
One of Linda's current projects is as a heritage interpretation expert for an international project in Luang Prabang. She has also been designated a national mentor for the intangible cultural heritage of Laos by UNESCO-Bangkok.
Linda is currently based in Luang Prabang, the former royal centre of Laos. Craft is ever-present in daily and ceremonial life. Baskets and brooms are made out of grass and bamboo collected in the nearby forests. Ephemeral offerings of flowers and banana leaves are given to ancestors and the 30+ Buddhist temples of the city regularly. Temple bells and drums ring at specific times of the day to tell the populace to wake up, to give alms, to remember to feed the monks their last meal of the day, etc. Handweaving, basket making, woodcarving, blacksmithing, and silversmithing still can be observed in the surrounding villages.
Researcher and curator Linda McIntosh received her doctorate from Simon Fraser University, Canada, and Masters of Arts degree from the University of Wisconsin-Madison. She is the author of several publications celebrating the textile culture of Southeast Asia, including Art of Southeast Asian Textiles: The Tilleke and Gibbins Collection and Thread and Fire: Textiles and Jewellery from the Isles of Indonesia and Timor, and is also a contributing editor to Textiles Asia. McIntosh recently redesigned the Xieng Khouang Museum in Laos.
✿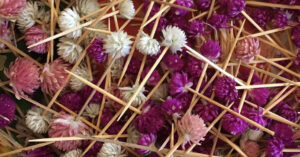 Devotional flower offerings of Luang Prabang
-
Linda McIntosh and Tiao Nith describe the floral offerings that are traditionally offered in Lao temples, which are changing now that they depend more on items purchased from markets.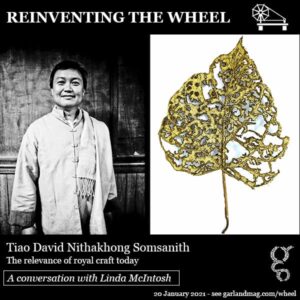 Tiao David Nithakhong Somsanith: The relevance of royal craft today
-
The fourth talk in Reinventing the Wheel takes us to Laos, where Linda McIntosh will introduce the life and work of a master goldsmith who uses his royal background to uphold craft.
Naga Kacip: A snake god at work
-
Linda S. McIntosh writes about the story told by the quintessential Southeast Asian implement, the kacip betel nut cutter.