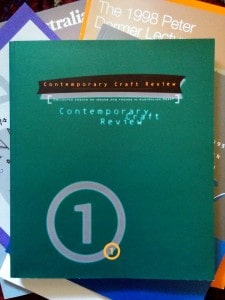 As a new magazine, Garland enters waters chartered by other impressive publications.
More than twenty years ago, Craft Victoria produced an ambitious annual journal, Contemporary Craft Review. It was edited by the erudite Jenny Zimmer, who went on to head up the art division of McMillan Publishing. Zimmer was advised by a board of experts brought in from all parts of Australia. More than forty writers fill its eclectic 118 pages.
Zimmer's editorial is highly philosophical. She expounds on Roland Barthes' use of lists, while invoking Derrida and Wittgenstein. Her purpose is to open up craft discourse to a diversity of perspectives, using the language of French theory that was popular in the early 1990s.
The contents are idiosyncratic, but also include an occasional regional angle, such as Eugenie Keefer Bell on Japanese influences and James Bennet on Indonesian craft. Helmut Lueckenhausen reflects briefly on his experience as Australia's representative at the World Crafts Council. In thinking about Australia's relationship to the developing countries brought into its ambit, he writes, 'Let me propose craft – the act of making – the act of contributing to material culture – as a common denominator to macro and micro history.' That hope continues.
Unfortunately, Contemporary Craft Review didn't continue. It only had one issue, despite the immense hopes. Recently we've also seen the lost of Object magazine, the demise of craft design enquiry and there's an impending change at the helm of Craft Arts International.
As a fragile craft, just starting its journey, Garland sails through waters strewn with the wreckage of craft publications past. Will it survive? While it may not have the resources that were previously available to support such ventures, Garland is a lean vessel that has a flexibility to cope with an uncertain future. The wonderful response to the Pozible campaign gives us courage to go forth. And there are such treasures ahead to uncover.
✿
Like the article? Make it a conversation by leaving a comment below.  If you believe in supporting a platform for culture-makers, consider becoming a subscriber.
Tags