Through art collecting, tourism and gift giving, precious handmade objects move around our world. To help tell the stories behind these objects, Garland brings together leading voices from our region.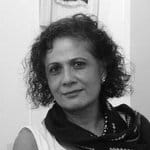 You are cordially invited to a discussion with the Garland Laureate, Gopika Nath, about her essay Reclaiming the lost embroidered garden.
Tuesday 19 April – 5-5:30pm (Australian Eastern Standard time), 12:30pm (Indian time)
Location: Google Hangout – https://plus.google.com/events/c1jjaqq5kma5n2vvnrkkdq3bic8
Gopika Nath takes us on a journey back to the days before Partition, when embroidery was done for its own sake as an expression of beauty. She then returns us to our own time, when such crafts seem to exist only as ways of making money. Despite this transformation, Gopika finds a continuing thread in the hand of the maker.
Join Gopika to explore the question  – How do traditional crafts fit into the modern world?
✿
Like the article? Make it a conversation by leaving a comment below.  If you believe in supporting a platform for culture-makers, consider becoming a subscriber.
Tags