Issue #8 – Rame rame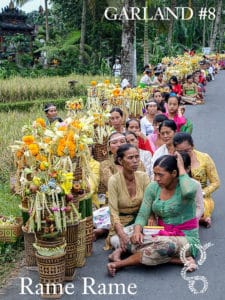 Rame rame—Let's do it!
Indonesia seems a wonderful place to make things, together.
Perhaps it's the way people connect with each other. Indonesia is a nation founded on the value of gotong-royong, mutual cooperation. In villages, cities, foreign lands and the cloud of Instagram, Garland explores the Indonesian attitude of informal collaboration.
We begin in Bali. Garland goes beyond the tourist resorts to the temples and workshops where beauty is made. Our quarterly essay tells the story of sculptor Rodney Glick, who has founded Ubud's unique Seniman Cafe Studio. Why did he commission someone to carve a military boot?
Elsewhere in Jakarta, Bandung, Surabaya, Yogyakarta, Sumatra and Kalimantan, we learn why Indonesia is so conducive to working together.
In Garland #8, you'll also find a haberdashery of stories behind the things we make in world, including Kyoto, São Paulo, Venice, Mexico City, Sydney, Melbourne, Alice Springs and even as far as London.
Articles
Essay
Quarterly essay – Everything Happens to Everyone: A Rodney Glick story ✿ Rob Finlayson
Bali
Banten jerimpen: An offering to reach the universe Mas Ruscita
A revolution from the kitchen at Rumah Intaran Gede Kresna
We are all leaves on the tree: Ketemu in Bali Kabul and Samantha Tio
The Elephant Shark story: batik between Java and Bali Marty Hope
Elsewhere in Indonesia
Kandura Studio: Making studio ceramics in Indonesia Fauzy Prasetya
Flores: The skin of tradition William Ingram and Jean Howe
Indonesia beyond
Bridewealth of the Dayak Lundayeh Karen Macdonald with Paulus Kadok
The plaited craft that holds a Dayak village together Stephanie Brookes
Design collaboration in Surabaya Alexandra Cosby
Fashion electric: Two Indonesian fashion designers energise traditions Carla van Lunn
Perhiasan = Jewellery Elizabeth Shaw
Complete me Annie Gobel
On history-making and cooperation: Tom Nicholson's "I was born in Indonesia" Nuraini Juliastuti
A social fabric: Tais weaving in Timor-Leste Marian Reid and Emily Lush
From Sumatra to Bellbrae: A Jenny Crompton story Kevin Murray
Rest of our world
Charlotte Haywood: Weaving ideas Lisa Cahill
Mirror/ in vapour: Glass in Venice Rosslynd Piggott
Simon & Jacob – A union for collaboration Jessica Hutchison and Alex Jack
Helen Wyatt: Life is revealed through layers Mark Stiles
Individual elements, distant hills and a far peak Elliat Rich
Global Indigenous Runway: Lisa x Verner x Sarah Lisa Waup and Sarah Weston
The embroidered house Renata Mellão
Jessica Ogden: Still Jessica Hemmings
Machiko Hashimoto: Flowers from Kyoto Sokyo Gallery
Mitsukuni Misaki: Beginning to breathe Shoko Aono
Minoyaki ceramics and the mystery of kairagi Tomoko Kawakami and Naho Yamashita
Claudia Fernandez: Ceremonia Madeleine Kelly
Dee Zines: Textile adventures Sanaz Fotouhi