Manon van Kouswijk introduces an exhibition series that reimagines the humble candlestick.
Candles & Sticks is an exhibition project initially curated in Melbourne 2022 by Manon van Kouswijk and Sassy Park, realised with Alona Goren. A second version was curated by Manon van Kouswijk and Caroline Billing for The National in Christchurch (online catalogue).
Candles & Sticks presents a range of works that reinterpret and/or reflect on the candlestick as an object that holds, supports or frames a candle, or on the ritual of burning candles. Artists' responses could be object or image-based, autonomous or functional, sculptural, durational, with scope for diverse approaches and interpretations of this subject and matter.
Sculpturally, the candlestick can be thought of as a composition made up of a base, a foreground and background, vertical and horizontal, light and shadow. Besides the formal and material possibilities at play in this object, the burning of candles is ritual and symbolic, celebratory and commemorative and can be found in the public as well as the private realm.
We were curious to see how artists/designers/ceramicists and other makers might rethink / rework / remake this object as it has so much sculptural and poetic potential that goes beyond being merely a functional object. There is drama and transformation in the melting of wax, the flickering of flames and the throwing of shadows.
For me, the candle is part of unwinding at the end of the day. When I stop working, and before I start cooking, I just light one or two candles.
Lynette Smith
These candles cannot burn. If they do, then it means that everything will be gone.
The fennel stalk (enclosed in wax with an inadequate wick) is a device for thinking about Prometheus, who took fire from the heavens and gave it to the humans so that they would be able to live with some joy and less suffering. He carried it in the hollow stalk of the fennel. This is the only story of Prometheus I'm interested in. It's the original one.
I wanted to see how a stalk of fennel would burn so I gave it to the flame. The flame took it with a flash and a sigh, immediately, leaving the most delicate ash I ever saw.
We are all burning up inside.
Background info with some of the artist's work in the exhibition.
Hilde De Decker
This necklace owes its existence mainly to the choice of materials:
wax and a wick.
These materials make the necklace what it is: a candle.
One side represents a man, the other a woman.
They are cast from white candle wax and fused together.
Both ends of the wick are between the figures, so the rope forms a closed cord.
The length of the wick corresponds to the length of an ordinary necklace.
The necklace has no front or back, no beginning or end.
While waiting for the fire to ignite the wick, for the spark to pass over, the necklace is simply worn.
Perhaps by a man and a woman who enjoy each other's company?
Just married – all in white? Or have they been together for a very long time?
And what if a man and a woman set each other on fire?
Will the relationship soon burn out?
Or is it more of a religious thing?
Is it to do with faith, are these figures still the ex-votos they refer to, do they still beg for something?
All these meanings can be filled in by the wearer himself. That is why the necklace is eminently suitable as a gift, an important aspect of jewellery. And if you think this combination is too fragile, just hang the necklace up on the wall.
Benjamin Lignel
In the brief volume that philosopher Gaston Bachelard dedicated to the candle, a twee vision emerges of the solitary student or scholar, facing twin islands of light: the candle's and the book's (Bachelard wrote in the 50s: he must be casting his mind back at least 50 years to find candle-lit study rooms!)
The image is far from heroic: as the flame trembles, Bachelard adds, so does the whole world tremble, and -one imagines- the student's ability to study.
I understand that quivering light, and this white page, as invitations to stay awake, and meet the trembling world with one's own wakefulness.
I tremble, I study: these are the forms of my wakefulness.
It is also a form of hypnosis: this flame transfixes me, and "one does not fall asleep in front of a candlelight."
Minhi Park  온기On gi (warmth)
These candlesticks embody the shapes of ancient burial pottery from Shilla and Gaya of the Three Kingdoms Period of Korea. The shape of the top part of the candlestick comes from the image of a burning candle flame.
In my pieces, I wanted to capture the brief moment when warmth momentarily spreads through a cold, lonely and silent breadth of time. A dark and desiccated surface finish was essential to express this in my pieces, Fortunately, my residency in Korea provided me with the perfect opportunity to complete these candlesticks with the Raku technique.
Vessels are pulled from the kiln still glowing from the heat of 1050°C and then buried in a mound of rice husks. The intense heat from the vessels sets the surrounding rice husks alight, starving the vessel of oxygen.
Without oxygen, the vessels turn matte black. Traces remain where small amounts of oxygen come into contact with the vessel, creating unexpected patterns.
Sassy Park
This candle stick is inspired by a photograph of the painter, Gertrude Abercrombie holding a pot on her head during a house party. Abercrombie worked in Chicago from the 1930s to the 1970s and shares a birthday with me. Although she received some recognition in her lifetime for her enchanted personal paintings of objects and figures in closed interiors and still landscapes, it is only recently that she has received wider acknowledgement. Objects, including stoneware vases, in Abercrombie's paintings often acted as signifiers of herself. Her dual nature of being both an outsider and a social entertainer is emblematic of her portrait as a candlestick.
In the book A Short History of China, Linda Jaivin describes the events surrounding Mao Zedong's long march of revolutionaries who retreated to the spartan cave dwellings of Yan'an mountain region in Northern China. Here she quotes the foreign journalist Agnes Smedley who made the journey to visit Mao in 1937. The quote comes from Smedly's book, 'China Correspondent', where she records her first impression of Mao:
'I pushed back a padded cotton drape across a door in the mountain cave, and stepped into a dark cavern. Directly in the centre of this darkness stood a tall candle on a round-hewn table. Its glow fell on piles of books and papers and touched the low earthen ceiling above. (The Shortest History of China, Linda Jaivin, p.175)
When I read this description I immediately imagined Mao's books, including his little red book, topped with a candle stick and wondered how the revolutionaries while seeking a new path could throw off all the cultural objects of their past. I imagined Mao would still be using functional pieces of Chinese ceramics. Even during the Cultural Revolution in 1966-1967 where there was widespread destruction of historic artworks, these iconoclasts couldn't have controlled the slipping through of humble domestic objects.
About Manon van Kouswijk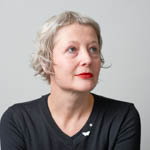 Manon van Kouswijk is a jewellery artist based in Melbourne. Her work is based on the language of common objects, such as soap, beads and pearls. She is the coordinator of the Jewellery Studio at Monash Art and Design. Manon is represented by The National (NZ) and Funaki (AU). Portrait image by Fred Kroh. Follow @manonvankouswijk
✿
Like the article? Make it a conversation by leaving a comment below.  If you believe in supporting a platform for culture-makers, consider becoming a subscriber.
Tags