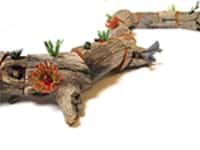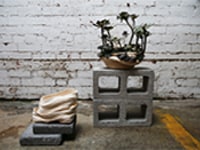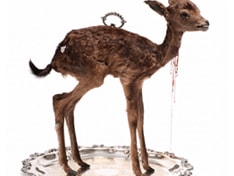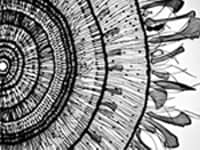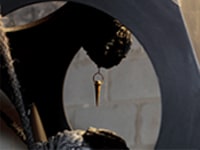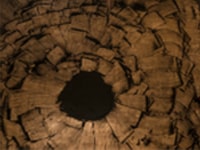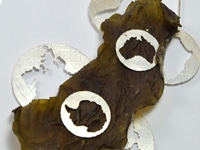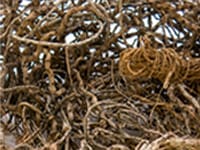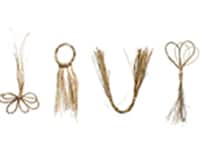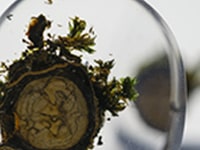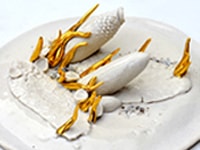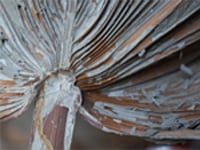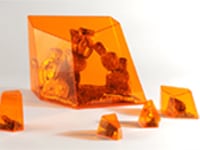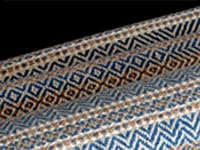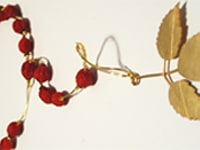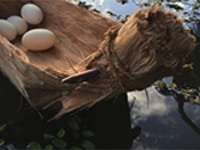 In what way can craft be in partnership with nature?
The traditional story of craft as an art of civilisation involves controlling nature. Fibre is spun, wood is carved, metal is cast, glass is blown and clay is thrown. Making seems to involve an improvement in the otherwise formless quality of materials found in the environment. Natural substances are mastered in order to manipulate them into forms of useful beauty.
So what might be a craft of the anthropocene era, where nature and human are seen to be intertwined? How does craft practice reflect an ecological relation to nature, where the process of making plays a role in the sustainability of materials? And how can nature influence the making process? What can craft offer to nature in return for its gifts? Is there beauty in the natural world that can be retained and enhanced by the intervention of the human hand?
Through the wondrous objects of this exhibition, Nature Craft unravels the mysterious relationship between what nature offers and how we use it.  These artists show us the nature behind what we make:
Amanda Brooks | Julia deVille | Emma Davies | Melinda Young | Zhu Ohmu | Holly Story | Marisa Molin | Rebecca Chernow | Carli Holcomb | Vaidehi Hemant | Shaun Edwards | Parul Thacker | Marcelo Mainardi | Dani Ortman | Marian Hosking | Neelam Varma | Lynn Kelly | Jesika Dawnn | Tamal Bhattacharya | Natalie Holtsbaum | Annette Nykiel | Kathrine Redford  | Marisa Georgiou
Click here for a Slideshow preview
amanda brooks
Within Nature 1
A resin necklace with a twig trapped inside, which has been chopped into segments.
Within Nature 2
A resin necklace containing a piece of bark.
Within Nature 3
A skeleton leaf is trapped in a block of resin – there is a cylindrical hole on the left , through which a bangle with resin beads can pass. Each bead contains a piece of leaf, and all of them can pass through the hole in the resin block, but only one bead matches the hole in the leaf.
Within Nature 4
A resin necklace and ring containing pieces of twig.
Within Nature 5
In this work, a leaf is trapped in a block of resin – there is a cylindrical hole in the middle, in which sits a resin necklace containing the circular disc cut from the leaf.
Amanda's jewellery encapsulates natural forms in resin to emphasize and distil the inherent beauty of each artefact. The process of trapping a piece in clear resin places a special significance on it, as though each one is contained in a miniature museum cabinet, through a form which has been carefully curated.
www.amandamaker.com | >>Back to top<<
---
julia deVille
Sentience
This work is about the way our society often treats animals as a commodity, instead of a living sentient being. This still-born fawn has a necklace of rubies and white gold dripping from its neck and a cloche handle secured to its back.
www.juliadeville.com | >>Back to top<<
---
emma davis
The Beginning the middle the end
The beginning the middle the end allows the viewer to go on a journey starting in the center and making your way to the outer body of the work where bone suggests the end.
Supernatural
Supernatural celebrates the contradiction between man-made materials and nature. Utilizing natural materials and polypropylene netting to create a work inspired by palm flowers and natural environment.
Hull
Hull inspired by the natural environment using bone and twine to allude to remnants of primitive life and landscape. The work embodies past experiences of the artist's travels into remote communities.
Floral Tribute
Floral Tribute was inspired by the artist's travels to Moa Island, Torres Strait where the community was in preparation for a tombstone unveiling. The artist celebrates the contradiction between man-made materials and the natural environment.
My process of discovery and invention is largely experimental. I satisfy my curiosity by working with contemporary materials and using unconventional methods to challenge the possibilities of each creation. My reward is in removing materials from common functionality such as packaging and being able to transform what is intrinsically ugly into something beautiful.
www.emmadavies.com.au | >>Back to top<<
---
melinda young
Arborescence
Regeneration in nature in the decade after the devastating Canberra bushfires of 2003 has influenced the work Arborescence, which was made for the touring exhibition Life in your hands – Art from solastalgia (curated by Robyn Daw). Natural and synthetic materials are combined to create a narrative of growth and renewal on an overabundant scale. The suggestion is, that the power of nature can overcome man-made disasters it just takes time.
Ruffled Neckpiece
Made from found Ridged Fruited Mallee nuts scavenged from the roadside in Broken Hill whilst Artist in Residence at Broken Hill Regional Art Gallery in 2014 and gumnuts cast in silver that I collected near my home in Sydney – this work is there and here; here and there.
An attempt to heal (Bandaged Branches)
A response to the dry, drought ravaged landscape of far west NSW; 'hard finish' Acacia is (so they say) the very last plant an animal will try to eat when all else is gone – its spikes rip at the mouth, its foliage is sparse and tough. This work is made from scavenged and recycled materials, a reminder to tread lightly on the earth
www.melindayoung.net | >>Back to top<<
---
zhu ohmu
植物繕い (Plantsukuroi)
In 2015 I began experimenting with clay to hold my growing collection of houseplants. My current ceramics practice explores the materiality of clay through simple handbuilding techniques. Without formal training in ceramics, my self-instructed coiling method often leads to breakage and imperfections during the drying and/or firing process. Inspired by the Japanese tradition of kintsukuroi – the art of repairing broken pottery with gold, I instead use plant life to fill and embellish the spaces left behind by the breaks, cracks and fragmented pieces.
My practice is based around the symbiotic relationship between nature and humanity, and also explores horticulture in the urban environment.
www.zhuohmu.com | >>Back to top<<
---
holly story
Red Canopy
Made from steam printed windfall Karri leaf tips collected in spring from the path through the forest. In honour of the tree canopy so high above. The form is a full circle skirt which can be worn or displayed as show.
Riparian Charms
Made to draw attention to the paucity of the reed beds that once protected the banks and provided rich habitat all along the Swan River from Fremantle to Guildford.
www.hollystory.com | >>Back to top<<
---
marisa molin
Kelp Track Wandering
Along the shorelines, where I focus my research, I stumbled across the island's industry kelp tracks. The locals are only permitted to collect what has been washed ashore from tide or storm. The locals then drag the washed up kelp into piles to dry, cutting off the stems and roots which are discarded along the trail. They use only the blades for their export industry (for fertiliser, dye and cordial mostly), and leave the rest of the kelp behind. Collected from these piles of discarded kelp butts, I focused on this particular fragment. I mirrored the texture into silver and then set it with the original kelp fragment to complete the story of found object through to translation.
This piece is part of my 'Fragments of King' series, which is a collection created from fragments I collected along the coastline of King Island (Tasmania).
Symbiosis
Symbiosis is an ecological relationship between the individuals of two (or more) different species. Sometimes, a symbiotic relationship benefits both species. And, on occasion, one species benefits at the other's expense. Attached are a few works from my Symbiosis series, which is a collection of sculptural adornment inspired by Tasmanian fungus and saprophytes and their relationship with their environment. Similar in the way we find fungus growing off decaying trees and moss lined forest beds, I have created adornment possessing various symbiotic relationships with the wearer. I have replaced fungus with adornment and the environment with the body. The textures of the fungal adornment are attributed to various parts of the body, including the inside of the ear lobe, the nipple and finger and toe prints. These works redefine jewellery from a foreign item that is worn, but rather creates adornment that relates to the part of the body it is growing from.
www.marisamolin.com | >>Back to top<<
---
Rebecca Chernow
Gegenschein
The imagery that constitutes Gegenschein is derived from a computer-generated image of the internet. Using a laser cutter, I created a series of cardboard stencils that the different spices and powders were systematically sifted through to create an interconnected web of particulated material. The black "background" of the piece is a thin layer of activated carbon – or biochar, a material used as a soil amendment and common material found in filters for water purification.
Biochar is an excellent amendment for soil. It aids in the retention of water in moisture-poor soils, as well as aids in carbon sequestration. This is a very old technique for increasing the fertility of dirt used for growing food. I gave the bulk of the material to my friends that helped me build the work, who also have gardens. In this way, the work lives on, returning to the earth where it came from and nourish the soil, plants, and the people who cultivate them.
The process of creating the work was very similar to a quilting bee, or "stitch and bitch," where participants (twenty people in total) could chat and hang out while they worked, and everyone contributed their own ideas on how the work should grow, constantly in communication with the other people present. In this way, the collective effort was very much like the building of the internet itself, and was a bonding ritual as well as endurance test, much like the mandalas that Buddhist monks craft for days on end, only to be destroyed at a later time.
After a month of installation, myself and three of my friends swept the piece up in a matter of moments and the remains fit into the space of two five-gallon buckets.
www.rebeccachernow.com | >>Back to top<<
---
carli holcomb
Unknowable Terrain
Looming above a small slick pile of coal shards, an entire cycle of destruction and renewal acts out its final collapse. A dodecahedron plays host to a crystallized world, held to the space tentatively by ropes that are themselves sedimented deep within the stone. The dodecahedron has a deep history of being associated with the universe. In Plato's Cosmology the dodecahedron is often viewed as not only the symbol of the universe, but the actual shape of the universe. Just above the stone, a brass pendulum is cradled in a circle, held fast in equilibrium by gravity. A glimmer of hope in the darkness. A cycle of deconstruction and regeneration follows the line of this pendulum. It is a balance of opposites, a chain reaction indicating there is a beginning in every end.
Constellate
I see the merging of architecture and object as an act of stewardship. The spaces are temporarily adorned with the objects I place within them. For just a moment the object and the spaces' stories are linked. Each one continues to exist without the other, but for that one moment they needed each other. I see these installations as an act of love. Of acknowledging a space that has slipped from care and was abandoned by memory, and providing a context or a home for an object that has no true place. By photographically documenting these pieces, I was attempting to locate the essential nature of the object, and to acknowledge a space the world once celebrated, but has long since forgotten.
www.carliholcomb.com | >>Back to top<<
---
vaidehi hemant
Natural Handmade Fruit & Vegetable Papyrus
Inspired by paper making techniques, this papyrus is made of natural fruit and vegetables.
Kiwi Lamp
Inspired by paper making techniques, the top of this lamp is made of molded kiwi papyrus over paper-mache.
www.facebook.com/spacesthingsetc | >>Back to top<<
---
shaun edwards
Paper Bark Coolamon
This Paper Bark Coolamon traditionally made from Kunthérr – Paper Bark, Boxwood and Coconut husk string for carrying eggs, wild honey and other small foods was commonly used in my homeland Pinnarinch. I belong to the language group of Kokoberrin, Staaten River, Cape York and my totem is Ma Wanjibang Pukun.
https://www.facebook.com/Madeincapeyork/ | >>Back to top<<
---
parul thacker
Seeds of the next Soliloquy 1
The Seeds of the Next Soliloquy seizes upon notions of the "seeable and the sayable" as they potentially unite in a dramaturgical or cosmic space. Layers of white filaments rise from the surface in a manner that connotes the flayed skin of a cadaver on the anatomist's table. The womb of peeled tissue exposes the inner mechanisms of an imagined space lined with clusters of crystals gathered from the deep reaches of Himalayan caves. (Text by Kathleen Wyma).
---
Marcelo Fernández Mainardi
Primordial Soup
"Life hatches in the original broth.
These dishes served, biological invasions arise.
Dishes start to deform because these forms of life want to be part of them.
They take roots. They take it.
This rich broth containing organic compounds as carbon, mainly nitrogen and hydrogen. It is exposed to ultraviolet rays and electricity.
The result is that some simple structures, an early version of DNA-based living creatures are generated. Part of this result gave rise to the theory of Evolution".
Artwork tells the story of the origin of life on earth. It is a tribute to the Russian biologist Alexander Oparin
www.marcelomainardi.com.ar | >>Back to top<<
---
dani ortman
Blue Heron
Warp: 100% Muga silk (country of origin: India) Weft: Blue – Organic cotton hand dyed with natural indigo, Nutmeg – Colour grown organic cotton (origin: California), Cream – Organic pima cotton (origin: California)
One day I found my path being guided by the Great Blue Heron. It's said they bring messages of self-determination, as they represent an ability to progress and evolve. For this piece I've hand dyed an organic cotton in my natural indigo vat and then chose a colour grown organic cotton in nutmeg to carefully accent a classic birds eye weave structure with fine detail.
www.daniortman.com | >>Back to top<<
---
marian hosking
Abalone Brooch with Black peppermint rim, Sponger brooch and Teatree Brooch
All pieces were found on Flinder's Island beach and worked by me in my Melbourne studio. They were made in response to a two week residency at Mountain Seas, Flinders Island.
http://galleryfunaki.com.au/artists/marian-hosking/ | >>Back to top<<
---
neelam varma
Found and Made Series
Fallen Tree Table
Tree Bark Lamp
Natural Bamboo Tea Light Stand
Natural Bamboo Hanging Lamp
Wood Apple Dangler
If I find interesting looking natural materials on my walks or while driving by the buffer zone of the National Park, I pick them up and try to bring out the inherent nature, quality, and shape or form of the object by changing it very slightly, thus creating functional or nonfunctional craft items.
www.cafemalaya.com | >>Back to top<<
---
lynn kelly
Rosehip Rosary
In the Middle Ages, rose hips were perceived as sacred because they were used to make Catholic rosaries, which were used for various forms of worship.