'Ei.
Kahoa.
Lei.
Salusalu.
Ula.
A gift.
A reward.
A signpost.
A family portrait.
An in-joke.
A map.
A foundation.
Shifting demographics.
Muscle memory.
Talanoa.
A memoir.
A souvenir.
A privilege.
A laugh.
A prototype.
A process.
A crossing.
Te Moana nui a Kiwa's garland landscape in Aotearoa New Zealand is, to borrow a line from singer Deborah Conway, "alive and brilliant". This exhibition considers the evolution of adornment made by artists of Moana nui a Kiwa and Māori descent based mostly in Tāmaki Makaurau (Auckland). Artists were invited to submit images of existing and newly created 'ei, kahoa, lei, salusalu, and ula using traditional Moana nui a Kiwa techniques and new materials. Traditional organic adornments are temporary and are not expected to last long after the event they were designed for. Some new forms use inorganic materials, or a hybrid of the two. Many artists learned their craft from their female relatives, others sought out mentors to teach them the technical skills, and others respond to the materials at hand and draw from their culture to create new forms.
This exhibition asks several questions. When creating new forms in a new land, what do we make anew? What do we leave behind? What rests for now? What influences these decisions? It asks the artists where they learned these skills? Who from? When? Where? How much of these skills live in our muscle memory? What role does language play in the re/production of these forms? What role does adornment-making play in knowledge sharing and retention, innovation, and experimentation? What happens if you remove the adornment from the body and install it in a gallery? Does it still serve its purpose if it isn't gifted? Does it still carry the same mana? Does the mana reside in the maker?
Luisa Tora, Curator
Artists
Charlotte Taele Seymour Atiga and Seini Fatafehi Nofo'i Lelenga Lātū | D.A.N.C.E. | Erolia Ifopo | Jaimie Waititi | Joana Monolagi | Molana Sutton | Molly Rangiwai-McHale | Monika Fraider | Pacifica Mamas | Reina Sutton | Rosanna Raymond | Sofia Tekela-Smith | Sulieti Fieme'a-Burroughs | Sione Monu | Tepaeru-Ariki Lulu French | Walter Kawikakaʻiulani Aipa
Charlotte Taele Seymour Atiga and Seini Fatafehi Nofo'i Lelenga Lātū
Ula lole (lolly ula) is a necklace made of sweets. It is a contemporary Polynesian tradition intended to celebrate successes. The forms are constantly evolving as family and friends make personalised ula for family members and friends. These ula lole made by Charlotte Taele Seymour Atiga and Seini Fatafehi Nofo'i Lelenga Lātū for their best friend, Hikule'o Fe'amoeako 'i Kenipela Melaia Māhina's graduation is a beautiful and cheeky example of this wonderful tradition.
D.A.N.C.E. Art Club
The moment of a lei being placed over your head is like entering a portal, everything that went into making this lei, the conversation, the transference of energy, the working hands, its a powerful thing. From there as the wearer you are framed and contextualised by this lei portal until you take it off.
The women of D.A.N.C.E. art club (Tuafale Tanoai aka Linda T., Vaimaila Urale and Ahilapalapa Rands) began lei making together as a way of showing support to others in the community. Ahilapalapa had just returned to Aotearoa from a trip to Hawaiʻi earlier this year and lei had featured heavily during her three months in Oʻahu and from teachings with her Aunty on Big Island. So far we use ribbon from dollar stores around Avondale in part because of difficulty accessing the foliage in Tāmaki (can we start a community lei garden?!) but also because it allows for ambitious colour combinations and playing around with scale. There is nothing like a fresh lei but there are things to be said for other more permanent materials, for one they can cross biosecurity borders and make good makana for visiting friends and family. We like to make lei for people as the woman of DAC when and where we can but it was inspired by and began with wanting to surprise artist Pati Solomona Tyrell and his wider team on the final tonoai of his solo show Fāgogo at ST Paul St gallery.After 10 years of working as DAC we like to prioritise spending time together, long amounts of time, whenever we can. Lei making suits this perfectly, we spend a day, we watch TV, we talk ALOT, we eat several times, we play with Anivanuanua and Manamea, its meandering and productive. As objects and part of rituals lei are so special. It's almost like feeling naked without one.
Auckland-based artists collective D.A.N.C.E. Art Club organises events and exhibitions which celebrate the social dynamic as a creative platform. Their events incorporate art installations including themed music, entertainment, performance, food and refreshments. They encourage audience engagement and participation as a way of opening up conversation and making art accessible to diverse audiences. As a collective they thrive on the collaborative nature of projects, which extend from the conceptualisation of ideas, to the shared curatorial approach they have adopted. Always evolving, the collective intentionally seeks out new and diverse exhibition spaces and social phenomena to explore.
Erolia Ifopo
Retro Lei by The Native Chef
Back in the day in Christchurch, as my Aunties sat around on the lounge floor diligently making crepe paper leis, my Mother would entertain them with stories and spontaneous dance moves and singing that would send everyone into shrieks of laughter.
In an evening, 30 or more crepe paper leis would be made and these were either sold at Church Social fundraisers or worn at Cultural Performances. Later on if visiting someone's house you might see them adorn framed family photos and certificates.
As one of the young ones my role was to hold the end of the leis as they were twisted and twirled. I always admired the outrageous colour combo's and the rhythm and apparent ease of the process. It was a time for talking and laughing and the time would fly by.
In the last couple of years I have been reviving making paper leis. Firstly as decorations for CNZ Arts Pasifika Awards, then for friends and occasions and more recently ran lei making workshops as part of Siapo Cinema at Nga Taonga Sound & Vision (sponsored by Tautai Trust).
I use traditional methods that I remember, and have been adapting and trying new ideas. It's been amazing seeing people's response to the paper leis, as they too recall their own experiences and introducing and sharing the techniques with a new generation. At all times there is laughter, stories, dance and more beautiful leis.
The Native Chef aka Erolia Ifopo (Samoa/Olohega) @thenativechef
Crusader for life. Involved in performing arts as a founding member of Pacific Underground, and more recently has focused on Oral History projects such as recording Pacific people's stories in Christchurch before and after Canterbury earthquakes. Based in Wellington, work with Fat Freddy's Drop behind the scenes, and with other projects such as Luck of the Draw interactive project and with Transmit creative content agency.
Jaimie Waititi
Jaimie (James, Jay) Waititi, b.24.08.1990 Opotiki, gender fluid, Māori with French Canadian, English and Scottish descent. Te Whanau a Apanui, Te Rarawa, Ngapuhi. Raised on the East Coast of the Bay Of Plenty, Waihau Bay, Onehunga High School. Whitecliffe College of Fine Art and Design (BFA), Working currently in Television Production. Recent shows/works: Dr Siren (August, 2017) WCC pop up space,WCC group show, moving image 1:33. Rarohenga (June, 2017) St Paul St Gallery, Pati Solomona Tyrell's Public Showcase. Rarohenga (June, 2017) COCA, Making Space, moving image, regalia, ActiVAtion DeActiVAtion (August, 2017), film reel, I can't breathe (March, 2017), St Paul St Gallery, ActiVAtion SeaMan (Feb, 2017) ACCA Melbourne, Lukautim Solwara, moving image, ActiVAtion.
As a farm raised fisherperson I became accustomed to rope as a material and a tool with a laborious work ethos.
Through processing my displacement since moving to Auckland in 2003 I have incorporated such influences into my choice of materials, politics and aesthetics.
I have learnt to use the rope in many ways from many people as in my uncle a fisherman, Rosanna Raymond, Molana Sutton and of course the internet.
Other forms of practices have influenced my decision-making from weaving, lashing, carving, tukutuku patterns, painting, photography, poetry, and song writing.
My works are usually custom made for particular occasions, activations and entities which are then gifted to those who suit in personality, aesthetic or passions.
The Muzzle, gifted to and worn by Julian Chote was originally made for James a photo album filled with webcam images documenting my journey with my Gender Fluidity. Julian is a massive catalyst and supporter in my GF journey.
Oliver, worn by Reina Sutton was created in a workshop I was apart of at Otara Gallery. Reina instigated this happening but more importantly, Reina wears the piece. It looks good on her.
Makawear, worn by Te Urikore Waititi-Lake is a part of my most recent works that includes a loc of mine. I had been growing my hair for a year before I loc-ed them and then another year after that. Having recently cut my locs I am playing with them to make more works like this, diving more into Tapu and body.
Joana Monolagi
Joana Monolagi is an Auckland based artist of Fijian heritage that began her journey simply through teaching her children Fijian meke (dance) and creating their costumes. With the resources available she discovered that she could combine traditional Fijian craftsmanship with non-traditional materials and has since unearthed a passion for creating Fijian contemporary art. In aid of her appreciation of Fijian culture and history, she believes in sharing the knowledge for the future generations. Joana passes it on by teaching salusalu (garland) making, masi printing and meke to the wider Fijian community. She is a knowledge holder for the Pacific Collections Access Project (PCAP) at the Auckland War Memorial Museum through assisting the museum with the information they have on the Fijian collections by labelling, renaming and providing background on the items and its origins. Since 2001 Joana has been the village coordinator for the Fiji Village at the annual Pasifika Festival in Auckland. This provides Joana with another platform to showcase and celebrate Fiji's heritage that therefore continues to keep Fijian culture alive. In 2014, Joana was awarded the Creative New Zealand Pacific Heritage Arts Award for her "significant contribution to maintaining, reviving and promoting Fijian heritage arts in Aotearoa since she migrated here in 1975".
In Fiji, to receive a salusalu indicates the celebration of a person of importance. The art of making Fijian salusalu in this day and age is still relatively strong and has since evolved depending on where you are in the world and the materials that are available. Traditionally Fijian salusalu was made with vau (inner bark of the wild hibiscus tree) that forms the base of the garland. Fresh flowers and greenery will then be assembled and tied onto the base. The end product would be a beautiful scented garland full of colour with the fragrances of freshly cut greeneries and flowers that are in season. Another version of the garland is called sisi that is all made of vau including the flowers which can be dyed different colours. The salusalu can also be made and decorated with non-traditional materials such as masi (tapa cloth) paper ribbons, curling ribbons, shells or Fijian fans just to name a few.
I started to make salusalu due to the lack of outlets in Auckland so I was faced with the dilemma of having to make it myself. Growing up in Fiji I was taught at an early age to make salusalu from scratch so it was a matter of drawing on those childhood memories to assist the adult version of myself to put it into practice. I experimented with the different elements that gave me a wider range of materials to work with. In the long run it cut down on the costs and time it took to have one made in Fiji and sent to me here. I also found that the non-traditional materials such as the paper ribbon lasted longer than natural resources that would eventually lose colour or become brittle. Being able to use both traditional and non-traditional materials to make Fijian salusalu has assisted in keeping the art of creating them alive so that it will continue to be present at more celebrations for the next generations to come.
Molana Sutton
Nem blo mi Molana Sutton, mi wanfa artist wea main practice blo mi hem Contemporary Melanesian Body Adornment.
Nem blo mi Molana Sutton, mi wanfa artist wea main practice blo mi hem Contemporary Melanesian Body Adornment. Focusing lo adornments blo Malaita Province lo Solomon Islands, place wea mami blo mifa Reina (sister) hem from.
For disfala adornment mi usim natural raffia and clay. Mi usim natural raffia because hem lelebet look osem coconut sinnet wea ota lo home save usim lo taem before. Distaem because coconut sinnet hem save tek long taem for wakem and ota body adornments ota need for wakim kwik taem for sellem lo market ota save usim raffia or fishing line for wakem ota adornments. Mi usim clay because mi save wakem eni shape me needem for look osem adornment blo home, nara samting moa white blo clay hem referencim clam shell wea ota lo home usim. Clamshell hem na namabawan material ota lo home usim for body adornments.
Disfala adornment mi mekem for Reina, sister blo mi. Hem reference adornments from island blo Dadi blo hem, Tikopia. Piece ya, hem usually wakem from shell blo turtle or shell blo clam and coconut sinnet, but mi usim clay and raffia lo diswan. Shapes you save lookim lo adornment, referencim fishhook and Bonito fish symbols. Ota symbols tok lo ota things where Tikopian people findim value – fish for kaikai/life and hook for katchim ota fish.
Mi tekem skills blo mi from Tryrial Sutton, mami blo mi. Taem mi smol gele, mi save watchim mami wakem skata samting from kaleko to body adornments wea hem wakem from ota shells and natural fibres hem findem lo side sea and bush taem mifa family holiday lo Coromandel and Maraetai. Nara woman wea mi lanem samfa skill name blo hem Rosanna Raymond, founder blo SaVAge K'lub, close family friend and mentor blo mi.
Waka blo mi garem staka love and support from ota family and friends, hem na mi grateful lo datwan. Distaem mi studyim fashion design lo Sewtec Fashion Academy. Mi likem challenge and chance for mi lane ota new skills hem important tumas for creative waka blo mi.
Molly Rangiwai-McHale
Molly Rangiwai-McHale (Ngāti Porou, Te Aupōuri, Scottish, Irish, Chinese) is an Auckland-based multi-disciplinary artist. She has a BA in Visual Arts from the University of Auckland. Her work can be found in private collections in Aotearoa New Zealand and Australia and the Museum of New Zealand Te Papa Tongarewa.
The Dear Culture Vulture series by Molly Rangiwai-McHale and Luisa Tora responds to the appropriation of indigenous Pacific and Māori art forms and is an attempt to rework and reclaim cultural forms of celebration and protection.
According to a statement by the artists, the series "directly addresses non-Pacific and non-Māori art historians who claim expertise in the study of Pacific and Māori art forms, and further subjugate indigenous knowledge and practices by placing higher critical value on the appropriated cultural forms. It speaks pointedly to historians who call Pākeha appropriations of cultural motifs sophisticated, who claim that certain Māori artists have assumed their place in mainstream (see: Pākeha) art history because their work is stripped of the artist's indigenous context, and who argue that by drawing indigenous collaborators from their shared religious group it makes the usurpation of cultural art techniques a form of religious practice".
"Dear Culture Vulture" is an "Open Letter to art historians who say Māori and Pacific cultural art forms are primitive, then call the same art forms sophisticated when Pākeha artists reproduce them: I see you. Stop it.This is a plastic pre-apocalyptic warning sign to Māori and Oceanic artists: Beware, _______, and _______, and _______, and _______. (Each skull is named after a particular art historian.) Dear Culture Vulture, this is a shark in your university office aquarium."
According to the artists, "It is no accident that these body adornments take the form of chest pieces to be worn on the torso as a shield. It is intended to project a sense of security and familiarity by adopting and adapting recognisable traditional forms of protection (breastplate) and celebration (garlands).
We chanced upon the lobsters while scouting for materials in Onehunga. We capitalised on the marine animal's natural aggressive appearance by doubling them up, the wearer therefore appears encased in a sea of pincers. We used a harness and snap fasteners to allow the wearer to put the work on or remove it with ease, or to adjust it so that it sits comfortably. The work sits snugly on the wearer's body. In this way we were relying on the wearer's muscle memory of safety, namely strapping on the seatbelt in a car or an airplane.
By creating a work that the wearer can adjust or wear at will, we are attempting to recreate the security and familiarity of recognising and understanding the codes inherent in our cultural art forms."
This work attempts "to challenge and critique the contemporary currency of the Oceanic subject in Western art, media and popular culture."
"By drawing on our own cultural motifs and forms, using materials sourced from Otahuhu, Otara, and Onehunga; we have recreated, reclaimed and re-invested our own totem, talisman, and taonga back into the community. By using accessible materials, we are also reminding members of the Pacific Diaspora and urban Māori that we can still practise our cultural art forms with the resources available in our new settlements. It also places the mana of creating our own cultural art forms squarely back in our hands.
Monika Fraider
Monika Fraider is a contemporary artist based back in her hometown, Tairawhiti (Gisborne) who explores her identity of being a mother through textiles and photography. She works through ideas that explore emotions, feelings, reactions and responses to past and present situations in her life. She is very connected to her son, as he provides inspiration for her work. Her practice involves positive and negative space, pushing boundaries and not playing by the rules.
This piece talks about playfulness, freedom, carefree exploration, positive and negative space, material, pushing boundaries and not playing by the rules.
Being a sole parent has taught me to be free with creativity; watching my son's creativity and desire to not necessarily play by the rules provides the foundation for my methods and processes in this work.
I am a hands-on maker; I create from pushing boundaries and direct material investigation. With this piece, I am representing a playful "not playing by the rules" exploration of brightly painted surfaces (paintings) and the 3D jewellery objects they can become. Working with fabric and paint and translating this into jewellery allows me to run free with my imagination. The process of making, of repetitive cutting of a multitude of the same shape, gives me time to reflect on decoration, on positive and negative space, on the decorative and meaningful role of jewellery objects. This way of working also allows for a "give it a go" attitude on what comes next.
The fabric is first painted in bright playful colours. Each painting is then hand cut and then formed into a piece of jewellery creating a new hybrid, painting/piece of jewellery.
Everything is wearable and anything can be a piece of jewellery.
Pacifica Mamas
TUROU: The call from our ancestors, the call to return home weaves together stories from the Pacific communities who call Corban Estate home. It features the work of Mary Ama, Tiana Epati, Annabelle Hosking, Teuke Malaga, and Soia Tatu. Curated by Cora-Allen Wickliffe, Corban Estate Arts Gallery, photographs: Raymond Sagapolutele
Annabella Hosking/Pacifica Mamas
Annabella Hosking was born in 1950 to a creative family on the island of Rarotonga. Her upbringing was steeped in the Cook Islands culture and church and this is clearly reflected in her artworks. While she has spent many years as a singer, performer, and recording artist; it is the work that she has created from both contemporary and natural resources that best represent her thinking about the arts. The flora and fauna of the Cook Islands is the ongoing theme and inspiration of the artworks she produces.
Mary Ama
Mary Ama was born on Rarotonga in the Cook Islands. It is her deep connection with the master artists in her lineage that drives her passion for Pacific arts in the modern age. Mary is a master Pacific artist and knowledge holder renowned for her tivaevae and woven works. She has traveled around the world presenting her artistic knowledge in galleries, exhibitions, and museums alike. Her passion for Pacific arts drove her to set up the widely acclaimed Pacifica Mamas group in the late 1980s. This collective was awarded the prestigious Creative New Zealand Pacific Heritage Arts Award in 2012 – a formal recognition of their work. Mary set up a workshop programme for prisons, earning the Pacifica Mamas the Arts Access Corrections Community Award in 2015. Twenty years after starting the collective, Mary continues to inspire fellow artisans while working on her own masterpieces. In 2017 she was awarded the New Zealand Order of Merit – Companions for her services to the arts and Pacific community.
Soia Tatu
Soia Tatu migrated from her home in Niue to New Zealand in 1959. She travelled by boat at the age of 14 to join her family who had already migrated the year before. She'd spent her early years in Niue watching her mother and aunties weave but it wasn't until her later years that she decided to try her hand at it. She joined a Niuean Weaving group and took up classes in crochet and knitting and joined the Pacifica Mamas in 2012. She says that her own weaving skills have thrived thanks to her time with the Mamas and she particularly enjoys gaining insights into the different styles from around the Pacific.
Tiana Epati
Hails from the village of Iva in Savai'i in Samoa. Her roots are firmly entrenched in fa'a Samoa – the Samoan way, and so when she arrived in New Zealand she felt keenly that something was missing. She remembered the families in her village working together to create their art, and was inspired to find a way to relive those experiences here in New Zealand. She joined the Pacifica Mamas around 15 years ago—fulfilling her desire to work in a collective—and has since developed a strong reputation as a gifted and accomplished weaver and elei artist.
Teuke Malaga
Teuke Malaga was born on a tiny motu named Funafekai in the middle of the Vaitupu lagoon of Tuvalu. Her early years were spent at her mother's knee watching women weave and soaking up traditional culture. Teuke moved to New Zealand with her husband and children in the mid 1990s, but says her heart has always yearned for Tuvalu. She is recognised as a founding member of the Pacifica Mamas group and is known for her exceptional weaving talents. Mama Teuke has worked alongside master artists and emerging artists alike and during her time with the Pacifica Mamas she has honed her own traditional Tuvaluan weaving skills.
Reina Sutton
Reina Sutton's practice centres on collaborative activation and installation. Reina Sutton, born in Honiara, Solomon Islands, is an interdisciplinary artist practising in Auckland. Reina graduated with a Bachelor in Design and Visual Arts from Unitec Institute of Technology in 2013. Collaboration is a key component to Reina's practice, she is a member of the Aotearoa SaVAge K'lub and a founding member of Tufala Meri, a collaborative initiative with her younger sister, Molana Sutton.
Reina's practice is concerned with storytelling, specifically identity and death, reclaiming her newly discovered culture. Reina's diverse practice incorporates various types of media. She has a keen interest in the adornment of personal taonga, often making her taonga from materials which are personally and culturally significant.
These adornments manifest a physical connection to her genealogy, reclaiming her cultural connections. As well as adornment Reina is also interested in drawing, installation, film and the activation of spaces.
Via www.tautai.org
Hair
Sacrificed as a cure
Gesture of love
Gesture of a Kaitiaki
Her hair lives on in adornment
Caressing my face during ActiVAtion
I trust her when I cannot see
Eyes of ancestors leading my footsteps
Feathers carry her DNA
Between lands of the living
and those who have passed on
Rafia of the new lands
Shelter her hair and feathers
New Zealand
Aōtearoa
Land of the long white cloud
Te Ika a Māui
Our mother visits us
I hear her voice and her laughter
When little sister's arms are around my neck
I am a conqueror
Rosanna Raymond
Rosanna Raymond has held distinguished artist residencies including De Young in San Francisco and the University of Hawai'i at Mānoa. Her work is included in private and public collections including Museum für Völkerkunde, Germany, Auckland Art Gallery, and National Gallery of Victoria, Australia. Born in New Zealand and having lived over 10 years in London, Rosanna's Samoan heritage has fuelled her artistic endeavours such as re-constructing notions of the Dusky Maiden through performance, poetry, installation, and costume and fashion design. In 2017 she was the Honorary Research Associate at the Department of Anthropology and Institute of Archaeology at University College London and was also awarded a Chester Dale Fellowship at the Metropolitan Museum in NYC. Via www.tautai.org
LaVAlei
All the bijoux I make are made with aroha, and come with a lifetime guarantee, they all have personal names and are good for dancing and praying, perfect for attracting the gods. I only make when I am in a good and sound frame of mind so I do not contaminate the works with any riri, lest it is passed onto the wearer.
Materials that are precious to me are gathered from the Pacific mixed with recycled and found materials, hair, seeds, shells, coconut, pigs tusks, sharks teeth, bone, bark cloth, semi-precious stones and plastic beads are hand crafted and made in limited editions using traditional techniques taught to me by the arts collective Pacific Sisters and by visiting museum collections.
Knowing that I use the same techniques and materials as my tipuna is my way of decolonizing the body, by mixing them with contemporary I am acknowledging my mixed heritage, by using recycled materials I am trying to undo the waste in our modern society. It pains me that our precious cultural treasures are disappearing due to commercial overfishing and deforestation so I treat every natural resource with the greatest respect.
1: Extra Long Lei: Photographer Kerry Brown: Muse Precious Clark
2: Full Tusker: Photographer Kerry Brown: Muse Tahiarii Pariente
3: Three Tusks And Your Out: Photographer Salvador Brown: Muse Emine Burke
Sofia Tekela-Smith
Sulieti Fieme'a Burrows
Sulieti Fieme'a Burrows is a traditional Tongan artist. She's been creating tapa paintings, kahoa heilala necklaces and various other forms of traditional Tongan art ever sine she was a child in Vava'u, Tonga. Sulieti's Kahoa Heilala were exhibited in the Tauhi Vaa exhibition in Fresh Gallery, Otara. They were created by hand where every flower is made from modelling clay and the work that went into them was longwinded and painstaking. One was purchased by Otago Museum. Another two were purchased by Auckland Museum. The National Gallery of Victoria also commissioned a kahoa heilala from Sulieti for their collection. Sulieti's success at Tauhi Vaa was an example of how high-quality traditional work with an original stamp can sit comfortably alongside contemporary work in an exhibition. This set her up with the confidence to work with her daughter Tui on a big ngatu or tapa art project with the women in Falevai, Sulieti's home village in Vava'u. In 2015 she travelled with her daughter to Europe to present at two conferences at the Museo De America and The University of Vienna. She also travelled to the Festival of Quilts in Birmingham, England, this year with her daughter Tui Emma Gillies to exhibit their work and hold workshops. Sulieti continues to pass down the traditions and skills she has learnt by teaching traditional workshops at various places around Auckland.
Kahoa Heilala is a gorgeous example of one of Sulieti's works, made of modelling clay, plastic grapes, ribbon and rope. Sulieti uses these materials as they are a very similar look to the raw, original necklaces of Tonga. The materials used in Sulieti's work are accessible at local shops around South Auckland. The heilala is Tonga's national flower and represents the beauty and provides a beautiful natural perfume. The Kahoa Heilala is traditionally used as part of celebrations and special occasions such as weddings, 21st birthdays and graduations.
Sione Monu
Sione Monu is an artist of Tongan descent who works across the mediums of photography, moving-image, fashion and adornment, performance and drawing. Sione is a contributing member of the art collectives FAF SWAG and Witch Bitch.
With this kahoa I used plastic grapes that you buy from Otahuhu shops. Plastic grapes are used a lot by my aunties to make wonderful large or small kahoa for all occasions. Watching my aunties make Kahoa I noticed they are endlessly inventing and experimenting with the material to make different styles and patterns always to represent a bloom of flower usually in red. When you look behind a kahoa you will usually see a paper board base with stitches used to put the plastic flowers on crossing over each other usually messily. But then turn it over and you will see a flawless kahoa almost seamless like it was grown complete in a garden somewhere under a coconut tree. I took inspiration from this image and decided to make the back of the kahoa the main feature of my kahoa. I used pages from my diary of doodles and research I had made about Kahoa kakala as the base and beaded around it. This is the first time I have used traditional methods like needle and thread and cross-stitching. My Aunty had grown the leaves I used in her backyard to be used for costume making at her local Tongan church when they have special functions. I've mostly used florals from my surrounding to make kahoa in my own practice with very experimental materials like adhesive paper.
Talafungani Vea
As a diasporic Tongan, we improvise with what materials are available to mimic the kakala of Tonga. In this kahoa you can see the Faka'otusia and Fakamatamoana techniques used to make kahoa kakalas for Tongan royals/nobles. The materials used to make this kahoa stir the fragrant memories of the akau kakala of Tonga. Red plastic grapes used as heilala flowers mark the times when Tongans in New Zealand made grape kahoas from 2014 to 2016. The yellow plastic was used to echo the Fa and the green beads to look like paini. I learned to make kahoa at the age of 6 from my late grandmother Lile Meleane Lolohea-Finau. She used glass beads and black nylon to make pule'oto kahoa with a matching pule'oto sisi for our White Sunday. My learnings from her gave me the confidence to play around with the ideas over the years. Lastly, true to my Tongan heritage we name things that we make. Si'oto'ofa can be translated along the lines of "Greetings" or "Welcome with love". It was made for an Urbanesia exhibition in Otahuhu, Auckland and was to not only commemorate the reintroduction of the greeting but to welcome and greet everyone who attended the exhibition… with love.
Tu'a 'ofa atu,Talafungani Finau.
Talafungani Vea is a Texas-raised, Auckland-based artist whose practice is informed and embedded in Tongan custom and aesthetics.
Tepaeru-Ariki Lulu French
Tepaeru-Ariki is a performance and customary artist born and raised in Aitutaki, Cook Islands now living in Otara, south Auckland. A mother, a medical student, a choreographer, and art maker are integral parts of her daily life. In her art practices, Tepaeru-Ariki continuously seeks to highlight and ground Cook Islands customary art forms within an ever-changing socio-political environment.
My ei upoko is made out of artificial pink-white orchids and fern leaves bound together with plastic raffia to a base of builders strap. This arrangement is reminiscent of an era particular to my mother's generation. I wanted to revive a style that is less common because of its simplicity; one type of flower is arranged into two or three tiers, either with fern at the base around the entire crown, or at the end. I have made and worn this adornment throughout my life, living both in Aitutaki and Aotearoa. All the materials used in this ei upoko are artificial, have no expiration date and were purchased from a local Chinese-owned variety store in Otara, South Auckland.
Artificial flowers are favoured for their lucrative immortality and are easily accessible. Multi-coloured ei upoko can now be purchased, ready-made and in abundance from markets and cheap dollar stores. Crown garlands have become a commodity and immediately signify 'Pasifikaness'—a 'must have' for all women of Pacific background celebrating their cultural heritage. Although the materials for the creation of ei upoko have changed, the construction and purpose of wearing them have largely remained the same.
Walter Kawikakaʻiulani Aipa
Kawika Aipa is an art-ivist from Waiʻanae, Hawaiʻi. His practice explores Hawaiian craft and contemporary indigenous issues. His cultural practice is Lomilomi. Kawika is of Native Hawaiian descent with his genealogy connecting to Pukoʻo, Molokaʻi. He is also of Japanese, Chinese, and European descent. Currently living in Wellington, Kawika works as an events producer for Porirua City Council and focuses on community-based events that are relative and meaningful. Kawika has spent the last 4 years in Wellington to learn about art and culture in New Zealand. He hopes to create more cultural exchange opportunities between Aotearoa and Hawaiʻi.
I chose the Pōhutukawa because I wanted to create something simple using a material that was easily accessible. (Also, I was rushing and had 1 hour before Bridget Reweti came over to take the photos and I didn't want to make her wait and I knew I could turn this lei out in 1 hour. Also, I ran across the street to Te Papa during traffic hour and gathered some flowers from their loading dock).
I usually like to add different types of ferns and leaves for contrast but I couldn't find any—one of the troubles living in the CBD.
If I were at home in Hawai'i, I would not change much. My practice focuses on using natural materials. Hawai'i also has the lau kī (tī leaf/ rau ti) that is a foundational material for lei making. Hawai'i has the 'ōhi'a lehua, a similar tree to the Pōhutukawa, and it gives me a familiar feeling that transports me home and connects me to my land and people.
Practicing my culture in Aotearoa is sometimes difficult; as far as I know I am the only Native Hawaiian in Wellington. There are just some days where I wish there was another Hawaiian to be nostalgic with or to discuss social issues with. As for lei making, it's not impossible but natural resources are either too expensive or scarce. Replicating a tropical paradise in Wellington is definitely a difficult task. Although Wellington lacks tropical flowers, it does have great ferns to work with.
In the age where plastic lei are more common than fresh lei at Pasifika events, I continue to make lei with the natural materials Wellington offers. I'm hoping to inspire more people to make fresh lei no matter how humble the material.
Curator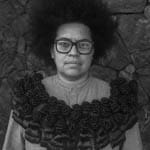 Luisa Tora (Naqalotu, Yawe, Kadavu, and Lawaki, Nakasaleka, Kadavu) is an artist, activist, and writer. She worked in human rights in Fiji and the Pacific before moving to Aotearoa New Zealand in 2009. She has appeared in several group shows and curated exhibitions highlighting feminist, LGBQTI+, and indigenous themes (VASU: PacificWomen of Power (Fiji, 2008), I Stand With You (Auckland, 2014), and When Can I See You Again? (Auckland, 2016). She has qualifications in Journalism and Pacific History & Politics (University of the South Pacific, 2002) and Creative Arts (Visual Arts, Manukau Institute of Technology, 2014). Her work can be found in private collections in Aotearoa New Zealand and the Museum of New Zealand Te Papa Tongarewa. She is part of The Veiqia Project, the creative research project and exhibitions inspired by Fijian female tattoo. In March 2018, she is curating WANTOK exhibition calling on artists of Melanesian descent to "untangle what their hair means to them" and to engage in a conversation about "bodily integrity, mana, and decolonial self-love". The exhibition is part of Māngere Arts Centre – Ngā Tohu o Uenuku's 2018 programming marking the 125th anniversary of suffrage in Aotearoa New Zealand.

Tags