Artists and makers from Indonesia and beyond were invited to share the results of their collaborations. The works and text below reflect ways in which people can create together. 
tromarama | harry mawardi | sekar ikanandanti h | anita rahardja | catharine temaluru | clarissa kwok | denny priyatna | cassia studio
---
Tromarama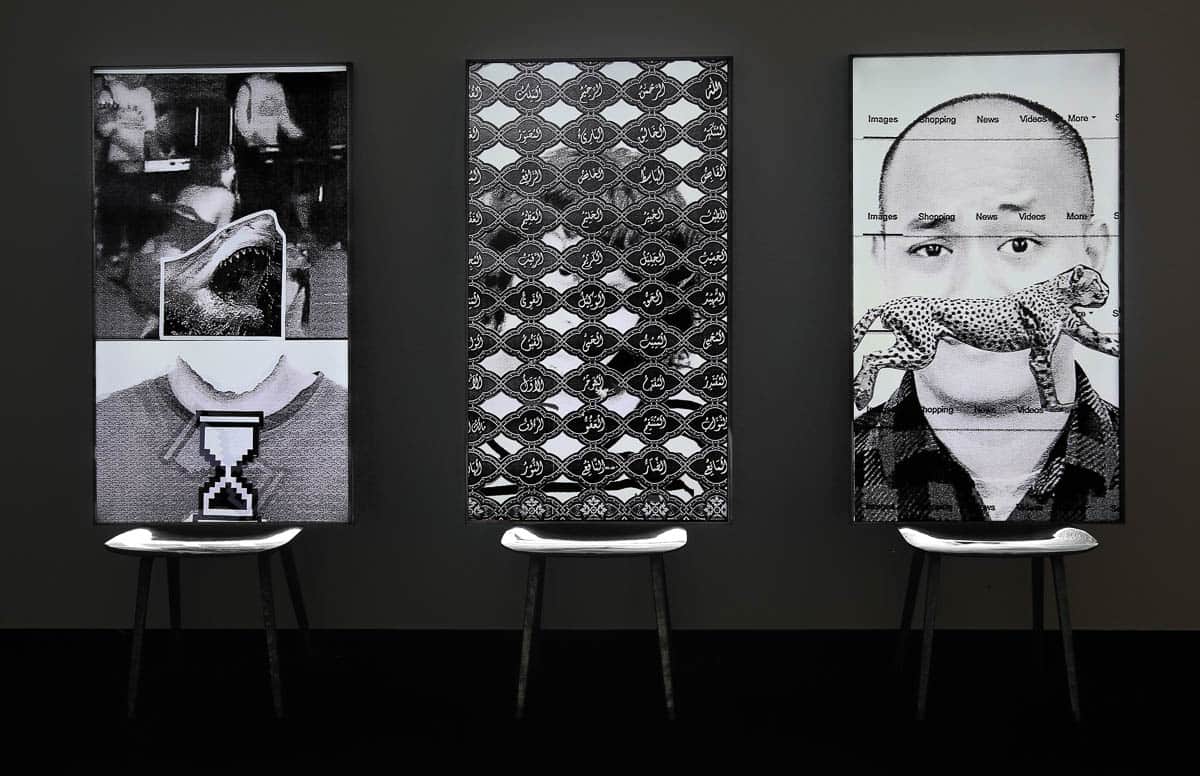 Made in Bandung, West Java
First Wave consisted of three monitors that show three self-portrait videos of each member of the collective. The self-portrait video movement collided with text, images from magazines, internet, books, daily screenshots from their own archive. The work questions the artist own existence within this globalized world.
w – tromarama.com
Harry Mawardi
Made in Garut & Bandung, West Java, Indonesia, by Amygdala Bamboo and Pori Keramik
The product is a series of mixed media of bamboo and ceramic, being made by bamboo birdcage craftsmen in Sela Awi, West Java and ceramic craftsmen in Bandung, West Java. The idea behind this project is to elevate bamboo products in a village that have only been making birdcage through their whole life. That's why we in Amygdala collaborate with Pori Keramik to give different alternatives for the craftsmen to produce and help bamboo to look more elegant with the sophisticated ambience of ceramic. Through this collaboration, the vase series has been exhibited in Bangkok Design Festival, Salone del Mobile, and Georgetown Festival. The village is now developing more various products and give them more opportunity for larger market.
Made in Garut and Bogor, West Java, by Amygdala Bamboo and Salam Rancage
This collaborative project initiated by Ministry of Trade of Indonesia was called Designer Dispatch Service, where designers are helping local craftsmen to create good design for export purposes. Harry tries to combine the bamboo lattice technique and weave the bamboo with newspaper waste by women in Bogor village. This project has helped the women to create better products than they used to make by giving them a structure made by bamboo craftsmen in Garut so they can make weaving products that are stiff, and consistent in structure. Right now, it's being exhibited permanently in Indonesian Embassy for Singapore.
f – @amygdala2014/
Sekar Ikanandanti H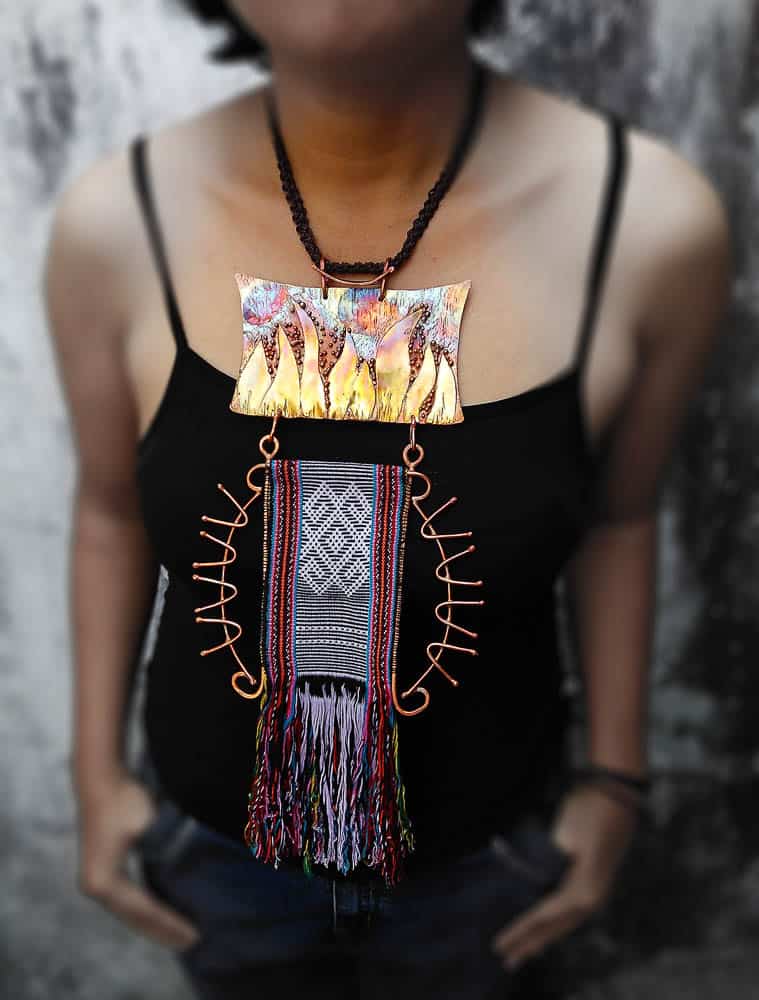 We already made a collaboration once and we called our pieces series as Hakdiuk Homalu means "play together" comes from Tetun language and now we make more challenging project. I make the copper part, with soldering and texturing also fire patina; and Mila explore the use of handwoven cloth from Insana village, North of Central Timor and ensemble it to the copper part by hand stitched. We make this necklace to introduce more about Indonesia ethnic culture, especially from Timor island.
i – @sekar.makirtya
f – @sekar.makirtya
Anita Rahardja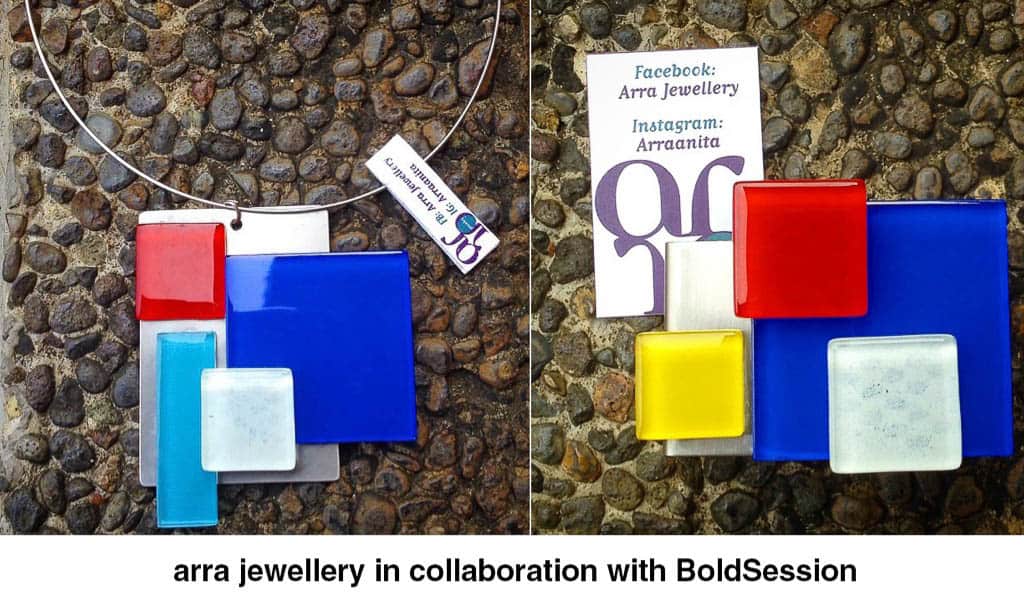 Made in Jakarta (at home)
These were my response to the design (fashion) of BoldSession by Erika Ardianto. The collection consists of necklaces, bangles and brooches. The collection of Arra and BoldSession are inspired by the works of Artist Piet Mondrian, which we both in awe at. The shapes are solid squares and rectangles to portray the formalism, basic shapes into non-basic composition. Combining stainless steel and glass tile, two smooth surface material with a different degree of shins, one as the foreground and the other as background. all the pieces take geometric shapes, rectangle pendant and brooches, square bangles, as a tribute to our admiration to Mondrian.
https://www.instagram.com/p/BZszcL_n6um/?taken-by=arraanita
Catharine Temaluru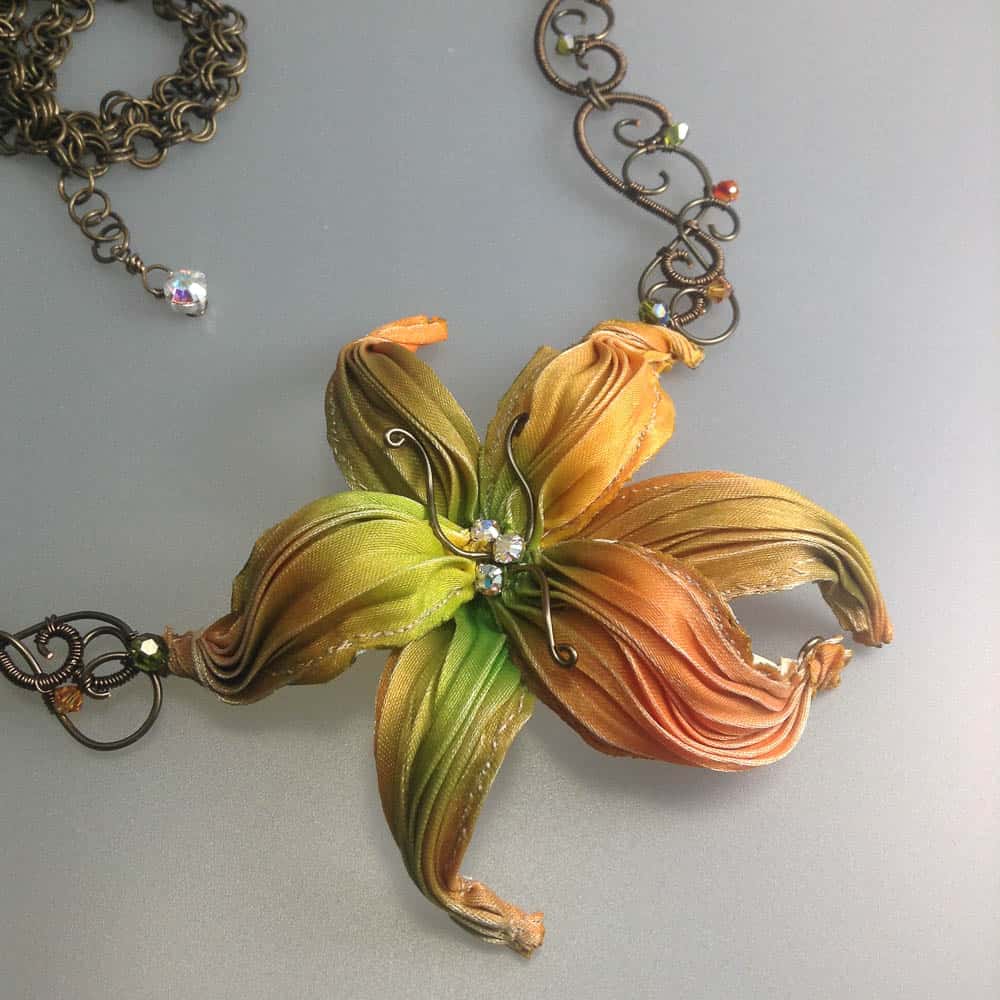 A client wanted me to make her a statement necklace. She chose her own shibori color from Wulan's collections and let me gone wild with the design 😉 I came up with this design after a friend suggested Day Lily for its colour.So I tried to make this piece as close as the real day lily, Hemerocallis fulva in this case.It was harder than I thought, and to be honest there were times when I wonder 'why on earth I designed it this way?' LOL. Materials: Handmade shibori ribbon by Sri Wulan, permanently coloured copper wire, SWAROVSKI, Stellux rhinestones, pre-made rhodium jump rings, SoNo thread, faux leather
i – @ienmaginations
f – @ienmaginations
Clarissa Kwok
Clarissa's introduction to the art of jewellery making began early on in her life. It is something that her late grandfather started in the 40's, in the backyard of his humble home, and later passed down to his children, including her father. Constantly surrounded by masterful jewellery makers in the family, she was naturally drawn to the discipline; and was reaffirmed of her decision to pursue jewellery making as her chosen profession during her study of Bachelor of Arts (Jewellery Design) at Curtin University in Perth, Western Australia. Specialising in custom-made jewellery, Clarissa has developed a loyal network of clientele in Indonesia and is in final stages of launching a curated line of fine jewellery.
Michael Marcus Hutabarat began his journey in photography in high school, where he joined the school's photography club. Following the completion of his degree in Economics -Management at Tarumanagara University, he continued to become a freelance photographer. Since founding his own company MikeMarcus in 2014, where he serves as photographer and director, Michael has worked with prominent advertising agencies, brands and companies. www.mike-marcus.com
Andrea Marpaung holds a degree in Graphic Design from the Faculty of Arts and Design at Bandung Institute of Technology. After spending some time working as a freelance digital imaging artist/photo retoucher, she now heads a small team of photo retouchers and serves as Lead Photo Retoucher at MikeMarcus. She also collaborates commercially and non-commercially with other photographers and CGI artists. 
i – @clarissakwok
Denny Priyatna
Jojodog Low Chair By Denny R Priyatna, in collaboration with Aldin Algatia and craftsmen at Kharisma Rotan.The inspiration came from one of the Indonesian cultures, especially in the villages (kampung) where many Indonesian people sit on the ground or lower height when they did some activities such as eating, washing clothes, and polishing shoes. These activities could be supported by low stool that is also known as "Jojodog" by Sundanese people. By using natural material rattan that is still abundant in Indonesia, the product offers new feeling and atmosphere of sitting, communicating, and remembering the culture. The workshop does not have high-end machinery and only use traditional manufacturing techniques. The chair is designed to be produced with simple tools that the material can be bent and shaped easily.
https://www.instagram.com/p/0woAFUkES0/?taken-by=dennyra
Cassia Studio
Borneo in Indonesia is widely known for its large rainforest, providing ideal conditions for many varieties of species to live. But in recent years, the forest has been under threat of destruction, as the trees are being cut and burned for timbers, palm oil and many other commercial needs. This caused many animals live in it lost their homes, including Orang Utan, one of the most endangered primates on earth. As designers we want to tell this story, to help raise the concerns and help to protect the rainforest & orangutans.
Instagram rame rame
Apel is one of the painters featured in the article about Rodney Glick. He's been busy in Bali painting exhibits for the I Am Bali museum which are designed for Instagram. A new genre of portraiture?
https://www.instagram.com/p/BVLrV8ShtvS/
Tags