Susie Vickery collaborated with Bappaditya Biswas to produce an epic installation for the Indian Ocean Craft Triennial that celebrates the transformational power of ocean journeys.
Susie Vickery's epic work for IOTA reflects the transformational power of the Indian Ocean. It follows the lives of five women who transformed themselves to make their own way in a man's world during their ocean voyages. This transformation enabled them to follow their curiosity and ambitions.
The installation consists of a maze that is constructed by a 50-metre long batik textile dyed in indigo. The ocean scene starts with the great myth of Hindu creation, through marine mythology to the anthropogenic ocean filled with plastic. This journey is punctuated by interactive displays based on the five characters. Jean Baret, Bougainville's botanical assistant, swaps gender. Then there's James Barry, the Irish woman who studied medicine and worked for the British Army in South Africa. Poor Barry lost her beloved dog along with her bespoke outfits when belongings had to be burnt after an outbreak of smallpox. On comes the Circus performer  Rukmabai, the daring action star Fearless Nadia, who did all her own stunt work, and the vaudeville star, Effie Fellows. Finally, we are immersed in a sea of plastic.
The ocean was created collaboratively with Bappaditya Biswas, an indigo dyer and printer from Kolkata, and Maithili artists from the Janakpur Women's Development Centre in Nepal. Bappaditya studied textiles at NIFT, Kolkata and then became a fabric specialist for Philadelphia Museum. He gained more knowledge of natural dyes from Michel Garcia from France, during a workshop in Canada. He returned to India and started the Byloom label with his wife. He met Susie at a textile conference in Kolkata.
Bappaditya Biswas describes some of his contributions to the installation: 
Washing the 60-metre long ocean backdrop
The flowing Ganga helps wash away the excess indigo. In the Bengali language, we have a saying Ganga jole Ganga puja. So much of Indigo must have been traded over these waters. Bengal has been witness to the rise and fall of indigo. So many ships with a cargo laden with slaves and indigo and opium must have sailed. They say water has memories. Dipping this piece painted with indigo, I offer this to that history.
Samudra Manthan – the churning of the ocean
Our mythological stories are so high on philosophical content. Painting these stories is meditative and at the same time thought-provoking. I now realise how the form represents all the different aspects, characters and the philosophy behind them. No wonder these are such treasure troves and milestones that show us the way to lead our lives.
Childhood dreams of fish
Painting a dream. Thakumar Jhuli (Benali Folktales), in my mind, is made of these. When I was five years old I had a compound fracture in my right leg, was put under traction and was completely bedridden for four months. I watched the days go past by me, one after the other. My only window to the outer world was my imagination. My eldest uncle from my father's side was a very sensitive person.
We brought his stereo record player and bought me these big black round records. Among my favourites were "Hingshute Daito" and "thakuramar jhuli". Throughout the whole day and night, I would keep listening to it in a loop. I have to say the other members of the house (coming from a joint family) never objected. Rather anybody passing by my room would always peep in for a chat and would ask if I wanted to listen to it again or want the side changed. The stories came alive in my mind in vivid images. Mythical creatures like "Pakhiraj Ghora", "Bengoma Bengomi" would cross the Seven Seas and Thirteen Rivers on my "Mayurpankhi Nouka".
The stingray
Dyed in madder, indigo and marigold. In Bengali, it is called "Sankar maach ". As a child, we had a skeleton of the tail at home: I was petrified. What a thing to hang on the wall! Growing up in North Bengal earlier, when there were a lot of forests all around, hunting was a favourite pastime for many. I have been to houses and tea bungalows that would have a deer or tiger head stuffed and hung like a prized possession from the wall. I would be so scared to go in as a child. We still are becoming aware of the plight of the animals on the land. But do we know anything about the changes in marine life? What's happening underwater?
The slave ship laden with blue gold
This imagery came to my mind while reading Amitava Ghosh's trilogy. While talking about this with Indranil Bengal Halder from Australia he sent me the following information. Indranil writes:
"Let us highlight the topic we are mostly oblivious to. It is about the existence of active Slave Markets in Calcutta during the mid-18th century. Slaves who were brought by the Portuguese and Burmese merchants and pirates were regularly traded throughout Calcutta, mostly on the riverfronts and the outskirts of the city. The Portuguese ships often docked at Budge Budge, presently located in South 24 Parganas. The consignments were brought to Calcutta through roadways or on small riverboats. The slaves who were brought to Calcutta were generally captured through piracy. The Bay of Bengal once happened to be an epicentre for pirates across multiple nationalities. The most opprobrious of them were the Mog (from Burma), the Portuguese, and at times the Dutch, who all ravaged the ships in the then commercial highway of Bay of Bengal, looted them and sold the survivors into slavery. Well if you are feeling goosebumps, then this is just the tip of the iceberg."
About Susie Vickery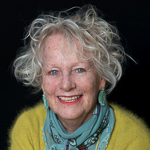 I live in South Fremantle and swim in the Indian Ocean every day after twenty years living in India and Nepal, far from swimmable oceans. I began life as a theatrical costumier in Australia and the UK, specialising in men's nineteenth-century dress. But after moving to Kathmandu I started to embroider and work with handicraft groups. My puppets take me back to my theatre work. Visit www.susievickery.com and follow @susievickery and @citizenbotanist.
About Bappaditya Biswas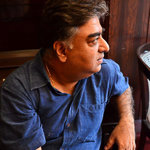 Bappaditya Biswas studied textile design at the National Institue of Fashion Technology, Kolkata. He then apprenticed at a fabric workshop and museum where he learnt screenprinting. While there he worked with textile artists to realise their artwork. He then worked as a design consultant with an export firm that developed embroidery samples for European haute couture, including Kenzo and Armani. In 2002 he left to create alternative markets for the traditional handloom weavers of Bengal who were experiencing a terrible slump in their sales. Working with his wife Rumi they set up a company, Byloom, to work closely with the community to keep their weaving traditions alive at the same time as bringing a new dimension to their skills. They hoped to provide employment to the younger generation who were migrating to the cities. They have also revitalised the indigo industry, working with farmers to replant indigo and to train in the dyeing process. They have been awarded the UNESCO Seal of Excellence for their work. Visit byloomonline.com, follow @bappaditya.bailou and like bappaditya.biswas.56
✿
Like the article? Make it a conversation by leaving a comment below.  If you believe in supporting a platform for culture-makers, consider becoming a subscriber.
Tags