D Wood reviews a book that seeks to give due recognition to the men who sew.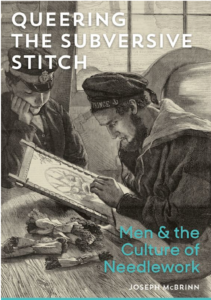 Queering the Subversive Stitch: Men & the Culture of Needlework is simply about men who stitch: knit, crochet, embroider, sew, do needlework. It contains six chapters; black and white images and colored plates accompany the text. In the first chapter, McBrinn establishes the context for researching and writing about male needleworkers in what is ubiquitously seen as a female domain. Chapter 2 explores heteronormativity and the prevailing attitudes about men who pursue feminine activities like embroidery; the following chapter looks back at Victorian views of masculinity and the needle arts, as well as the 1920s and 30s when stitching served as occupational therapy for injured WWI veterans. Chapter 4 explores amateur needlecraft in the mid-twentieth century, and the penultimate chapter highlights various forms of male stitching that are politically motivated. McBrinn concludes with a summation of his argument—that, until his book, needlework has been universally regarded as feminine and men who partake in it are excluded or intentionally erased—including the reasons for overt references to his motivation for researching and writing Queering the Subversive Stitch.
The prequel to, provocateur of, and title inspiration for McBrinn's book was Rozsika Parker's The Subversive Stitch: Embroidery and the Making of the Feminine (1984). Parker's treatise was an important craft history text and a feminist polemic on women's art. Pennina Barnett and Jennifer Harris[1] summarized Parker's contribution to the art and craft canon: "In this ground-breaking study she mapped the decline in the status of embroidery from the Middle Ages to the nineteenth century: from a high art form practised by both men and women, particularly in England, to one that was seen as lowly and feminine—and from an admired professional art to a marginalised domestic craft."[2] The Subversive Stitch identified the male presence in British textile activities as historical (i.e Opus Anglicanum), and rare from the Victorian era forward. McBrinn notes in Chapter 1 that Parker quoted an Office of National Statistics (UK) report (c. 1979) wherein only two percent of British men engaged in needlework.
McBrinn's aim, to redress the absence of documentation about male needleworkers, draws attention to the men who choose needlework as a hobby or creative pastime for its pleasure, satisfaction or medium-for-a-message. His interest is not in Savile Row tailors, male garment factory workers, sailors occupying themselves at sea or male members of embroidery guilds before the advent of the Industrial Revolution. These occupations carry no sexual stigma. Instead, by identifying male practitioners and recovering their work, McBrinn deftly reminds readers, by means of needlework, that "the social construction of masculinity – [is] something that only really exists in relation to femininity" (xvii). This means that a boy or man who prefers stitching over rugby or boxing is stigmatized as effeminate (having or showing characteristics regarded as typical of a woman), queer (not normal), "sissies or 'fags'" (108). By coincidence, one of the definitions of faggot, from which "fag" derives, in the Oxford English Dictionary is "an embroidered or painted figure of a faggot, which people regarded as heretics … were obliged to wear on their sleeve." In other words, a stitched emblem.
Work on this book began when McBrinn found a commercially-printed postcard depicting a young man whose knitted stockings in Irish wool were awarded first prize at an exhibition of Irish craft in 1905 (41). The image prompted a search for more evidence of male needleworkers and as the number of photos increased McBrinn became intrigued about the clandestine history and nature of men's stitching. Furthermore, he wondered whether needlework by men contradicts "heteropatriarchal sexual scripts" (43), as well as sanctions, in the male population, proclivities that are deemed female.
While some of McBrinn's examples of men who do needlework, like the contemporary artist Grayson Perry, demonstrate the practice as a vehicle to critique social and cultural conventions for masculinity, others, like the Duke of Windsor (formerly King Edward VIII) or football player Roosevelt (Rosey) Grier, reveal crochet, embroidery and needlepoint to be ordinary recreation undertaken for well-being and home décor. But still, it is associated with femininity. For example, we learn that Queen Mary, the Duke of Windsor's mother, insisted on teaching her five sons and one daughter the skills of crochet and knitting (48). Wallis Simpson, who provoked the Duke's abdication, was charmed by his "sweet and tender side" (50) when she saw his handmade chair covers. Simpson's statement affirms McBrinn's observation that gendered language and female sensibilities are applied to men who stitch.
In his exploration of this secret and supposedly ab-normal practice among male proponents, McBrinn delves into literature, film, and visual and performing art. For instance, in Fred Benson's The Countess of Lowndes Square and Other Stories (1920), a male character who embroiders states, "I ought to have been a girl" (59). And in a movie still from Modern Times (30), Charlie Chaplin is captured looking askance at his brawny needle-plying cell mate.  The extent of the research is impressive primarily because the topic has not been investigated before. Although the incidence of prejudice against those who choose to go against the grain by picking up needle and thread is sobering, there is humor here too. The following is a portion of a quotation from Robert Illes's book, Men in Stitches:
"When you take up stitchery, you can still log plenty of TV-sportscast time. What you are doing is something while the guys on the field ain't …. what is there to see while the pitcher looks at his shoes, kicks the dirt, inspects his cleats, looks at first base …. spits in his mitt, wonders why miniskirts went out of style, pulls down his cap, adjusts his scrotum …nods his head, stands up, bosoms the ball, and gets set to pitch – just in time for the batter to step out of the batter's box, spit on his hands, kick around in his dirt, pull on his cap …. you [can] continue to stitch through all this choreography." (112)
Baseball's hyper-masculinity with its inane but accepted macho gestures (kicking, spitting, adjusting) juxtaposed against the fan's concurrent dedication to a quilt patch or knitted sleeve is priceless.
Needlework practice is considered inferior for a number of reasons. First, as a craft it ranks low in the art/design/craft continuum, especially relative to masculine mediums like glass, wood and metal. Second, Rozsika Parker brought attention to its inferior status because it was done by women and deemed feminine. And, finally, in design's predominantly male, and society's patriarchal, environment Joseph McBrinn documents the men who are deemed inferior because they do needlework and vice versa. Design must welcome more revisionist history that takes into account the contributions of minorities and denigrated practices that have thus far been excluded from the canon.
Queering the Subversive Stitch: Men & the Culture of Needlework by Joseph McBrinn. London: Bloomsbury Visual Arts, 2021. 231 pages. 9781472578044 $43.50.
Joseph McBrinn is Reader in Art and Design History at Belfast School of Art, Ulster University in Belfast, Northern Ireland.
---
[1] The Subversive Stitch Revisited: The Politics of Cloth (29-30 November 2013, Victoria & Albert Museum, London) was a conference dedicated to the legacies of Parker's text. accessed 18 May 2022.
[2] https://www.gold.ac.uk/subversivestitchrevisited/background/ accessed 18 May 2022.
About D Wood
D Wood designed and made furniture to earn a Diploma in Crafts and Design at Sheridan College in Canada and an MFA at the Rhode Island School of Design. She obtained her PhD in Design Studies at the University of Otago in 2012. Her thesis, "Futuring Craft: Studio Furniture in New Zealand 1979-2008" is available at http://hdl.handle.net/10523/2421. D Wood is the editor of Craft is Political (Bloomsbury Visual Arts, 2021).
✿
Like the article? Make it a conversation by leaving a comment below.  If you believe in supporting a platform for culture-makers, consider becoming a subscriber.
Tags