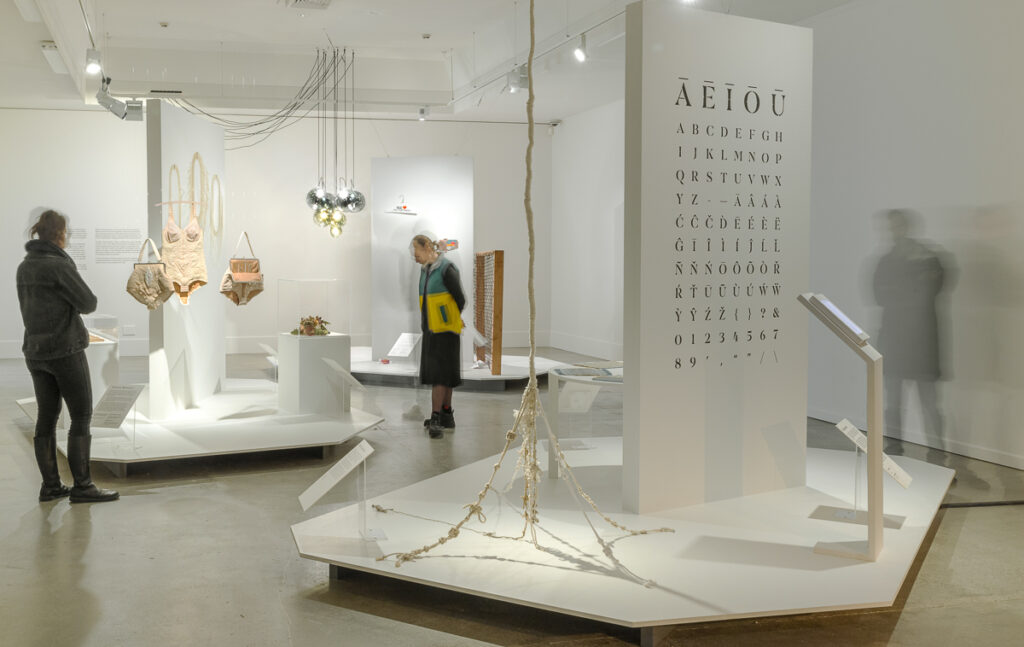 A dazzling new exhibition at the Dowse Art Museum features objects that look ahead to the past.
Ā Mua is an exhibition at the Dowse Museum curated by Karl Chitham (Ngā Puhi) and Kolokesa U Māhina-Tuai. It was originally conceived as the next chapter of their ground-breaking 2019 book Crafting Aotearoa: A Cultural History of Making in New Zealand and the Wider Moana Oceania, which they edited Damian Skinner. Māori and Moana artists develop their customary culture through material invention, while Pakeha and migrant makers find past underpinnings for their studio innovation. This exhibition reflects a scene in Aotearoa / New Zealand which is both grounded and aspirational.
We share comments from the curators and descriptions of selected works drawn from exhibition wall texts.
Karl Chitham says the exhibition shows the diversity and energy of handmade practices happening in Aotearoa in the 21st century.
"The traditional perceptions of craft is studio craft – ceramics, glass, jewellery, and textiles – that all come from a Western tradition," he says. "We're hoping to expand people's understanding of what craft and the handmade is, and could be."
"In Ā Mua, the thing that defines the many practices on display is that they're innovating within a lineage or tradition of making that's specific to each makers' cultural context."
"The lines between art and craft have been broken down. Instead, we're now talking about what we make and how we use it, which has significant impact now and for future generations."
Kolokesa U Māhina-Tuai says the practices, objects and makers in the exhibition engage with traditions that span hundreds of years, multiple cultures and a vast variety of techniques, skills and materials.
"Ā Mua is exciting because it presents wide-ranging examples of the richness, creativity and ingenuity of our diverse makers in Aotearoa New Zealand," she says.
"Together, they provide a snapshot of what craft is today, and what it could look like in the future."
Ā Mua features work by Brendon Monson, Eugene Kara, Fuli Fati, Kupa Kupa and Jack Kirifi, Henriata Nicholas, Jay Hutchison, Jo Torr, Joana Monolagi, Kaaterina Kerekere, Kaetaeta Watson and Louisa Humphrey, Kathryn Tsui, Kereama Taepa, Monmouth Glass, Rowan Panther, Shona Tawhiao, Talafungani Finau, Tracy Byatt, Tu'ifonulava Kaivelata, Victoria McIntosh, Wai Ching Chan, Walk In The Park, Designworks and WISE Collective.
Ā Mua, which is a Māori term used to describe 'a time to come', also reflects the cyclic nature of Indigenous time where the past, present and future intersect, interchange and co-exist. Ā Mua: New Lineages of Making traces the relationships of each featured maker's place within, across and alongside traditions of craft and the handmade.
Rowan Panther
Born in Auckland, Panther is currently based in Doubtless Bay, Northland. Her practice explores her European and Samoan heritage with the aim to generate her own hybrid cultural tradition. Her lei works combine the technique of European bobbin lace with muka, the raw filament stripped from the leaves of harekeke (flax), a material with a strong cultural and historical connection to Aotearoa.
I am drawn to the more graphic patterns in bobbin lace. I like finding patterns that remind me of whakairo rākau (wood carving) or raranga (weaving). I am not that interested in creating new lace patterns from scratch. I like the fact they have been developed, made, and adapted for years. It brings a sense of history and tradition to it.
Inspired by a visit with her grandfather in Rarotonga, she has incorporated the symbolism of the lei into her work as almost a literal labour of love. The notions of acceptance and generosity that come with the lei are combined with ideas about value and respect for the materials and skill required to complete these highly intricate works.
I like feeling like I am giving that value back. As a material the muka demands so much respect because you can't just roll some more off the spool, there is virtually no wastage, which I feel pairs perfectly with the lace.
Shona Tāwhiao
Tāwhiao is based on Matakana Island, Tauranga and is of Ngāi Te Rangi, Whakatōhea and Te Whānau-a-Āpanui descent. She combines raranga (weaving), which she learnt under tohunga raranga (expert weaver) Kahutoi Te Kanawa, with a love of fashion, and has evolved her practice into a unique style that she refers to as Harakeke Couture.
Her bespoke costumes explore themes of wāhine toa (women of strength) and present powerful silhouettes and strong structural elements that reference armour from cultures around the world and across time, including the New Zealand Wars, Trojan War, the French Revolution, and the traditions of different cultures in Africa.
It's so amazing what they were wearing into battle, and their costumes were just as important as their training. It affected the way they fought; it all comes in together. I don't think I could do anything else that's not inspired by those things. It's timeless, and endless.
Tāwhiao's use of a limited colour palette of red, black, white, and natural fibre with the addition of accessories such as army green belts accentuates her mix of military and Māori references.
Tracy Byatt
Byatt was born in the United Kingdom and is currently based in Turakina Valley, Whanganui. She was introduced to sugar work around 2014 when she attended a cake decorating evening class and quickly moved from making generic cake flowers to more sculptural works.
Using sugar as my art medium and with a lifelong love of nature, an interest in art history and an insatiable quest for detail, I enjoy creating three-dimensional 'paintings', inspired by the still life and Vanitas works of the 17th-century Dutch masters.
Her practice references a number of traditions including European still-life painters, sugar work from the Victorian and Renaissance periods, the florilegium works of Joseph Banks and the glass botanical specimens of the Blaschka family. This work The Four Seasons took over a year to sculpt, as Byatt wanted to observe the various plants and insects in her own garden in real-time.
I'm a keen gardener and use plants I grow myself as study material so always have a supply to hand, meaning I can observe them through their entire lifecycle. I dissect the plant under magnification (I'm fascinated by botany), measure each part of the plant, make each piece individually in sugar and reconstruct the plant. Making botanical subjects from sugar is slow and intensive and requires a lot of pausing, thinking and taking note of the tiniest of details.
Walk in the Park
Walk in the Park are the husband and wife team of Woo-Lam Sam Choi and Jiho Yun who were born in Korea and are currently based in Tāmaki Makaurau Auckland. They arrived in Aotearoa in 2013 after Choi completed studies in woodworking and furniture design at Hong-ik University.
I didn't think I could support myself with woodworking in Korea, so I folded up my dream and kept it in the back of my mind. When I came to New Zealand, I found there were community groups that teach practical skills. I learned woodturning from one of them and brought my dream back to life.
In 2016, Choi joined the West Auckland Wood Turner Guild, where he was able to combine his design skills and furniture making knowledge with the specific craft of woodturning. Walk In The Park design studio was originally created by the pair as a way to undertake small design-based projects, but with the interest in Choi's woodturning, the studio became an established business.
They are all created by Choi on the lathe. Each item is, in essence, a one-off unique object that brings together ideas of design, art and functionality. Walk In The Park objects combine the sensibilities of Korean design with the materials, techniques and lifestyle found here in Aotearoa.
Joana Monolagi
Monolagi was born in the town of Ba, Viti Levu, Fiji and is currently based in Tāmaki Makaurau Auckland. She grew up surrounded by the richness of her Fijian culture and works with Indigenous materials like masi (barkcloth) and explores themes around women's veiqia (tattooing) practice.
Fijian veiqia was prohibited from the mid-19th century and was carried out in secret until the early 20th century. The practice was performed by Fijian women as both the daubati (tattooist) and recipients of qia (tattoo). Young women were tattooed at puberty with a ceremony that initiated them into adulthood and marked their eligibility for marriage. The daubati painted guidelines on the body before marking the flesh using nai qia (tattooing tools). After acquiring her weniqia (tattoo markings), a woman received a liku (skirt).
The works include nai qia and a liku vau (hibiscus fibre skirt) made by Monolagi. She has also created a unique masi called Awakening that features a female with weniqia on her back, framed by motifs applied using stencils made from plastic x-ray film. This is the second masi created by Monolagi for The Veiqia Project women's collective. Today, a growing awareness of Fijian veiqia is promoted through the work of this collective which includes curators, researchers, academics and artists like Monolagi alongside a revival of the weniqia by tatu artist Julia Mage'au Gray.
Jay Hutchinson
Hutchinson is currently based in Ōtepoti Dunedin. Although originally a graffiti artist using spray cans as his tools, in 2006 he worked on a project for Blue Oyster Art Project Space that prompted a shift in his practice. For the exhibition, called Concrete to Textile, Hutchinson painstakingly embroidered a series of graffitied panels. Since then he has developed an approach that uses psychogeography, where he explores urban environments, particularly the streets on his journey to and from work. He then recreates the found structures and discarded objects he encounters as hand-embroidered sculptures.
The process of collecting and recreating these objects is a way of tracing time and getting to know his immediate environment. He documents the sites he collects from, highlighting the spaces and objects that people choose not to see, such as the pie wrapper caught under a rusting section of wire fence you see here. In 2019, he travelled to New York, extending his project to the suburb he was based in.
Three of these works are part of the 'Far from home' series and are based on trash I picked up in Williamsburg, a suburb in Brooklyn, New York. They were found within a kilometre radius of where I was staying. Each morning I would spend an hour wandering around the neighbourhood photographing and collecting discarded ephemera to reproduce as hand-embroidered objects when I got back to New Zealand.
Kaaterina Kerekere
Kerekere is of Te Aitanga-a-Hauiti, Ngāi Tāmanuhiri, Rongowhakaata, Rangitane and Ngāi Tahu descent and is based in Ūawa, Tolaga Bay. With over 15 years of experience as a graphic designer, in 2019 she completed this work as part of a Master of Professional Creative Practice from the Eastern Institute of Technology, Tairāwhiti Gisborne.
This composition combines 378 layers of imagery exploring ideas of space, time, symbolism and intertwined knowledge. It also introduces a new dimension within my work called oro—the echoing and resounding of verse and imagery, connecting oneself and imbuing a sense of presence.
Fusing Māori concepts and traditions with a contemporary design aesthetic and digital technology, Kerekere has created her own visual language to explore themes of whakapapa (genealogy) and mātauranga tāwhito (ancient knowledge). Using the whare wānanga (house of learning) once located at Takuahiroa, Tolaga Bay as a basis for her research, she has incorporated elements of mōteatea (a lament) alongside graphic motifs to highlight the loss of knowledge in her hapū (subtribe) and iwi (tribe) and to encourage people to stay connected to their papakāinga (homelands) and whānau (family).
I often looked around to scan our papakāinga for our knowledge keepers and ponder what my and our next generations are doing to preserve our knowledge, heritage and whakapapa. This has made me aware that I need to do more, contribute more especially in this respect of learning and retaining our kōrero tuku iho.
Monmouth Glass Studio
Monmouth Glass Studio is based in Tāmaki Makaurau Auckland and was established by Stephen Bradbourne and Isaac Katzoff. Their studio uses the techniques of hand-blown glass to produce a range of products that can be used in contemporary domestic and commercial settings. As opposed to large manufacturers of glassware, Monmouth Glass Studio produces bespoke solutions for the home, restaurants and corporate clients.
The installation is made up of a unique lighting form created by the studio called the Tilt Pendant. This particular shape was the catalyst for Bradbourne and Katzoff to move from hiring furnace time in other workshops to opening their own studio and expanding their product range to include a broader selection of pendant lights and glassware. This also allowed them to experiment with colour, shape and scale while maintaining the unique qualities that communicate their hand-made practice.
Monmouth was established around an idea to apply our skill and experience to create functional objects that were intended to be used. The commercial success of the Tilt Pendant allowed us to realise that concept, that idea, through a range of designs and products. Eventually, we were able to buy our own glass studio. Now, eight years later we have moved into a much larger studio and opened a retail shop.
The exhibition Ā Mua: New Lineages of Making includes work by Brendon Monson, Eugene Kara, Fuli Fati, Kupa Kupa and Jack Kirifi, Henriata Nicholas, Jay Hutchison, Jo Torr, Joana Monolagi, Kaaterina Kerekere, Kaetaeta Watson and Louisa Humphrey, Kathryn Tsui, Kereama Taepa, Monmouth Glass, Rowan Panther, Shona Tawhiao, Talafungani Finau, Tracy Byatt, Tu'ifonulava Kaivelata, Victoria McIntosh, Wai Ching Chan, Walk In The Park and WISE Collective. It runs 6 June to 20 October 2020.
Further reading
Tears of Tāwhirimātea: Carvings by Todd Couper by Karl Chitham
The Mis-Education of Moana Arts by Kolokesa Uafā Māhina-Tuai
Rowan Panther by Tryphena Cracknell
✿
Like the article? Make it a conversation by leaving a comment below.  If you believe in supporting a platform for culture-makers, consider becoming a subscriber.
Tags