Niyoka Bundle shares a recipe that combines Gunditjmara and English stories.
Pawa Catering was established by Aboriginal woman Niyoka Bundle and her husband, head chef Vincent Manning, from the Isle of Man. Pawa means "to cook" in the language of the Gunditjmara people. Based in West Footscray, Melbourne, Victoria, Pawa Catering brings together Native and Western foods to create unique, exciting, unexpected flavours.
My mother is from the Gunditjmara people in Warrnambool, Victoria. My father is from the Yuin people of Bega, New South Wales. Wherever I can, I like to use ingredients from my families' countries. I've always been inspired by my grandfather, who revived the Gunditjmara language and helped keep our culture alive. Naming my catering company Pawa felt natural, a way to honour him.
For Garland readers, Niyoka share's a kangaroo recipe that draws on the Manx (Isle of Mann) heritage of her husband. The meat comes from Paroo, on her father's country, which prioritises land management and only kills male kangaroos. While her totem is blak swan (gunditjmara), she did grow up with stories of kangaroo.
My grandfather had a lot of stories, but as he is now passed on it's hard to find them. Kangaroo sinew was used for sowing possum skin cloaks together, which was taken from the tail of the kangaroo. The tail of the kangaroo is great for slow cooking as the meat is on the bone and it becomes very tender. We use the tail or shank a lot, cooking it low and slow for hours. Another interesting point about kangaroo meat, which is why we encourage Australians the rest of the world to eat it: it is sustainable for the environment. Less farmed meats is better for the environment.
Kangaroo scouse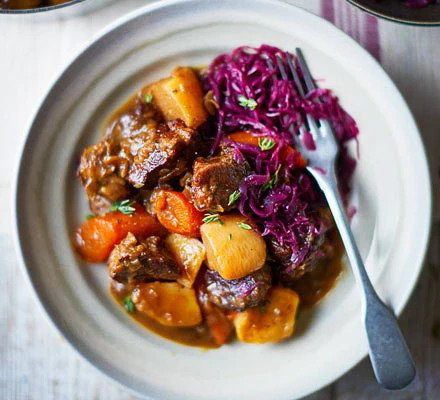 Ingredients:
Diced kangaroo fillet – 1cm cubes
Large onion – diced 1cm
Carrot – diced 1cm
Turnip – diced 1cm
Beef stock
Thyme
2 clove garlic
Tablespoon tomato paste
Teaspoon pepper berry
Cover with water
Mixed dried herbs
Method:
Seal kangaroo meat in a hot pan
Add dried root vegetables to pan along with garlic
Add herbs and spices
Cover with water & stock combined, add tomato paste
Simmer for an hour on low to medium heat
Wattle seed dampa
Ingredients:
100gm self-raising flour
Tablespoon of wattleseed
Cream
Soda water
Method:
Combine all dry ingredients add cream and soda water
Form a dough
Cut to size and bake 165 degrees for 15 mins
Sliced tinned beetroot is often added after the dish is cooked with a loaf of crusty bread and butter
Scouse is a type of stew, typically made from chunks of meat, usually beef or lamb, potatoes and onion. It is particularly associated with the port of Liverpool, which is why the inhabitants of that city are often referred to as "scousers". The word comes from lobscouse, a stew commonly eaten by sailors throughout northern Europe in the past and surviving in different forms there today.
Visit pawacatering.com.au.
✿
Like the article? Make it a conversation by leaving a comment below.  If you believe in supporting a platform for culture-makers, consider becoming a subscriber.
Tags