Yugambeh Bundjalung artist Jenny Fraser shares writings by Phoenix Maimiti Valentine and Gabi Briggs from her new anthology, Plant Power Sisterhood.
Phoenix Maimiti Valentine
Noni the miracle wonder
A waxen leaf of emerald hue
rests upon the body
withdrawing heat
from burns
mending wounds.
An aged ebony elixir
of translucent fleshy fruit
warms in your stomach
strengthening you
from within.
Its aroma is distinguishable
its scent wafts in the air
bottled potion of power
avers wellness in a sip
use Noni.
Kūkui​
You are the Kinolau
& bodily form of "Lono"
the God of Abundance,
fertility, agriculture & Peace
yet also a clever trickster.
Your curious pointy leaves
define your visage & ears
copious canopy circumstantial
a flourish of luminance
legendary candlelight
the fruit which you bear
your hardened shelled
Kūkui nuts
burns deep into the night
with their oils they cradle
Kūkui sap heals
Kūkui oil cleanses
Kūkui makes 'Inamona (seasoning)
Kūkui nuts & leaves adorns its wearer
Kūkui, emblematic Enlightenment
Phoenix Maimiti Valentine is an 'О̄iwi (native Hawaiian) artist. Her art is inspired by Nature & Hawaiiana. She is a cultural practitioner learning la'au lapa'au, lei making, 'о̄lelo Hawai'i, then sharing this 'ike (knowledge) through her art. Her recent animation "Kāhuli" presents the importance of Hawaiian Tropical Rain Forests as a home for critically endangered, endemic species to thrive in biodiversity. Phoenix is an advocate for education, an optimist & a visionary. "E Kūlia i ka Pono" (Strive for Righteousness).
Gabi Briggs
The Anaiwan call her Moanda.
She makes herself known on the banks of our waterways, dancing on the water's edge with her feet firmly in the mud.
She catches your soft gaze and invites you to dance. You approach in awe.
At first, you miss your steps, tripping over your feet and becoming impatient with your inability to reciprocate her grace and beauty.
She is patient with you, gently leading you step by step, until you both become one.
As one, you tell stories; big ones and little ones, and it is through your dance that Moanda whispers sweet stories of Anaiwan to you. "Together our ancestors were powerful," she says.
She speaks of our ancient connection. For as long as Moanda has known the Anaiwan, they have known her.
You can't help but smile as Moanda tells you these stories as you dance. It makes your heart warm as she recalls how the Anaiwan used her seeds to make sweet cakes and how they came together regularly for many ceremonies and festivals. Moanda holds many stories, for which you are eager to dance to again.
As the dusk of sundown gives its last light, she slows down the dance and whispers to you "That is all for tonight''.  Before she leaves, she hands you a beautiful woven basket, it is like nothing you have ever seen before. She explains that the basket is a gift from our dance, "we wove this when we danced, we wove our story and I hope to dance with you again".
You leave the water's edge with the basket in hand, in awe of its beauty and complexity; you can see the story you both wove. You will hold onto it forever.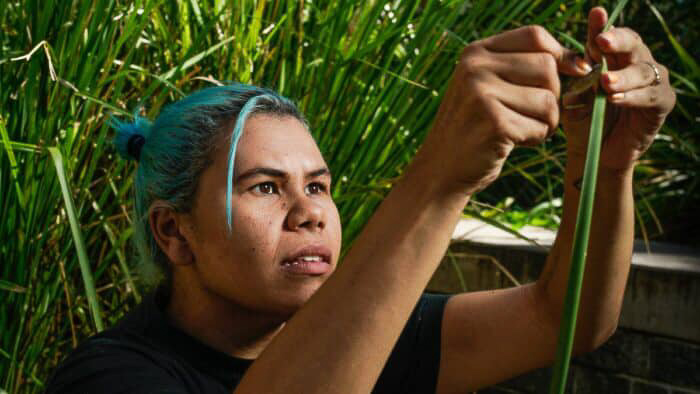 Gabi Briggs is a sovereign Ambeyang and Gumbangier gedyura (woman) who looks to examine power, privilege and the colonizing and politicizing of her people, country and their collective narratives. Forever complexed and possibly hoodwinked, Briggs looks to the arts as a place to have agency, to decolonise and to find absolute autonomy and sovereignty. Gabi is an artist and curator based on Anewan country in Australia. She works in various mediums such as performance, video, projection, sound and installation. Briggs is always lost in thought, contemplating notions of sovereignty, self-care, decolonization, male gaze, privilege, white supremacy and the interconnectedness of these ideas. Follow @gabi_briggs.
✿
Fraser, Jenny, editor. Plant Power Sisterhood: an anthology of eco-revolution. Baltimore: akinoga press, 2020. RRP: $25.00, 52pp. (order here and read review)
About Jenny Fraser
Jenny Fraser has been revitalising Yugambeh family traditions and has a practice in the healing arts and education. Jenny grew up collecting Bush Food with her father and her first job was at a plant nursery in the 1980s. She has a professional background in maintaining Screen Culture spanning over three decades and founded online gallery cyberTribe, the other APT, and World Screen Culture. Since 2014 she has been presenting SOLID Screen Festival and Retreat, which includes the SOLID Screen Awards, recognising 40 years of International Indigenous Women's contributions to their innovative screen artforms and storytelling. Her PhD was in Creative Research titled "The Art of Healing and Decolonisation". Follow @dot_ayu
✿
Like the article? Make it a conversation by leaving a comment below.  If you believe in supporting a platform for culture-makers, consider becoming a subscriber.
Tags