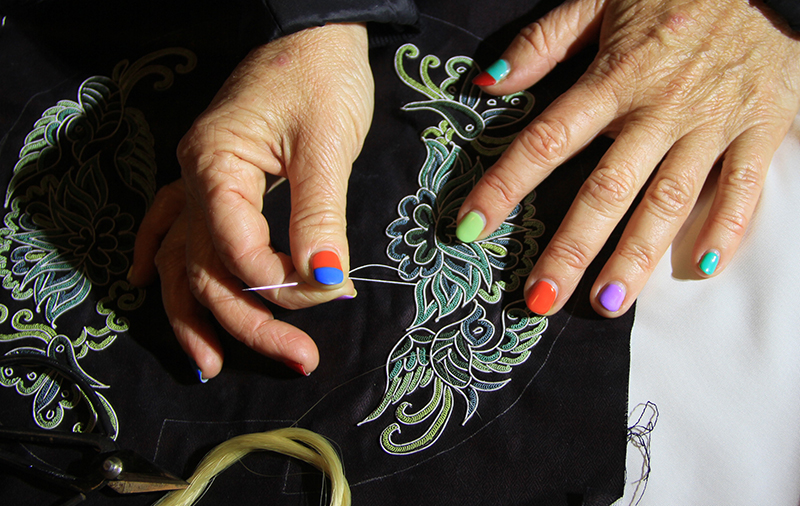 In the ninth Reinventing the Wheel talk, Tricia Flanagan presents her work with craftspeople which explores the relationship between materials and making through gesture.
The rhythms and gestures of craft reveal a geography of embodied experience that broadens perspectives on:
intangible cultural heritage craft practices;
the stories embedded in processes;
embodied knowledge and haptic interaction.
A growing awareness of material agency promotes human connection to nature through knowledge of materials and their properties. Flanagan's research promulgates ecological thinking by revealing the intangible gestures of craft, fostering an ethics of sustainability in futures of resource scarcity.  Crafting and computing were traditionally considered to be on opposite ends of a spectrum between low-tech and high tech. However, over the last twenty years, this distinction has been eroding. These developments challenge deeply ingrained disciplinary divides. Craft can extend its expressive capacity through intelligent materials, and foster entirely new craft practices. Computation, from a craft perspective, leads to a re-evaluation of the methodologies underpinning traditional computer science. It opens up new modes of computing. Craft-based inquiry into human-computer interaction bridges the 'abstract' world of programming and the 'tangible' world of crafting through hybrid design practices.
Dr Patricia Flanagan is an artist and academic whose work is represented in private and public collections in Australia, Ireland, Germany, Italy and China including the Hong Kong Heritage Museum. Recent exhibitions include the Taipei Museum of Modern Art. She is the winner of four CASP funded Public Art commissions, a UGCTD Grant to develop PIPA; a representative for Oceania at the Tournai Contemporary Textiles Biennial Belgium; recipient of the Australian Postgraduate Scholarship Award, winner of The Max Fabre Foundation Award for Environmental Awareness; and was a research fellow at the Centre for Mobilities Research Lancaster University in 2015 and at the Museum of Applied Arts and Sciences Sydney in 2020. Her work has, at its foundation, a systems thinking approach. Her practice includes public art, site-specific sculpture, social sculpture, sculptural installation, wearables and performance installation and is published in numerous books and journals including Germany's leading arts journal Kunstforum.
Dr Flanagan established the Wearables Lab at the Academy of Visual Art at Hong Kong Baptist University in 2009. She currently works as a Lecturer for the University of New South Wales in the School of Art and Design where she is the lead researcher in wearables at the Creative Robotics Lab; and co-director of the Interactive Media Lab. She is the founder of ongoing experimental research initiatives: the Peripatetic Institute for Praxiology and Anthropology and the Haptic InterFace Project.
Links:
✿
Like the article? Make it a conversation by leaving a comment below.  If you believe in supporting a platform for culture-makers, consider becoming a subscriber.
Tags