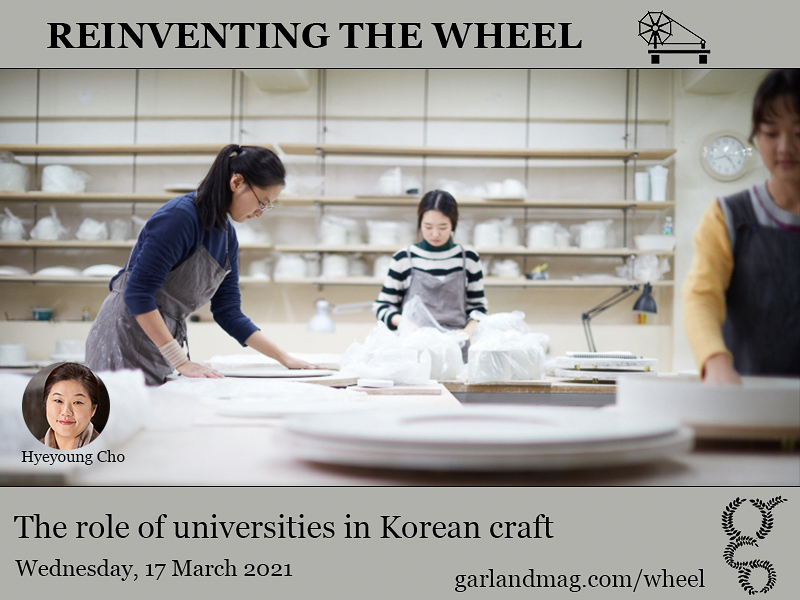 In our sixth Reinventing the Wheel talk, Hyeyoung Cho reveals the pivotal role of the tertiary sector in the modern Korean craft. This will open up a discussion about the role of universities generally.
Though central to Korean identity, craft suffered under the twin challenges of Japanese colonisation and the Korean War. Its revival in the modern era is largely due to the university system, supported by the USA.
Universities do play a pivotal role in modern craft. The salaries they provide for academic staff enable studio work that is independent of commercial pressures. The training it provides is formally open to all, regardless of family, culture or class. Students are given an audience for their work, particularly in postgraduate studies. And the universities provide a theoretical framework that helps constitute a field in which works have meaning.
This discussion is particularly relevant in response to the pressures of the pandemic, and many universities facing budget cuts. It is very timely to have this discussion about their role in a country that is seen to have one of the strongest craft cultures in the world.
Though born in South Korea, Hyeyoung Cho has lived in many different countries, including Hong Kong, Lebanon, Kuwait, Saudi Arabia and the UK. She gained a BA in Ceramics at the University of Bristol, then an MFA in Ceramics at Esha Woman's University in Seoul, followed by a PhD in art theory. She has worked on many exhibitions, principally as Cheongju International Craft Biennale in 2015. 2018-2019 she was Secretary-General for the Korea Craft and Design Foundation (KCDF). She is on the panel of the Loewe Craft Prize and has an independent cultural consultancy. She is a foundation member of the new association for craft research.
✿
Like the article? Make it a conversation by leaving a comment below.  If you believe in supporting a platform for culture-makers, consider becoming a subscriber.
Tags