Sahr Bashir ✿ To put things in their places
As a Garland perennial, Sahr Bashir has contributed stories that reflect a deep connection to place.
Living and working between Australia and Pakistan, my creative practice explores ways to express the poetics of everyday life through the construction of visual and material narratives. By re-appropriating natural forms and discarded fragments, my work takes the form of wearable and non-wearable objects to address the notions of "place" as both a physical and emotional manifestation of home. Engaging with the artefacts prompts a dialogue with the self to become a form of storytelling: to question and reflect upon the entangled relationships that bind people, places, and objects and to inform the material thinking and making process. As the viewer navigates through a vortex of memories, nostalgia and remembrance, time stands still. Both the object and the craft process become a means to reframe a narrative of belonging, of finding comfort in being "out-of-place".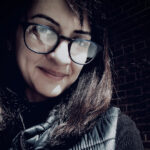 Sahr Bashir is an art educator, visual artist and researcher working across the disciplines of contemporary art, craft and design. Following a postgraduate degree from UNSW Art & Design, Sydney, Sahr has been teaching in the tertiary education sector to develop educational materials, creative workshops and design interventions. She is a recipient of the Alumni Excellence Award for Education by the Australian Government for her contribution to skills training and community development for craftspeople and women. Currently pursuing a PhD in Visual Arts at the University of South Australia, Sahr's research examines how art and craft-making practices may be critical to conceptual constructions of belonging and identity. Visit www.sahrbashir.com
✿