Where were you born and how did you come to Australia?
I was born in Seoul, Korea 1987 and our family migrated to Australia in 1996 for no particular reason but for better opportunities, education and lifestyle.
How did you learn metalsmithing techniques?
In 2005 I studied Bachelor of Visual Arts at the Sydney College of Arts and majored in object & jewellery, in which I graduated with an Honours degree and went onto study my Masters in Object Design at the University of Technology, Sydney.
From the beginning of my studies, I was always more interested in larger scale objects and functional ware as opposed to the smaller scale wearables in which the course focused on.  I took an interest in silver-smithing and with Oliver Smith (silversmith) acting as my supervisor for my honours year, it was only natural for me to continue exploring objects of the hand-scale and functional ware which was the result of my explorations.
I was interested in searching for methods to enable the works to be part of the daily life, rather than to sit on a gallery shelf.  So I enrolled in an industrial-based course for my Masters program. Towards the end of my Masters, I was granted a Travel Mentorship Program by the Australia-Korea Foundation that allowed me to undertake an intensive (1on1) mentorship for the duration of six months, learning traditional metal craft techniques from Designated Metal Craft Master, Sung joon Cho. Most of the techniques, skills and knowledge I possess now could be said to be heavily influenced by Master Cho's teaching.
What made you want to learn from Cho Sung Joon?
I hadn't met Master Cho in person until I arrived in Korea for the actual program. I was introduced to him by a very good friend and a fellow maker, by the name of Hyun-seok Sim.
I am motivated a lot by Sim's ethos in his design-art practice and often ask him for opinions and advice. When I first had this idea of a mentorship, Sim introduced me to Master Cho and stated the following words, '…if you were to learn anything metal craft related, Cho is the one'. I trusted his words and he was right.
How was the experience of learning from Cho Sung Joon?
It was intensive, exhausting but extremely productive.
The contemporary Australian method of teaching is much more relaxed and usually more concept driven as opposed to mastering the skills first and then you are only able to translate your ideas freely. At first, I found this method to be physically and mentally draining, to the point where I spent the first two weeks re-learning how to pierce (saw) straight lines and I would expect my cut out piece to stand upright when turned up 90 degrees, on its thin cut out edge (you would be amazed how many jewellers/metal practitioners do not know how to cut straight lines properly).
I guess this was what differentiated himself with others in the industry. I understand now that, only by working this way, he was/is able to be in a position of where he is at the moment. I have the highest respect for his knowledge, skills and his way of teaching.
Do you have examples of a work that has been influenced by that mentorship?
Yes, everything I have worked on since the mentorship is heavily influenced by the mentorship (2014 onwards).
What do you think the place of traditional craft is in contemporary society? Is it for museums, collectors, heirlooms or general public?
It belongs to and in every one of those places that you have listed and possibly more.
It would depend on many things (historical value, financial value, aesthetical element, cultural value etc.) for one to decide where the work belongs. However, to use a traditional object in a daily sense is a little different. It is up to us, the makers, to interpret these traditional ideas and interpret it into a modern theme so that they can fit in comfortably in this world. Within my practice, I often use traditional techniques to produce objects of the everyday.  Objects that, I hope, give a sense of longevity, intimacy and uniqueness, something that surpasses trend and short existence.
Author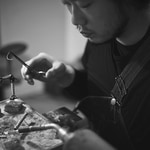 Kenny Son works from his home studio/workshop based in Sydney, Australia. His works can be viewed and enquired through the website www.kyss.net.au and also through various stores & galleries in Australia, UK, Korea, Switzerland and the USA.
✿
Like the article? Make it a conversation by leaving a comment below.  If you believe in supporting a platform for culture-makers, consider becoming a subscriber.
Tags