Mia Riley revisits her father's tea cabinet and resolved to use her ceramic skills to make him special traditional tea cups.
To prepare writing this story, I brew tea the way my father taught me. As the water is boiling, I find the repurposed red tin that my step-mother filled with already broken up pieces of pu-erh tea cake. I pull my gaiwan from the shelf and select a few pieces of tea, breaking it up even further as it goes into the cup. By then the water is boiling and I slowly pour a small amount of water on the tea leaves to wash and soften them. After waiting a few seconds and discarding the first rinse, the tea leaves have released some of their earthy aroma. I fill the cup again and place the lid on top so that the water just covers the edges. I sit quietly waiting for the tea to cool, I know this when my fingers touch the edges of the cup and do not burn. I lift the cup with my index finger holding the lid in place and take a sip. We are ready to begin.
A friend who practices tea ceremony recently told me that the act of drinking tea directly from a gaiwan is an old-school way of using the object. He was intrigued to hear that my father drinks tea this way, since it was only something he had seen before in movies. This made me consider that my father's Chinese identity is likely influenced by an interpretation of 'Chinese-ness' from a different era. Our family had been settled in Vietnam for many generations, but our Chinese immigrant ancestors likely sought to preserve and uphold the Chinese traditions they brought with them when they first migrated there.
Now an immigrant himself, my dad eventually settled with my step-mother in Calgary, Canada. I have lived apart from him for most of my life, but in 2019 I had the chance to move closer and visit more often. It was nourishing to be able to spend more time with this half of my family. As I get older I crave more connection to my parents. Learning my culture is a big part of what I need to feel at peace with myself. The reality of my parents' aging has made apparent the fleetingness of time. There are only so many moments to learn family traditions before it's too late.
At my father's house, I recall specifically there are two gaiwans displayed in the dining room china cabinet. A gaiwan is a ceramic cup with a lid and sometimes a saucer used for both every-day and ceremonial tea drinking. At home, those two cups lived forever in the cabinet, but after dinner, my father would often pull out another tea set, a pot with cups, to serve us a post-meal digestive drink.
I watched my father many times brew pu-erh tea this way, first rinsing it and then continually refilling the pot as we drank with a carafe of boiling water, until the tea had been all steeped out. The flavour is an acquired taste for some, with an earthy aroma that is bitter when brewed strongly and delicate as it becomes more diluted. The tea is meant to be drunk as a stomach soother as it is believed the fermented process and flavour helps to cut the effects of a rich meal. I think of the labour of my stepmother preparing mouth-watering meals of my favourite foods, including bbq duck and roast pork, which are often quite fatty. The care my parents have for my happy yet full belly shown by serving this tea helps me appreciate their efforts even more.
Thinking back to the pair of porcelain gaiwans in the cabinet, I became fascinated by their function which I hardly ever observed in our household. My curiosity was due to the fact that by profession I am a trained ceramicist. My work is influenced by historical Chinese porcelain, by my mixed-race Asian-Canadian identity and by everyday food rituals. The function of the gaiwan stood out to me as a black hole in my cultural experience. I knew the general function of the object since I had come across them in my ceramics research, but I wanted to know more about what they were doing in my parent's china cabinet. What was my father's relationship with the object?
There is a shared experience amongst children of Asian immigrants where communicating with our parents is often only expressed indirectly through acts of service. I was embarrassed to admit to my father that I had no idea how our family and Chinese people in general used this object. So I decided to make by hand a gaiwan and gift it to him. Using my ceramic superpowers to craft the perfect piece would open the door to this conversation and reveal an undiscovered part of family history. 
Using my keen ceramic senses, I understood that a well-crafted gaiwan needs the following elements to be both aesthetically beautiful and functional. The gaiwan must be the correct size, ideally being able to be held in one hand. The top of the lid must be the right size and height so a finger can be laid on top to hold the lid on and strain the tea. Then the cup's rim must be correctly flared so that the lid fits on top perfectly. When the tea is strained, the lid is shifted and must not fall in or hang over the rim. Finally, if one chooses to have a saucer, the cup must fit well into the inner ring and the flare of the plate should complement rather than obscure the shape of the bottom of the cup.
To make this object my own I designed it with my signature clay and glaze techniques. I start by turning the cup on the wheel. The skill it takes not only to produce an exquisitely thin object, but the care and material knowledge needed for handling the pot so it does not warp is part of the process that often goes unnoticed. The body of the cup is a thin porcelain, glazed with a traditional blue-green celadon invented in the Song Dynasty and the perfect shade to bring out the rich colour of the tea. The lid and saucer I make from groggy black clay, which highlights the purity of the celadon cup. I end up with about 10 variations of cup, lid and saucer shape that I match over and over to find the perfect fit.
When I give the finished piece to my father the look in his eyes tells me he is pleased. Next, I prepare myself for a healthy dose of criticism as we sit down to brew tea. The cup works well, and I can see the lid and cup combination I have chosen works to properly strain the tea. I learn the way that we brew and drink straight from the cup.
My father prefers to use the cup this way because it is more casual and without pretence. His lesson involves the instruction "this is how 'we' use it". I like to imagine the "we" referring to generations of our ancestors smiling down at us. In the end, my father decides to bring this cup with him to work. He can enjoy tea at his desk while humbly bragging about his talented child to his coworkers. We have both learned something in this process, that four years of art school has incidentally not been a waste of time. I have made my father proud.
About Mia Riley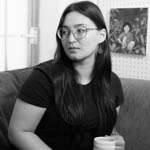 Mia Riley is a mixed race Asian-Canadian ceramic artist. Currently she is living and working on the unceded territories of the xwməθkwəy̓əm (Musqueam), Skwxwú7mesh (Squamish), and Selilwitulh (Tsleil-Waututh) Nations. Having moved many times – her work is about diaspora, identity, culture and landscapes. At the moment she is enjoying exploring themes relating to her family and childhood to strengthen her connection to herself. Visit www.miariley.ca.
✿
Like the article? Make it a conversation by leaving a comment below.  If you believe in supporting a platform for culture-makers, consider becoming a subscriber.
Tags